Monarch Air Group provides private air charter in the Caribbean. Our clients benefit from top-notch service, unrelenting dedication to safety, a wide selection of aircraft, and years of experience in chartering private jets. To obtain a free quote, please use our online quoting tool provided below, or call toll-free at 1-877-281-3051.
Charter a private jet to&from Caribbean
Book a Private Jet Charter to and from Caribbean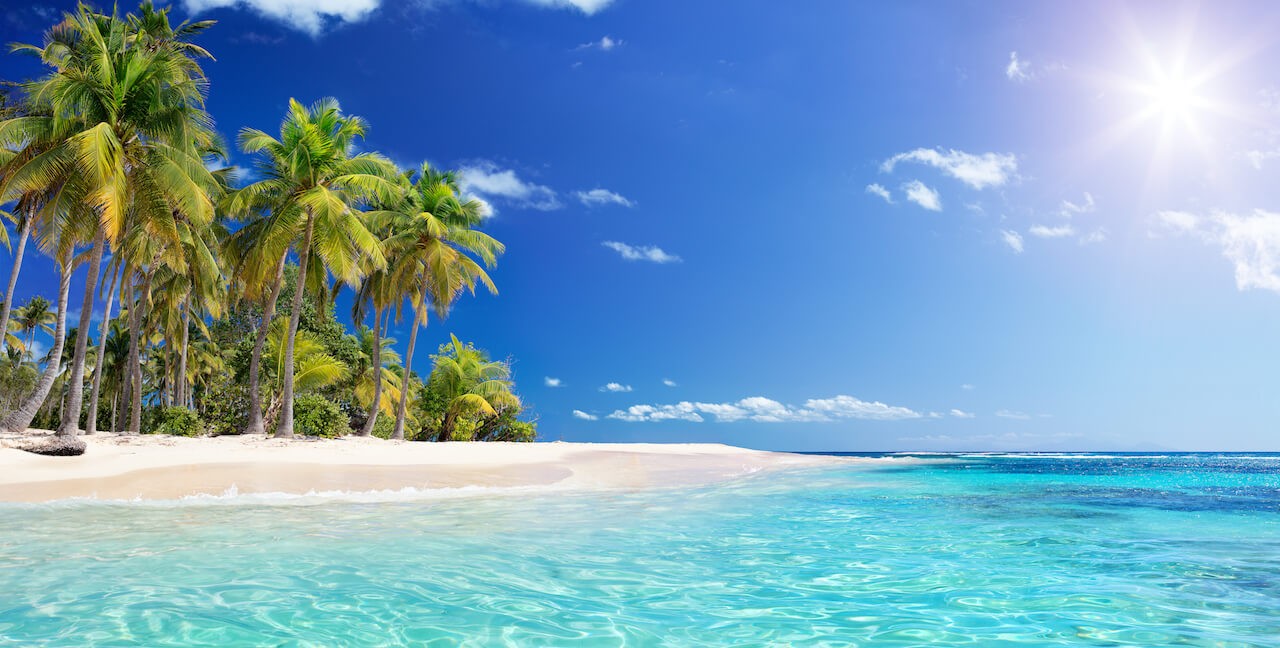 Monarch Air Group offers private jet charter services to and from Caribbean.
The Caribbean Islands is a real paradise for lovers of recreation and entertainment. Picturesque islands soaked in the sun, beautiful white beaches, coconut palms covering the smooth curves of the mountains, coral reefs, and turquoise sea are undoubtedly the hallmark of this region. By chartering a private jet to the Caribbean Islands, travelers can discover a world of entertainment and a wonderful holiday on beautiful beaches surrounded by palm trees, mountains, and a warm sea.
The Caribbean is a group of large and smaller islands located in Central America that separate the Atlantic Ocean from the Caribbean Sea and the Gulf of Mexico. It was here that Christopher Columbus arrived in 1492, convinced that this was the coast of India. White beaches, palm trees, and blue watercolor are an integral part of the local landscape. Tropical forests, waterfalls, aromatic root plantations, and rum distillers create an unforgettable climate in these places. The whole is complemented by high temperatures and excellent food. It is an ideal place for lovers of sailing and water sports.
The best way to get to know the Caribbean is to travel on a cruise ship, so you can have a pleasant stay and learn many exciting things about these places. Renting a private charter to the Caribbean will allow you to enjoy and explore every island. Each island here is a separate state, and sometimes even two.
The widest and longest beaches in the Caribbean are the beaches of the big islands—Cuba Island, Haiti Island, Jamaica Island, Puerto Rico Island. However, small islands also have world-famous beaches: for example, Aruba Eagle Beach, located on the island of Aruba, has long been included in the list of the most amazing beaches in the Caribbean—and in these ratings, it is much higher than the beaches of Cuba, the Dominican Republic, Jamaica, and Puerto Rico. The universally acclaimed best beach for young children is Baby Beach in Aruba.
Caribbean Private Jet Rental Cost
There are a variety of models in the private aviation market with varying costs. The prices for air charter service Caribbean can vary according to the destination, flight time, and the number of people on board. Additionally, you may contact our consultants to get an exact price for your private jet flight.
The size and type of aircraft, the length of the flight, and the destination can all affect the cost. Generally speaking, a private jet to the Caribbean can range anywhere from $15,000 to $100,000 or more.
Caribbean private jet charter pricing:
| Location | Aircraft Type | Flight Cost |
| --- | --- | --- |
|  Miami | Light | $19,000 |
|  NYC | Midsize | $27,000 |
|  LA | Super Midsize | $77,000 |
|  Las Vegas | Large Cabin | $97,000 |
Popular Caribbean Private Jet Destinations
Caribbean Map
FAQs: Private Jet Flight to the Caribbean
Why choose a private jet charter in the Caribbean?
Attracting thousands of visitors each month, the Caribbean offers something for everyone. It is an incredibly popular warm-season vacation and business destination. The Caribbean private jet provides quick travel for those who are interested in comfortable air travel solutions. Using a private jet combines several benefits, a limitless degree of freedom, flexibility, and privacy for your trip.
What are the advantages of chartering a private jet in the Caribbean?
There are several advantages of flying on a private charter plane, which make the trip much more comfortable. Caribbean charter flights are completely arranged according to your schedule and personal needs. You can choose any destination you want to land and fly back at a convenient time. For even more information, get in touch with our consultants.
Which aircraft is best for the charter jet in the Caribbean?
When deciding on a plane for air charter in the Caribbean, we will strive to present the private jet charter options that best meet the requirements of the group. Moreover, modern jets, with very good value for money, are great for a variety of flights. It is important to pay attention to the non-stop range, number of passengers, and personal preferences when choosing a private jet.
Can I bring pets on a private jet flight to the Caribbean?
Yes. In order to mitigate the traumatic effect of transportation on a pet that may be under a great deal of stress during the trip, private planes provide the option of having the pet in the cabin next to its owner. This approach allows the pet to feel more comfortable and at ease in its new surroundings and reduces the negative impact of the change in its environment.
What are the top-notch amenities on charter flights to the Caribbean?
Our company is committed to providing the highest level of service on all flights. Private jets are perfect for a quick business trip or family vacation. The amenities we offer on the Caribbean private jet charter include unlimited high-speed internet, luxurious seats, roomy luggage, and satellite phones. For even more information, contact our consultants.
Top Private Jet Airports in the Caribbean
STT, Cyril E King Airport
SXM, Princess Juliana International Airport
STX, Henry E. Rohlsen International Airport
EIS, Terrance B. Lettsome International Airport
AXA, Clayton J Lloyd International Airport
SIG, Fernando Luis Ribas Dominicci Airport
SJU, Luis Munoz Marin International Airport
ANU, V C Bird International
SBH, Gustav III Airport
BGI, Grantley Adams International Airport