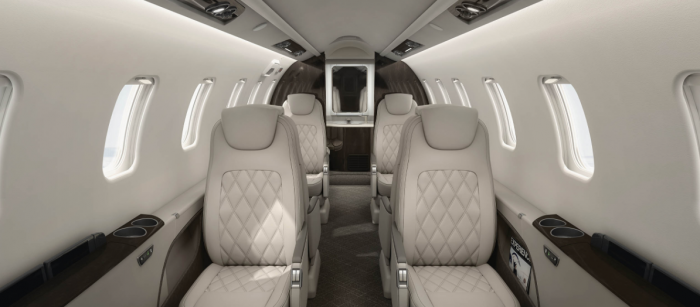 Whether it's cost efficiency, luxury or comfort you're looking for, there's not only a private jet out there that suits your travel requirements (capacity, cabin size, price) but also a jet that matches the needs of every route. Let's take New York to Miami as an example; Teterboro Airport to Opa Locka Executive airport to be more exact: a three-hour flight that can be covered by any modern light jet in the business. Monarch Air Group, a private jet operator based in Fort Lauderdale International Airport, arranged the following list of the top aircraft in the BizAv industry for short-haul routes.
Boasting top-notch safety features, a luxurious cabin, and fast cruising speed, the Hawker 400XP is a popular choice for business flights and recreational excursions. This jet's debut created a highly competitive option for business clients looking for private aircraft that would meet their needs.
Ideal for non-stop or mid-range flights, this light, twin-engine corporate jet from Hawker Beechcraft sports a uniquely structured cabin (called "vertical squared-oval") which allows for expansive head and legroom. Seating arrangements create a center-club pattern to produce an ideal environment for in-flight meetings.
Capacity: up to 8 pax
Cabin Size (H/W): 4.8 ft/4.9 ft
Cruise Speed: 414 mph
Range: 1,600 nm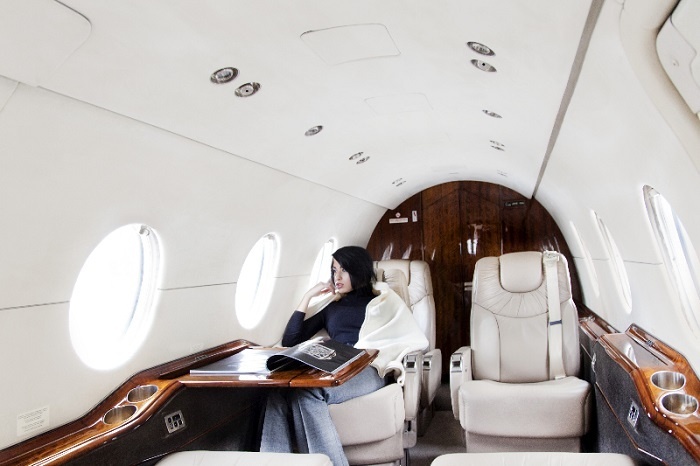 The Phenom 300 performs among the top light jets, with a high-speed cruise of 453 knots and a six-occupant range of 1,971 nautical miles. With one of the best climb and field performance in its class, the aircraft is capable of flying at 45,000 feet powered by two Pratt & Whitney Canada PW535E engines. Since 2013 the Phenom 300 has been the number one most delivered business jet three years in a row according to the General Aviation Manufacturers Association.
Capacity: up to 8 pax
Cabin Size (H/W/L): 4.11 ft/5.1 ft/17.2 ft
Cruise Speed: 598 mph
Range: 1,971 nm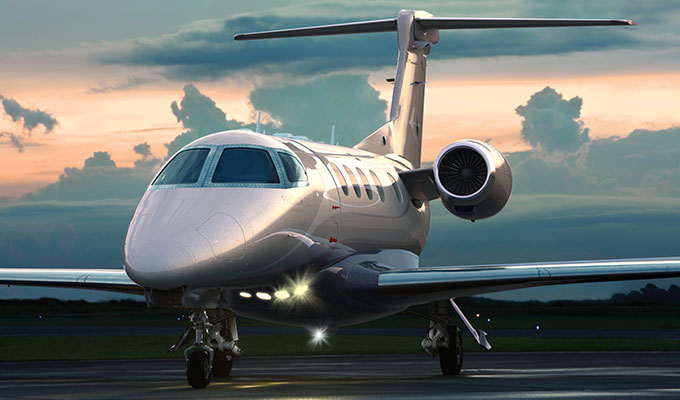 The Phenom 100E is the evolution of the roomiest aircraft in its class, bringing other interior enhancements, such as a new floor sill, featuring a straight-line design to increase the aisle area, as well as relocated power outlets with USB chargers. The aircraft is a leader in performance. It flies just under 1,200 nm and takes off from runways as short as 3,199 ft. It is one of the fastest jets in its category and had the largest baggage compartment in its class.
Capacity: up to 6 pax
Cabin Size (H/W/L): 4.11 ft/5.1 ft/11 ft
Cruise Speed: 537 mph
Range: 1,178 nm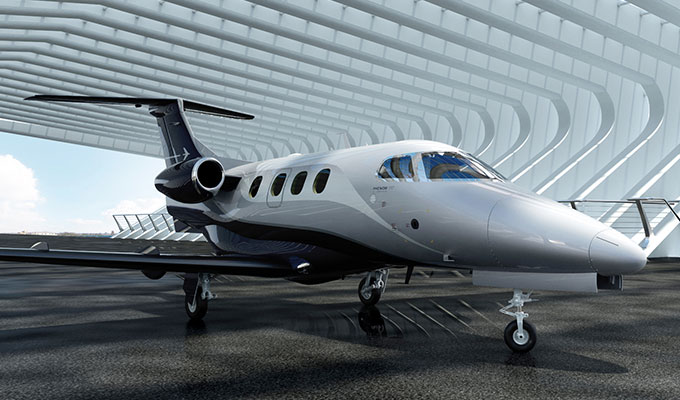 Launched in September 2011 and based on the previous model, the M2 features a new cabin layout as well as a new more efficient turbofan engine. The cabin has been completely redesigned; there are brand new seat appointments that have improved comfort tremendously, as well as a new entertainment system, called Cessna Clarity. The interior was redesigned by the same team that worked on Cessna's two much larger models, the Latitude and the still larger Longitude.
Capacity: 7 (std config)
Cabin Size (H/W/L): 57 in/58 in/11 ft
Cruise Speed: 464 mph
Range: 1,550 nm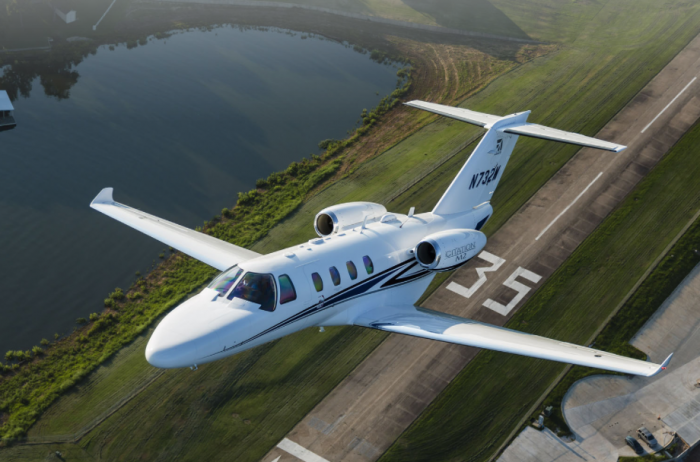 The latest version of the Citation CJ3, the CJ3+, was certified by the FAA in April of 2014 and comes equipped with advanced avionics. The cabin has been totally redesigned with new seating, taken from the Citation M2, which grants passengers additional articulating features as well as a more modern look.
The lavatory is now fully enclosed and gives passengers complete privacy and can double as a certified seating area for all phases of flight. New cabin options include air wireless internet, satellite phones, Cessna's proprietary Clarity cabin entertainment system, and Airshow in-flight information display.
Capacity: 9 (std config)
Cabin Size (H/W/L): 57 in/58 in/15.8 ft
Cruise Speed: 478 mph
Range: 2,040 nm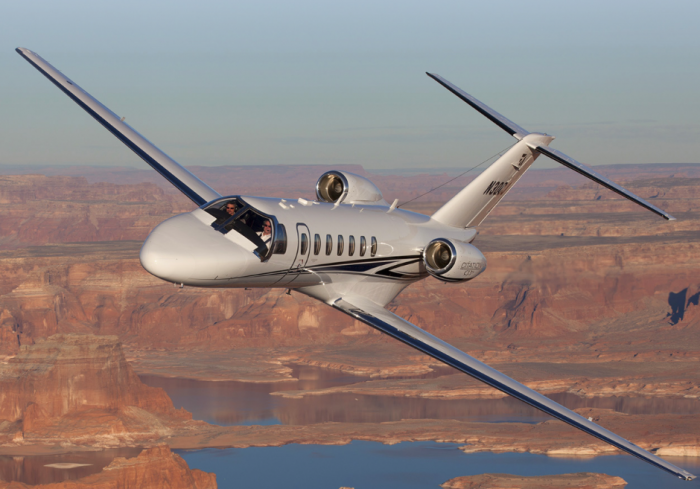 The Citation CJ4 stands out among competing light jets on cabin amenities alone. Six deep cushioned, wide leather seats articulate in three directions and can fully recline for long, comfortable trips. Each seat features retractable armrests. No matter the purpose of the flight, for business, personal enjoyment, or both, the CJ4 delivers on every aspect.
With a range of up to 2,165 nm, the ability to take off at maximum weight from runways as short as 3,130 ft, and a maximum cruise speed of 451 knots, the CJ4 not only makes it possible to fly directly to airports closer to your destination, it reduces the time needed to get there.
Capacity: up to 10 passengers (std configuration)
Cabin Size (H/W/L): 57 in/58 in/17.4 ft
Cruise Speed: 519 mph
Range: 2,165 nm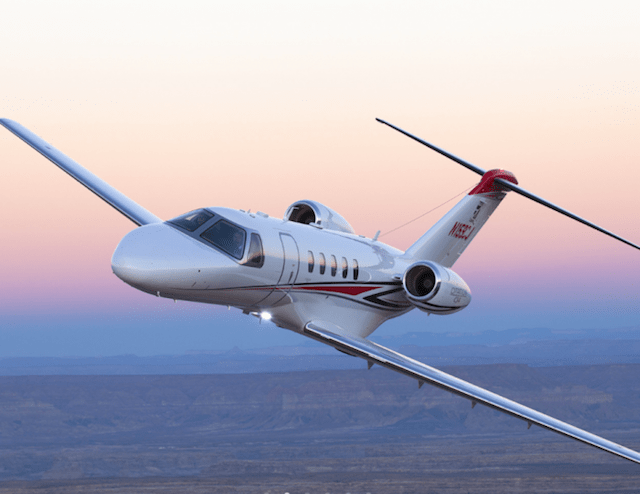 The cabin of the Learjet 75 is in a class of its own, designed for ultimate comfort and privacy featuring a flat floor for ease of movement, pocket door for reduced noise levels, as well as being fully-equipped for productivity.
It now has more legroom, a flat floor, a fold-down ottoman at the VIP seat, and a high-tech cabin management system. With revolutionary aerodynamics for greater performance in hot climates, high altitudes, and short-field capabilities, and this jet is the epitome of fit, finish, and performance.
Capacity: up to 9 passengers (std configuration)
Cabin Size (H/W/L): 4.11 ft/5.1 ft/19.10 ft
Cruise Speed: 621 mph
Range: 2,040 nm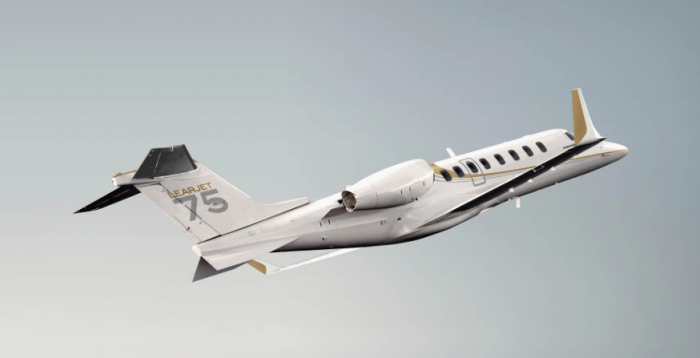 For more information on chartering any of the previous aircraft with Monarch Air Group, price out your flight here for an instant quote.