Choosing the appropriate private aircraft is an important decision. From light jets to heavy jets, from comfort and luxury to speed and convenience. There is a wide array of options when it comes to selecting the aircraft that fits your needs. At Monarch Air Group, we help you during the complete decision process; through select joint venture agreements, we have access to over 4,000 aircraft at all times, always accounting for the four pillars of private flight: Luxury, Flexibility, Efficiency and Privacy.
Short Distance flights
Planning a short range flight less than four hours? Then the Brazilian manufactured Embraer Phenom 300 is a wise choice. The Phenom 300 offers a spacious cabin, designed with BMW Designworks USA, and one of the largest baggage compartments in its class. The Phenom 300 also has distinct temperature zones for pilots and passengers, a wardrobe and refreshment centre, voice and data communications options, and an entertainment system.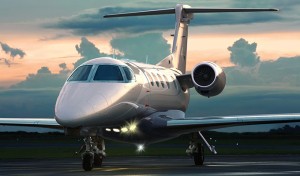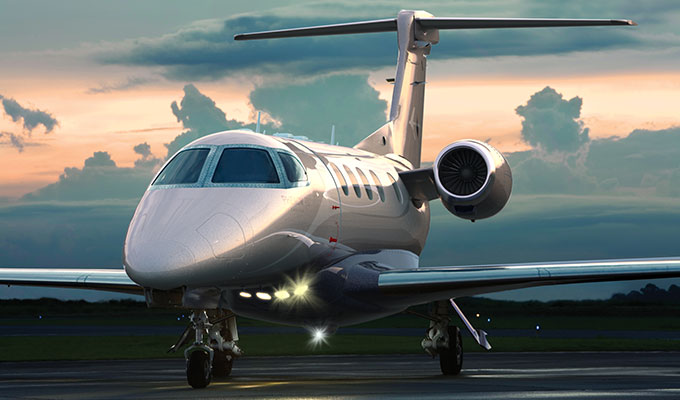 Capacity: up to 8 pax
Cabin Size (H/W/L): 4.11 ft/5.1 ft/17.2 ft
Cruise Speed: 598 mph
Range: 1,971 nm
If cost-effectiveness is what you're looking for, then the Cessna CitationJ M2 is a great option. Tradition and reliability align for one of the largest business jet fleets currently in service; the first Citation was put into service in 1972 and more than 35 million flight hours logged since. The cabin has been completely redesigned from the previous models. There are brand new seat appointments that have improved comfort tremendously, as well as a new entertainment system, called Cessna Clarity.
Capacity: 7 (std config)
Cabin Size (H/W/L): 57 in/58 in/11 ft
Cruise Speed: 464 mph
Range: 1,550 nm
Mid-range flights
If you're thinking to travel from L.A. to New York, slightly more than a 5 hour flight, then a solid decision would be to charter a Bombardier Learjet 60. This Canadian manufactured aircraft mixes speed and economy with the luxury of a private jet; it typically accommodates eight passengers, is one of the largest jets within the Lear class and provides generous space for a relaxing flight. It also offers additional amenities such as fold-out work tables, TV/DVD entertainment systems, fax machine, microwave, airshow, mini-galley, and enclosed lavatory.
Capacity: up to 8 pax
Cabin Size (L/H/W): 17.7 ft/5.7 ft/5.9 ft
Cruise Speed: 510 mph
Range: 2,405 nm
In the Super Midsize Jets segment, with almost the same range as some Heavy, Long Distance Jets, sits the Dassault Falcon 50, armed with three Honeywell engines which enables the aircraft to accomplish a range of approximately seven hours of flight time. Configured to carry eight passengers, the length of the cabin is 23.5 feet long, 5.9 feet high and maintains a width of approximately 6.1 feet. These measurements contribute to a total volume of 700 cubic feet, giving passengers ample room to move about and stretch out comfortably.
Capacity: 8-9 pax
Cabin Size (H/W): 5.9 ft/6.1 ft
Cruise Speed: 551 mph
Range: 4,026 nm
Long distance flights
Fancy travelling to London on a plane that's in a class of its own? We recommend the Gulfstream G650, which has set the standard in business travel. The G650 is the company's largest and fastest business jet with a top speed of Mach 0.925, up from its predecessor's top speed of Mach 0.885 (G550). The G650 has sixteen large panoramic windows, each 28 by 20.5 inches/71 by 52 centimeters, allowing sunlight into the cabin, even in the galley. And every window has been positioned higher on the fuselage to increase viewing comfort.
Capacity: up to 19 pax
Cabin Size (H/W/L): 6.2 ft./7.4 ft./43.11 ft.
Cruise Speed: 562 mph
Range: 6,750 nm
Another intercontinental range giant is the Bombardier Global 6000, with a slightly longer range than the G650. With a typical cruise speed of up to 564 miles per hour and a certified ceiling of 51,000 feet, the 6000 is capable of flying high above than most commercial airliners. The cabin of the Bombardier Global 6000 is over 48 ft. long, almost 8 ft. wide and more than 6 ft. high, making it a very spacious cabin to fly eight passengers comfortably, with enough space for two crew members. There is in additional high-density configuration where it is possible fit up to 19 passengers and two crewmembers, typically used for the longest routes.
Capacity: up to 19 passengers
Cabin Size (H/W/L): 6.25 ft./7.9 ft./48.35 ft.
Cruise Speed: 682 mph
Range: 7,707 nm
Monarch Air Group
We fly regularly to destinations throughout the United States, Caribbean, and around the world. Charter a private jet for your next business meeting in Shanghai or romantic getaway to an isolated island. No matter your itinerary, Monarch Air Group will provide the ultimate air charter experience.
Get to know more jets here: https://monarchairgroup.com/private-jets/
For more information on chartering a private jet with Monarch Air, price out your flight here for an instant quote. For further assistance, call us at +1 (954) 359 0059.