The Gulfstream G650 is in a class all on its own, it is the latest twin engine business jet aircraft produced by Gulfstream Aerospace.
Charter a Gulfstream G650 Private Jet:

The Gulfstream Aerospace Corporation is an American owned subsidiary of General Dynamics. They design, develop, and manufacture a wide range of jet aircraft. Gulfstream has produced more than 2,000 aircraft since 1958. It's obvious that today the sophisticated customers of the most capable business aircraft are looking for great performance across the board, from low cabin altitudes to excellent climbing ability.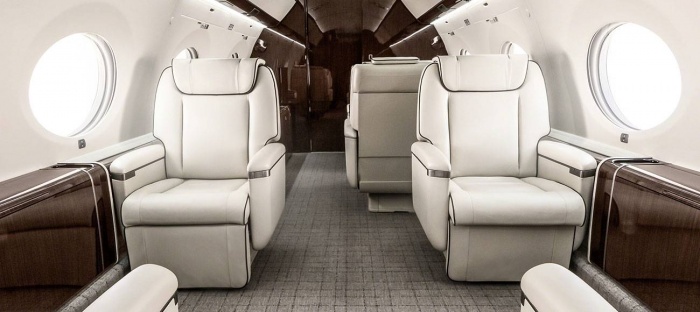 Gulfstream engineers partnered with several consumer advisory boards to create the aircraft that is aimed set the standard in business travel.
The G650 is the company's largest and fastest business jet with a top speed of Mach 0.925 up from its predecessor the G550's top speed of Mach 0.885.
Gulfstream has pushed for more performance in every aspect of flight. With the G650's long unfettered wings, they redefine how the air flows over an aircraft's wing, creating a highly efficient airfoil that delivers speed and an incredibly smooth ride.

Passenger Capacity: up to 19 passengers (std configuration) Sleeps 10
Cabin Length: 46.8ft | 14.27m
Cabin Height: 6.45ft | 1.95m
Cabin Width: 8.5ft | 2.59m
Baggage Capacity: 195 cu ft | 5.52 cu m
With its 8 foot 6 inch /2.59 meter-wide cabin, one of the largest in its class, helps create a comfortable environment for all passengers.
The G650 has sixteen large panoramic windows, each 28 by 20.5 inches/71 by 52 centimeters, allows sunlight into the cabin, even in the galley. Every window has been positioned higher on the fuselage to increase viewing comfort.
Aside from its great performance and luxurious interiors, Gulfstream further pushes the technology envelope by equipping the G650 with a computer-controlled, highly redundant fly-by-wire flight system, which, works together with the pilot or fully automatic, to provide measured, minute adjustments that create smoother flights and increase passenger comfort.
For more information on chartering a Gulfstream G650, price out your flight below or call us at 1 (877) 281 3051.