Monarch Air Group provides private air charter in San Francisco, CA. Our clients benefit from top-notch service, unrelenting dedication to safety, wide selection of aircraft, and years of experience in chartering private jets. To obtain a free quote, please use our online quoting tool provided below, or call toll-free 1-877-281-3051.
Charter a private jet in San Francisco
Book a Private Jet Charter to and from San Francisco and Things to Do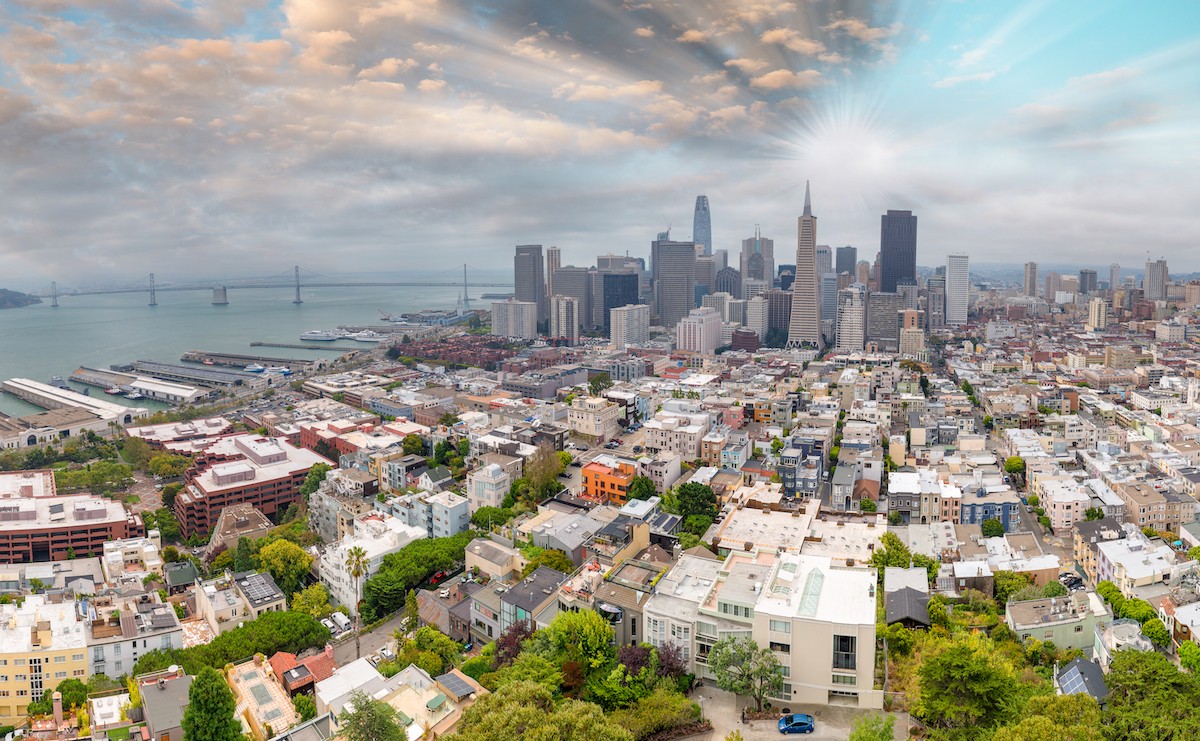 Monarch Air Group provides private jet charter flights to and from San Francisco.
San Francisco is the leading financial and cultural center of Northern California and the San Francisco Bay Area. With the famous Alcatraz Prison in the background and the Golden Gate Bridge joining it to Marin County, San Francisco has world-class shopping at such places as Union Square or Market Street, several opera and performing arts centers, wonderful museums, luxurious restaurants, nightclubs, and bars, and comfortable coffee houses.
The most notable attractions are Golden Gate Park, the Golden Gate Bridge, San Francisco Museum of Modern Art, Aquarium of the Bay, Alcatraz Island, Fox Theater, Driven Raceway, Boudin at the Wharf, and many others.
With a large seaport, San Francisco offers its visitors a number of waterfront attractions like shopping, entertainment, and fine dining. Having a cosmo atmosphere, scenic natural beauty, diversity, high standard of life, and entrepreneurial and technological innovation, San Francisco is a popular travel spot for business and leisure travelers alike.
Airports Near San Francisco for Private Jet Flights
92te, Chaney San Francisco Ranch
SFO, KSFO, San Francisco International Airport
OAK, KOAK, Oakland International Airport
SJC, KSJC, Norman Y. Mineta San Jose International Airport
STS, KSTS, Charles M. Schulz – Sonoma County Airport
AFA, San Rafael Airport
HWD, KHWD, Hayward Executive Airport
Hotels in San Francisco
Hotel Palomar, 12 Fourth Street.
Hotel Nikko, 222 Mason Street.
Palace Hotel, 2 New Montgomery Street.
Mandarin Oriental Hotel, San Francisco, 222 Sansome Street.
Hotel Monaco San Francisco, a Kimpton Hotel, 501 Geary Street.
Serrano, 405 Taylor Street.
Queen Anne Hotel, 1590 Sutter Street.
Hotel Vertigo San Francisco, 940 Sutter Street.
Hotel Whitcomb, 1231 Market Street.
Hotel Whitcomb, 1231 Market Street.
FAQ For a Private Jet San Francisco
Why choose a charter jet to San Francisco with Monarch Air Group?
Monarch Air Group provides private flights to and from San Francisco, ready to offer customized solutions for booking a variety of private jets, exclusive service terms, and luxury private jet rental. Regardless of your travel purpose, our team will meet all your requirements to ensure our San Francisco jet services meet your expectations. Call one of our agents for your San Francisco jet rental needs.
How much does booking a San Francisco private jet charter cost?
The cost of a private jet to San Francisco depends on the specific aircraft used for the trip and several other factors. Prices for charter flight are based on the number of hours flown and the complexity of the itinerary. You can contact our experts if you can't find the information you need on air charter San Francisco. Moreover, you can get a rough flight cost estimate by using a private jet charter cost estimator.
Here are some approximate prices for private flights to San Francisco:
Charter a Private Jet to SFO from Las Vegas: from $5,180;
Charter Flight to SFO from Los Angeles: from $5,180;
Jet Rental to SFO from San Diego: from $5,350.
*Estimated price before taxes & fees.
What types of private jets can use for San Francisco charter flight?
Our company has access to a comprehensive list of private jets for various trips. Each aircraft for San Francisco charter flights is serviced by a highly professional crew and has everything you might need regarding an individual or group charter flight. We'll find the perfect business jet for your needs and desires.
| Aircraft type | Passengers | Non-stop range | Cruising speed | Intended use |
| --- | --- | --- | --- | --- |
| Light Jet | up to 6 passengers | about 700 – 2000 miles | 476 to 518 mph | for comfortable short- to mid-range distances |
| Midsize Jet | up to 10 passengers | about 1300 – 1500 miles | 422 to 541 mph | to fly nonstop from coast to coast |
| Super midsize Jet | up to 10 passengers | about 3.500 – 4.000 miles | 490 to 590 mph | for longer flights |
| Heavy Jet | up to 18 passengers | about 6.000 miles | 480 to 551 mph | traveling overseas in luxury for an intercontinental flight |
| Turboprops | up to 10 passengers | about 600 – 1.900 miles | 220 to 360 mph | for short- to mid-range flights |
| Ultra-Long Range Jet | up to 19 passengers | about 2,800 – 7,685 miles | 460 to 594 mph | for long-haul travels |
| Helicopters | up to 28 passengers | about 250 – 600 miles | 150 to 175 mph | for passenger and cargo transportation |
What are the advantages of flying on a San Francisco private jet?
Renting a private jet has some undeniable advantages over commercial flights. We will do everything necessary to ensure your complete privacy and safety and guarantee a personalized level of service with a private plane charter in San Francisco. We place great importance on our customers' comfort and will take care of every element of your trip. Our specialist is available 24 hours, seven days a week, to take care of all your needs.
Popular destinations near San Francisco by private jet
Hillsborough – in Silicon Valley's San Mateo County, gets wildly rave reviews from private jet customers.
Oakland – 8 miles east of the city of San Francisco, the warm climate, great restaurants, and lively nightlife make it an exciting place to visit.
Atherton – voted the wealthiest city in the U.S. for the third year in a row, has great places for different kinds of recreation or work.
Hayward – boasts a balance of tourism and places to do business.
Our clients travel on efficient and comfortable private jets. If you haven't found the answers to all your questions, you can contact our experienced and reliable team at any time or visit our air charter FAQ page.