Monarch Air Group provides private air charter in Miami, FL. Our clients benefit from top-notch service, unrelenting dedication to safety, wide selection of aircraft, and years of experience in chartering private jets. To obtain a free quote, please use our online quoting tool provided below, or call toll-free 1-877-281-3051.
Charter a private jet to&from Miami
Reviews for private jet in Miami, FL
Here is why our customers choose us:
Book a Private Jet Charter to and from Miami, FL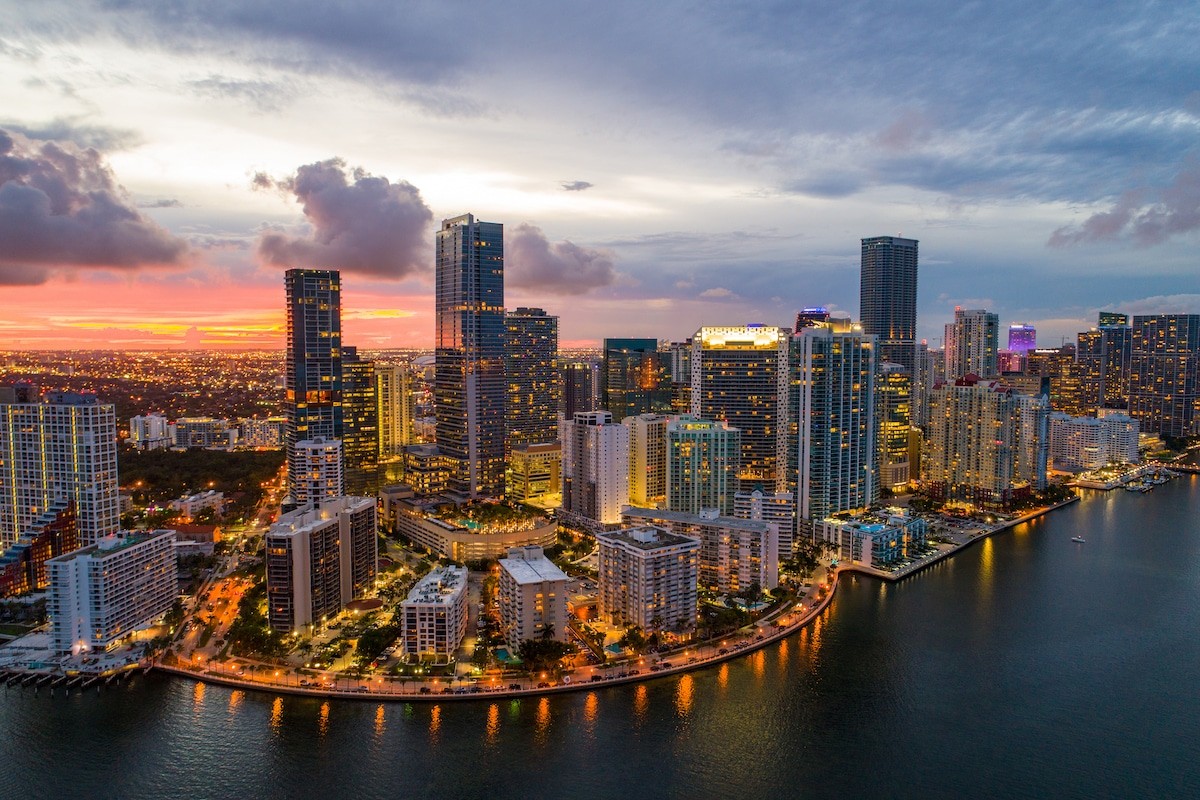 Monarch Air Group serves the world's elite on private jet routes to and from Miami and beyond.
Our repeat clientele includes Fortune 500 executives and officials from international government agencies and NGOs. Through select joint venture agreements, we provide access to a wide variety of corporate jets and service countless national and international destinations. We are certified third-party consultants to exceed industry standards in safety and performance.
We specialize in providing five-star luxury while maintaining optimum cost-effectiveness and logistical efficiency. We fly according to your schedule and will locate the right jet to fit your needs and budget. Whether you plan to conduct in-flight business meetings or relax with friends and family, our customizable amenities ensure your flight will be productive, rejuvenating, and ultimately stress-free.
Best Aircraft for Charter Flight to Miami
Monarch Air Group provides private jet charter flights to and from Miami, FL.
Mid-Size Jets for your Miami Private Jet Charter
Mid-size jets for a private jet to Miami accommodate up to nine passengers and offer an enclosed lavatory and outside luggage compartment. Select jets offer seats in a club-center pattern, ideal for in-flight meetings. Additional amenities further enhance the flight experience. Mid-size jets are ideal for smaller groups, short-range flights, and those seeking a cost-effective private jet without sacrificing speed, convenience and luxury.
Heavy Jets for your Miami Private Jet Charter
Heavy jets for charter flights to Miami can accommodate up to 16 passengers and offer a more spacious interior, with a cabin height of over 6 ft. Select jets offer seats that recline into full-length beds, as well as galleys and refreshment bars. Heavy jets are ideal for large groups or long-range nonstop flights. Additional amenities enhance the flight experience. The cruising speed is high while the ride is smooth, quiet, and enjoyable.
Every client is a VIP. On your next private jet to Miami, enjoy Wi-Fi, catering, massage chairs, flight attendants, digital entertainment, catering and more. Our operators are standing by 24/7 to assist you in scheduling your next luxury air charter to Miami. Call us today for a free quote.
Monarch Air Group – Because Experience Matters.
About Miami and Places to Discover
Situated on the Southeastern tip of Florida, Miami is the Sunshine State's epicenter for international commerce, finance, the Arts, and culture. Having more than eight different accessible airports, Miami serves more than 35 million domestic passengers a year, making it the fourth-largest populated city in the U.S. with a population of 5 million people. It's home to countless numbers of fashion designers and movie stars.
Miami boasts the largest volume of cruise ships in the world. Miami is not only a great vacation spot for families and tourists but also a national foundation for international trading and commerce. It's the fifth-best place in the U.S. to conduct business. In spite of Miami's size, in 2008 Forbes Magazine ranked Miami the #1 cleanest city in America.
Airports for Private Jet near Miami
MIA, KMIA, Miami International Airport, Miami, FL
FLL, KFLL, Fort Lauderdale-Hollywood International Airport, Fort Lauderdale, FL
BIM, MYBS, South Bimini Airport, Bimini, Bahamas
PBI, KPBI, Palm Beach International Airport, West Palm Beach, FL
OPF, KOPF, Opa-locka Executive Airport, Miami, FL
HWO, KHWO, North Perry Airport, Hollywood, FL
TMB, KTMB, Kendall-Tamiami Executive Airport, Miami, FL
MPB, Public Sea Plane Base, Miami, FL
FXE, KFXE, Fort Lauderdale Executive Airport, Fort Lauderdale, FL
PPM, Pompano Beach Airpark, Pompano Beach, FL
BCT, KBCT, Boca Raton Airport, Boca Raton, FL
Hotels in Miami
Epic Hotel, 270 Biscayne Boulevard Way, Miami.
Four Seasons Hotel Miami, 1435 Brickell Avenue, Miami.
Doubletree, 1717 North Bayshore Drive, Miami.
Four Seasons Hotel Miami, 1435 Brickell Avenue, Miami.
InterContinental Miami Hotel, 100 Chopin Plaza, Miami.
Sheraton Miami Airport Hotel & Executive Meeting Center, 3900 Northwest 21st Street, Miami.
Miami International Airport Hotel, Terminal, Miami.
Epic Hotel, 270 Biscayne Boulevard Way, Miami.
FAQ for a Private Jet and Air Charter Flights to Miami
Why choose a charter jet to Miami with Monarch Air Group?
Renting a private jet today is, in many cases, the only way to travel efficiently. If you are planning a business trip or want to take a trip to a beautiful place, a Miami private jet charter is the best choice for you. Please call one of our agents for a Miami charter jet.
How much does it cost to charter a Miami private jet?
The Miami private jet rental price is based on the type of aircraft you choose, the number of passengers, and the complexity of the itinerary. Our charter specialist will choose the most appropriate private jet considering your exact requirements. You can get an estimate on the flight cost using our charter flight calculator, or you can get a detailed assessment of the air charter Miami price by contacting our consultants.
Here are some approximate prices for private flights to Miami:
Private Jet to Miami from Teterboro: light jet – starting at $17,600;
Private Jet from Van Nuys to Miami: mid-size jet – starting at $32,300;
Charter Flights from Miami to Bahamas: piston – starting at $3,950.
What types of private jets can use for Miami charter flights?
Aircraft for Miami charter flights are ideal for different types of travel and have a specific cabin arrangement. The choice of the right aircraft for your journey will depend on the length of your trip, how much luggage you have, and what level of comfort you require. We are ready for sudden changes, we are available 24 hours a day, seven days a week, and we will choose a business jet that suits your needs and wishes perfectly.
| Aircraft type | Passengers | Non-stop range | Cruising speed | Intended use |
| --- | --- | --- | --- | --- |
| Light Jet | up to 6 passengers | about 700 – 2000 miles | 476 to 518 mph | for comfortable short- to mid-range distances |
| Midsize Jet | up to 10 passengers | about 1300 – 1500 miles | 422 to 541 mph | to fly nonstop from coast to coast |
| Super midsize Jet | up to 10 passengers | about 3.500 – 4.000 miles | 490 to 590 mph | for longer flights |
| Heavy Jet | up to 18 passengers | about 6.000 miles | 480 to 551 mph | traveling overseas in luxury for an intercontinental flight |
| Turboprops | up to 10 passengers | about 600 – 1.900 miles | 220 to 360 mph | for short- to mid-range flights |
| Ultra-Long Range Jet | up to 19 passengers | about 2,800 – 7,685 miles | 460 to 594 mph | for long-haul travels |
| Helicopters | up to 28 passengers | about 250 – 600 miles | 150 to 175 mph | for passenger and cargo transportation |
What are the benefits of flying on a Miami private jet?
Flexibility, privacy, and a high level of service are guaranteed when you charter a private plane Miami. Hiring a private jet for an individual or group charter flight has several advantages over commercial flights. For example, you can customize your menu, order a hotel transfer, or choose the number of crew on board. We do our best to meet your individual needs and desires and will be happy to provide an exclusive service.
Popular Destinations near Miami by Private Jet
Opa Locka— in northeastern Miami-Dade County, this is an outstanding destination with magnificent natural treasures and beaches.
Fort Lauderdale—is a resort town on the Atlantic Ocean and has developed as a world-class international business center and the "Yacht Capital of the World."
West Palm Beach—is one of South Florida's premier cultural centers with year-round festivals.
Florida Keys—is an ideal tropical destination with diving, luxurious beaches, and world-class fishing.
Key West—is a popular cruise port and family vacation spot 90 miles off the coast of Cuba.
Our clients travel on efficient and comfortable private jets. If you haven't found the answers to all your questions, you can contact our experienced and reliable team at any time or visit our air charter FAQ page.