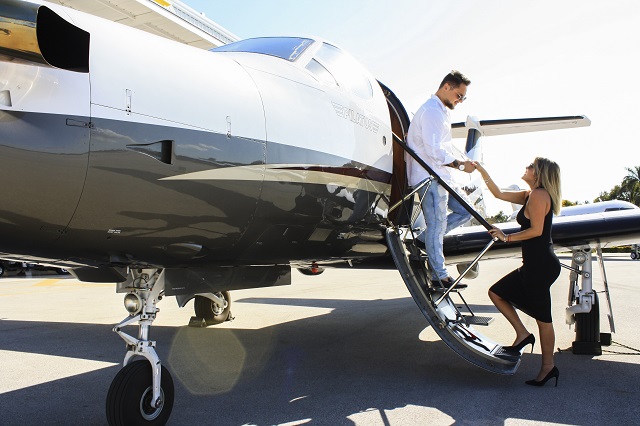 Love is in the air, so what could be more remarkable than whisking your loved one away to some place amazing this weekend? Doing it in style with a private jet waiting for you. Wherever you choose to go, beginning your journey with a luxury private jet surely sets the tone for romance.
Charter a private jet to the romantic getaways for Valentine's Day
With so many destinations to choose from, there is no need to wait for a special occasion to show just how much you love them. Below are five great destinations that are sure to make this trip a memorable one.
1. Paris, FR
Jet off to the iconic City of Lights and stroll hand-in-hand along the Seine while visiting museums and shopping along Rue Saint-Honore. When you book your private charter flight with Monarch Air Group, you have the flexibility to fly from your nearest airport and land in Paris at the airport of your choice. Whether enjoying a cup of coffee at one of the quaint sidewalk cafes or people watching at the Luxembourg Gardens, it wouldn't be the ultimate Valentine's Day date without a romantic picnic for two under the Eiffel Tower.
2. New York, NY
Though New York is synonymous with business, the City cannot be forgotten as a destination for romance with world-class spas and unmatched fine dining experiences. New York offers an atmosphere private jet guests love, with its exclusive restaurants and luxury hotels. Still not convinced? Book a flight to one of the nearby airports in Upstate New York for a cozy winter retreat by the fireplace.
3. Napa Valley, CA
From scenic vineyards, cozy restaurants offering gourmet dinners and vintage wines, Napa Valley is all romantic. Enjoy 5-star golf resorts, or cuddle up in a Bed & Breakfast and venture out only for shopping, dining or a romantic winery tour. With Monarch Air Group, you can book your private jet charter and travel to Napa Valley without the hassle of airport lines and frequent delays.
4. Charleston, SC
As pastel-colored historic mansions and Spanish oak trees line the streets, spend your Valentine's Day in Charleston exploring farmer's markets, indulging in Southern cuisine, and taking in the sunset views from the sailing harbor.
Whether you are looking for an intimate evening for two or something more unconventional, Charleston is sure to bring out the best Valentine's date in you.
5. Montreal, QC
Nicknamed la ville aux cent clochers (the city of a hundred steeples), Montreal is renowned for its churches and rich history. Wander around the cobblestone streets and visit Mont Royal for a guided snowshoe to the top to admire the nature around you.
Enjoy a glass of champagne or an après-ski beverage after, as you build memories that will last a lifetime. With our staff being available 24/7, we are sure to help you plan your Valentine's Day flight, even if it's last minute.
Advantages of Private Jet Chartering with Monarch Air Group
By chartering a private flight with Monarch Air Group for your Valentine's Day weekend getaway, you will avoid all the stress involved with commercial flights – long lines, baggage restrictions, frequent delays, cancellations and most importantly, wasted time.
Among our customers are Fortune 500 corporations, leading entrepreneurs, NGO's and discerning individuals around the world. With clientele including the United Nations, the U.S. and Canadian defense departments and the World Food Programme, we are subject to the most rigorous requirements in safety and operational standards.
With 12 years of experience, we are a leading provider of on-demand private jet-charters, aircraft management and long-term aircraft lease. We are also proudly involved in rescue, emergency relief and humanitarian efforts worldwide. All things that should make you feel safe, secure and at peace when booking your flight with Monarch Air Group.
Our staff is available 24/7. Call + 1 (954) 359 0059 to book your flight today.