Monarch Air Group's air charter service to Napa Valley, CA is guaranteed to be private, efficient, and flexible. Airports servicing the San Francisco Bay Area include Marin County Airport (KDVO), Petaluma Municipal Airport (KO69), and Buchanan Field Airport (KCCR). For the nearest airport to Napa Valley, Monarch Air Group provides air charter services directly to Napa County Airport (KAPC).
Charter a private jet to/from Napa Valley
Book a Private Jet Charter to Napa Valley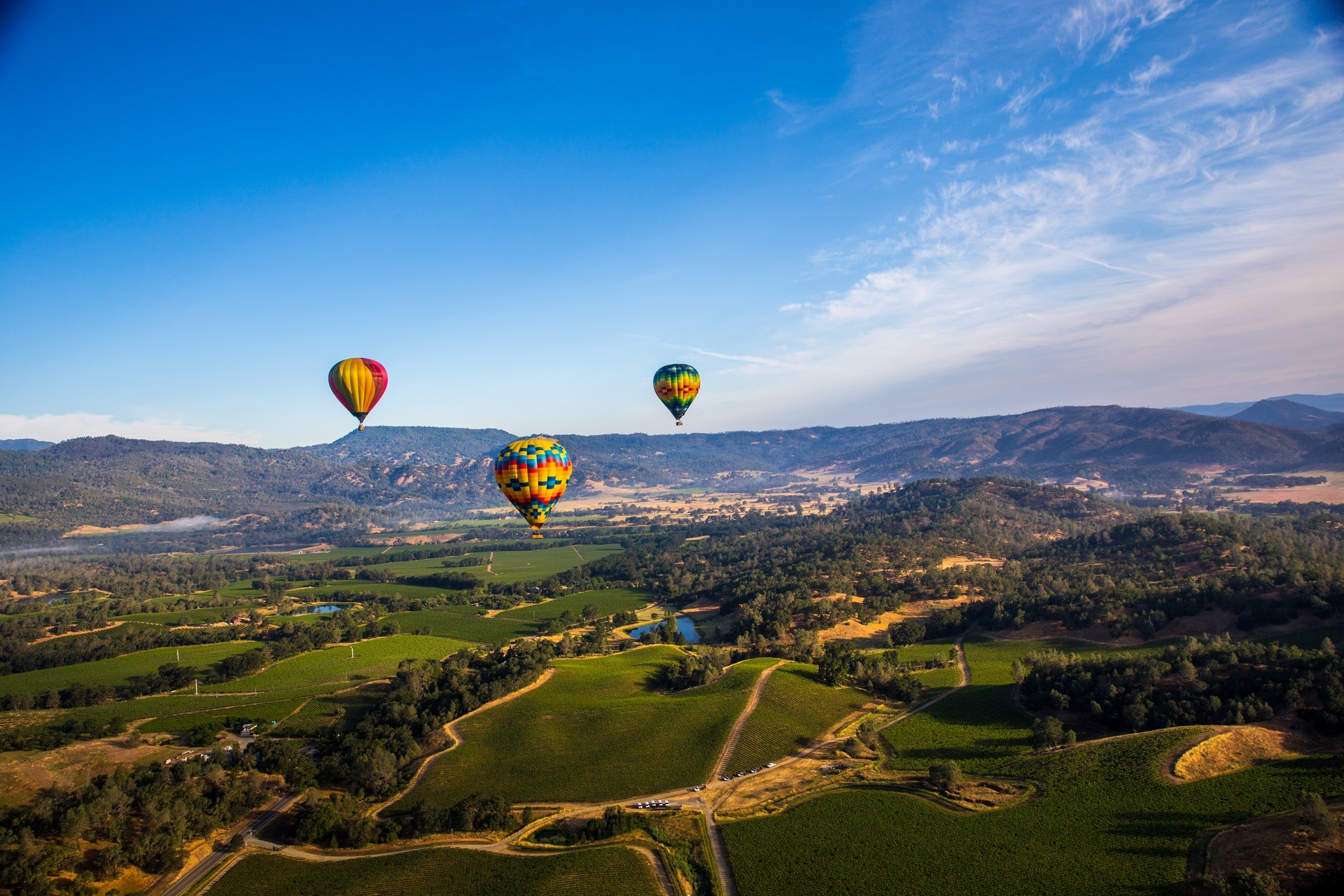 Monarch Air Group provides private jet charter flights in and out of Napa Valley.
One of the world's major wine-producing regions, Napa Valley, is in the American state of California. There are more than 400 wineries famous for their famous Cabernet Sauvignon. Over 5 million people travel yearly to Napa Valley to discover its fine dining, vineyards, sightseeing opportunities, and shopping. So whatever your expectations are for your Napa Valley private jet charter, the result is understated and exceptional.
Napa Valley is among the world's leading travel destinations in the San Francisco Bay Area. Discover a culinary and wine experience with a Napa Valley private jet. Stroll through vineyards while enjoying spectacular views and tasting Napa Valley's award-winning wines. Travelers will enjoy accommodations in one of many modern hotels, luxury resorts, spas, and meals at top restaurants.
Book a private jet flight to Napa Valley to visit the most notable attractions, including the Opera House, Safari West, the Beringer Brothers Winery, the Seguin Moreau Napa Cooperage, the Napa Valley Exposition, and the Veterans Home of California, among others. Napa Valley boasts numerous outdoor activities, from horseback riding at Bothe State Park, live cooking at the Culinary Institute of America, hiking at Robert Louis Stevenson State Park, and hot air ballooning.
The closest airport to downtown Napa Valley is Napa County Airport (APC, KAPC). Also, the international airports near the wine region are Oakland International Airport, 50 miles, San Francisco International Airport, 55 miles, and Sacramento International Airport, 60 miles from Napa Valley. Each airport is suitable for charter jet service to and from Napa Valley.
To book your air charter service to Napa Valley, call +1 (954) 359 0059 to reach our charter department. To get an instant quote, submit your quote request here.
Cost to charter a private jet to&from Napa Valley
The cost of a private jet to Napa Valley will vary depending on the size of the private jet, duration, flight time, and other factors. Here are some price options for private jets to or from Napa.
To/From Location
LA
New York
Las Vegas
Aircraft Type
Light Jet
Midsize Jet
Very Light Jet
Estimated Price
(One-Way)
$10,700 – $14,900
$48,500 – $60,000
$10,200 – $14,500
Flight Duration
1hr 10min
6hr 10min
1hr 32min
Napa Valley Private Jet Airports within 70 miles
APC, KAPC, Napa County
UXK, Petaluma Municipal
KVCB, VCB, Nut Tree
NOT, KDVO, DVO, Marin County
SRF, San Rafael Gnoss-Hamilton
WRM, Smith Ranch
STS, KSTS, Charles M. Schulz – Sonoma County
OAK, KOAK, Oakland International
SFO, KSFO, San Francisco International
SMF, KSMF, Sacramento International
FAQs: Private Jet Flights to Napa Valley
Why choose a private jet to Napa Valley with Monarch Air Group?
Monarch Air Group provides customized Napa Valley, CA, private jet charter services for individuals, corporate executives, and travelers. We will find the most cost-effective means of performing Napa Valley jet charters while maintaining the highest level of flight safety and personalized service. Our team will meet your requirements to ensure that our services meet your expectations for Napa Valley private jet rentals.
How much does it cost to book a Napa Valley private jet charter?
Flight time, hourly aircraft rate, and Napa Valley jet size affect the cost of a private charter flight. Business jet rates range from $1,300 per hour for a turboprop to $13,000 per hour for a luxury jet.
What types of private jets can use for Napa Valley charter flights?
Monarch Air Group offers a wide range of Napa Valley jets depending on the number of passengers, flight distances, and the level of amenities you want to have on board. Modern jets for Napa Valley air charter service can provide space for group charters, business meetings in the air, and other amenities. The more information you can provide when you charter a private jet to Napa Valley, the better level of service we guarantee.
What are the benefits of flying a Napa Valley private jet?
Napa Valley private jet charters will ensure you have a luxurious flight and arrive at your destination on time. Whether traveling on business, with family, pets, or a group, jet rental with Monarch Air Group ensures a flight that meets your unique needs. We will create a customized private plane charter Napa Valley offer to fit your needs, schedule, and budget.
Popular destinations near Napa Valley by private jet
Yosemite – an impressive showcase of the Earth's natural beauty.
Big Sur – is high above the Pacific Ocean, where dense forests meet the sea and create a setting for an unforgettable vacation.
Lake Tahoe – is a year-round destination for skiing, water sports, and mountain splendor.
Palm Springs – popular with travelers for its mid-century style and popular music festivals.
San Diego – brings the best features of California cities with miles of sandy shores, fine food, and drinks.
Los Angeles – is the cultural center of California, welcoming travelers and staying in their hearts forever.
Our clients travel on efficient and comfortable private jets. If you haven't found the answers to all your questions, you can contact our experienced and reliable team at any time or visit our air charter FAQ page.