Monarch Air Group provides private air charter in Montreal, QC, Canada. Our clients benefit from top-notch service, unrelenting dedication to safety, wide selection of aircraft, and years of experience in chartering private jets. To obtain a free quote, please use our online quoting tool provided below, or call toll-free 1-877-281-3051.
Charter a private jet to/from Montreal, QC, Canada
Book a Private Jet Charter to and from Montreal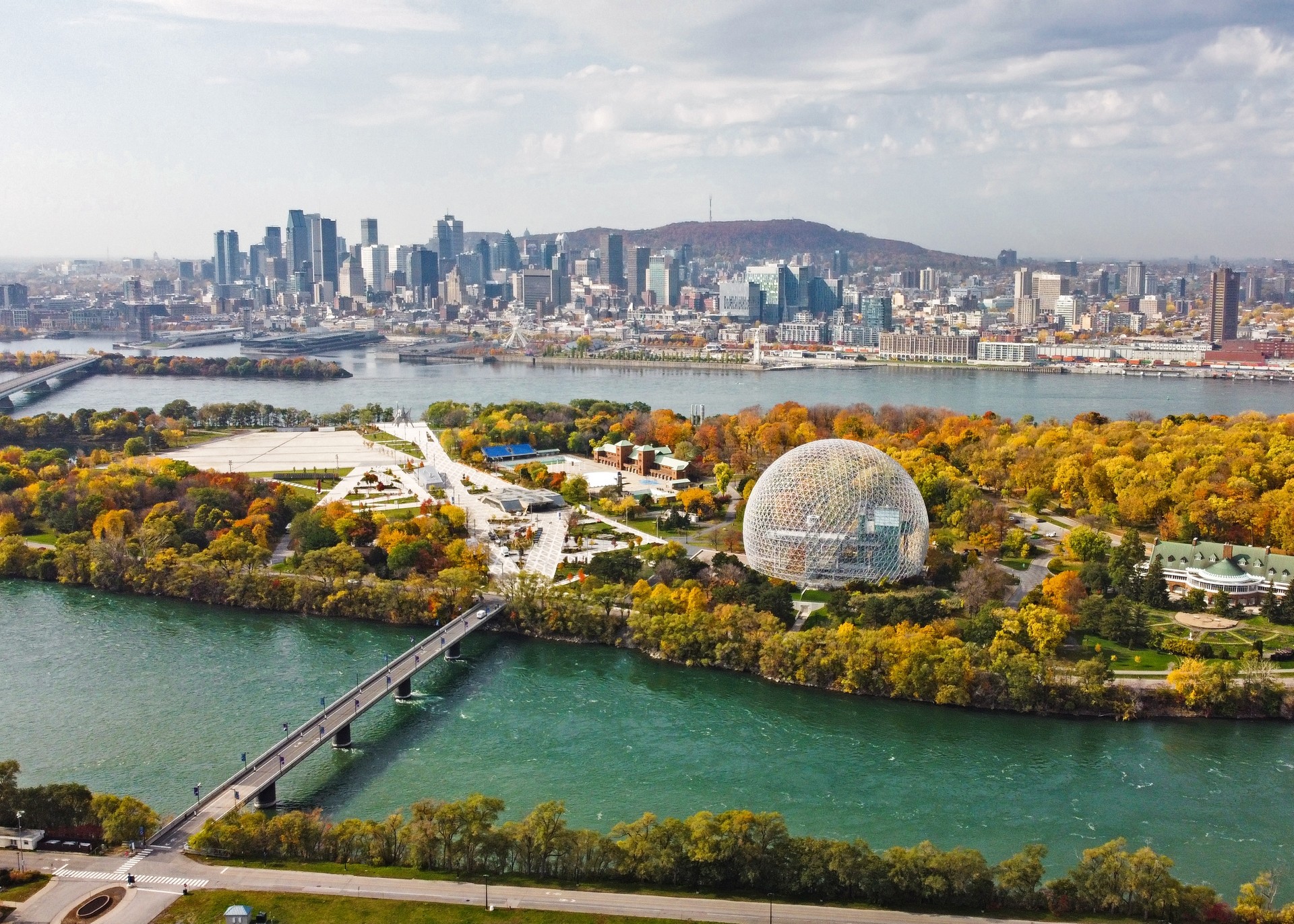 Monarch Air Group provides private jet charter flights in and out of Montreal, Quebec, Canada.
Montreal, the stunning second-largest city in Canada, is characterized by two major districts: new Montreal and Old Montreal. Strolling along St. Catherine's Street offers a delightful experience of dining and shopping while exploring Old Montreal unveils a plethora of thrilling and historically significant landmarks. With a captivating fusion of French and English influences, Montreal private jet charter offers an array of activities that cater to all interests and tastes. From its historic architecture and world-class dining scene to its lively festivals and serene parks, this city is a treasure trove of experiences waiting to be discovered.
For a peaceful escape within the city, head to Mount Royal Park. Designed by Frederick Law Olmsted, the same landscape architect behind New York's Central Park, this park offers hiking trails, scenic viewpoints, and a picturesque lake. Charter a private jet to Montreal and climb the Chalet du Mont-Royal to enjoy panoramic views of the cityscape below. In the winter, the park becomes a haven for outdoor enthusiasts with opportunities for ice skating, snowshoeing, and cross-country skiing.
With a private jet to Montreal, explore the underground city. Cold weather is no obstacle to exploring Montreal's vibrant culture, thanks to its extensive Underground City. This network of interconnected shopping centers, office buildings, and metro stations spans over 32 kilometers and provides shelter from the elements. You'll find boutiques, restaurants, theaters, and even art installations beneath the city streets.
Charter a private jet to Montreal and dive into arts and culture. Montreal's cultural diversity is reflected in its numerous museums and art galleries. The Montreal Museum of Fine Arts boasts an extensive collection spanning various periods and styles, while the Musée d'Art Contemporain showcases contemporary works by local and international artists. The McCord Museum provides insight into Montreal's history and culture through its fashion, photography, and indigenous heritage exhibitions.
Rent a private jet to Montreal and immerse yourself in festivals. Throughout the year, the city hosts many events celebrating music, art, culture, and more. The Montreal International Jazz Festival, the Just for Laughs Comedy Festival, and the Montreal World Film Festival are just a few examples. These festivals transform the city into a hub of creativity and entertainment, attracting visitors from around the globe.
Montréal–Trudeau International Airport, also known as Montréal–Trudeau or Montréal–Dorval International Airport, is an international airport located in Dorval, Quebec, Canada. It is the sole airport designated by Transport Canada for international travel serving Montreal, situated 12 miles west of Downtown Montreal.
Montreal Private Jet Rental Cost
Montreal's private jet rental ranges from $2,000 to $17,000 per billable flight hour or more. Turboprop jets cost from $1,800 to $2,400 per hour, light jets cost from $2,400 to $3,900, mid-size or super-midsize jets cost from $4,200 to $8,100 per flight hour, while heavy and ultra-long range jets per flight hour cost from $7,200 to $17,800.
Airports for Private Jets near Montreal
YHU, CYHU, Montréal/Saint-Hubert Airport, Montreal, Canada
YUL, CYUL, Montréal-Pierre Elliott Trudeau International Airport, Montreal, Canada
YJN, CYJN, Saint-Jean Airport, Saint-Jean-sur-Richelieu, Canada
YMX, CYMX, Mirabel International, Montreal, Canada
FAQ: Private Charter Flights to Montreal
Why Choose a Charter Jet to Montreal with Monarch Air Group?
Monarch Air Group provides top-quality private plane charters to Montreal. Our primary goal is to tailor our services to meet your specific travel requirements. We prioritize flexibility and convenience, ensuring that your private jet charter experience is both comfortable and efficient while maintaining strict confidentiality. All of this is offered at a competitive price.
What Types of the Private Jets Can Use for Montreal?
Monarch Air Group offers a range of air travel options for trips to Montreal. Choices are determined by factors such as flight distance, desired comfort, and passenger count. We provide high-quality jets that are pet-friendly and come with in-flight entertainment systems. Our charter specialists will assist you in choosing the ideal aircraft and service for your Montreal charter flights once you provide trip details.
What are the Benefits of Flying Montreal Private Jet?
Montreal jet charters offer convenient choices for busy individuals, providing direct flights to your chosen destination on your preferred date and time. Whether you're traveling with family or colleagues, our private jet charters let you personalize your trip with hotel transfers, in-flight meals, and even onboard business meetings. Our team of specialists focuses on customized private plane rental services to fulfill your specific requirements.
Can I Bring My Pet on a Private Jet to Montreal?
Please note that each Montreal flight has its own rules and limitations regarding pets. Our main priority is the safety and well-being of all passengers and their furry companions.
Popular Destinations near Montreal by Private Jet
Located about 2.5 to 3 hours away from Montreal, Quebec City is a UNESCO World Heritage site and one of Canada's oldest cities. Its charming Old Town is famous for its cobblestone streets, historic architecture, and stunning views of the St. Lawrence River. Visitors can explore landmarks like the iconic Château Frontenac, visit museums, and immerse themselves in the city's rich French-Canadian culture.
Mont-Tremblant is a popular year-round destination near Montreal. In the winter, it's known for its ski slopes and winter sports, while the summer offers opportunities for outdoor activities like hiking, mountain biking, and boating. The picturesque Mont-Tremblant village boasts shops, restaurants, and a European-inspired ambiance.
Eastern Townships is located southeast of Montreal and is known for its charming villages, rolling hills, and scenic landscapes. The Eastern Townships offer a range of activities, such as wine tasting, exploring art galleries, visiting historic sites, and enjoying outdoor activities in national parks.
Canada's capital city, Ottawa, is west of Montreal. Visitors can explore iconic landmarks like Parliament Hill, the Rideau Canal, and the National Gallery of Canada. Ottawa's blend of history, culture, and government institutions makes it a fascinating destination.
Our private aircraft utilize cutting-edge technology to optimize flight efficiency and guarantee passenger safety. Customer satisfaction is our top priority, and we customize our services to cater to individual requirements. For more information, please refer to our "Frequently Asked Questions" section or get in touch with us directly.