We Specialize in Providing and Customizing the Perfect Private Jet Experience for Proposals, Bachelor/Bachelorette Parties, Weddings and Honeymoons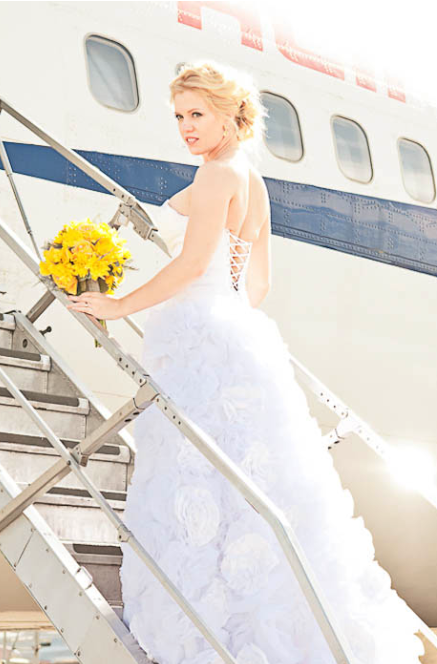 In response to the growing trend of booking private jets for everything wedding-related, including proposals, destination weddings, in-air weddings, and unforgettable honeymoons, Monarch Air Group has partnered with top Wedding Wire-rated wedding planner Busy Bee's to deliver spectacular, completely customized on-demand air charter wedding services.
How it Works: Booking a Private Jet for your Proposal, Wedding, or Honeymoon
Start by sharing your vision with our friendly, knowledgeable account managers, just like you would with any other charter. You can start the process by using our online Instant Quote tool, calling us at (954) 359-0059, or texting your favorite account manager any time, day or night. We'll work with you to create the perfect moment, incorporating ground transportation, one-of-a-kind catering, and in-flight entertainment into the mix. For wedding-specific requests, we'll also enlist Bettina Beniziri and team at Busy Bee's to create a gorgeous experience including floral arrangements, photography, cakes, champagne, officiants, and even multi-city ceremonies.
Here are the 7 steps to maximize the private jet experience for weddings and honeymoons:
1. Dial-up the Romance with a Multi-City Private Jet Date Night
Let your partner know how you feel by surprising them with a sunset departure, surprise destination, and dinner in their favorite city. With our culinary partnerships, we can even manage your reservations and serve treats from your favorite restaurant, chocolatier, or bakery.
2. Propose at 40,000 Feet in a Private Jet
The proposal shapes your story as a couple for the rest of your life, and private jets certainly make it memorable! Some heavy jets even have multiple rooms so the two of you can share a special moment before joining your closest friends and family in the main cabin. Because you can keep the destination a secret until landing (unlike commercial aviation), you can also whisk your beloved to a special place to celebrate your engagement.
3. Jet off to Your Bachelor and Bachelorette Party
We help get the party started to maximize the time you have to celebrate with friends and loved ones. Whether you're craving a champagne toast at take-off, your favorite music, and snacks, or special decorations, we can create a memorable, fun-filled experience before you even reach your destination.
4. Take a Private Jet to the Chapel or your Destination Wedding
With reports showing that nearly a quarter of all weddings are destination weddings, you can make the journey part of the main event with a private jet for your fiance, wedding party, and closest family members. Whether you're visiting an exotic beach hotspot or the small town where you were born, taking a private jet to the destination minimizes headaches about luggage/gowns arriving on time, cancellations, security, and missed flights while creating a special moment with loved ones.
5. Consider Holding the Wedding Ceremony on Your Private Charter
Our top trend, identified in partnership with Busy Bee's, is that couples are beginning to conduct wedding ceremonies in the air, over meaningful landmarks, on private jets. We have been brainstorming how to fully transform the jets into flying venues, ranging from recommending the right types of heavy jets to enable wedding party movement to full floral display to cakes finished in galleys, to photographers and videographers who specialize in capturing the romance of the private jet experience. These weddings allow for a more intimate ceremony with parties at both the takeoff and arrival destinations.
6. Jet Off to Your Honeymoon
After the chaos of a wedding ceremony, we can ensure that your private jet is a welcome respite on the way to your honeymoon destination. Private jets can also be tremendous time savers if you choose to get married on a hard-to-reach destination such as the most stylish Caribbean islands, and honeymoon in another, equally beautiful but isolated destination.
7. Relive it all on Your Anniversary
Your anniversary is an excellent time to surprise your partner with a trip to your wedding venue, honeymoon destination, or even the place you met. We can work with you to conspire to keep all the arrangements secret until you land, have your wedding video on the in-flight entertainment system, and cater the flight with treats from your wedding day (or even your frozen cake top on heavy jets with galleys!).
Whether you're ready to get serious about a budding romance, pop the question, jet off to the chapel, get married in the air, indulge in a once-in-a-lifetime honeymoon flight, or just relive your wedding day experience, Monarch Air Group and Busy Bee's are here to help make it memorable. You can start with the process with our online Instant Quote tool or give us a ring at (954) 359-0059.