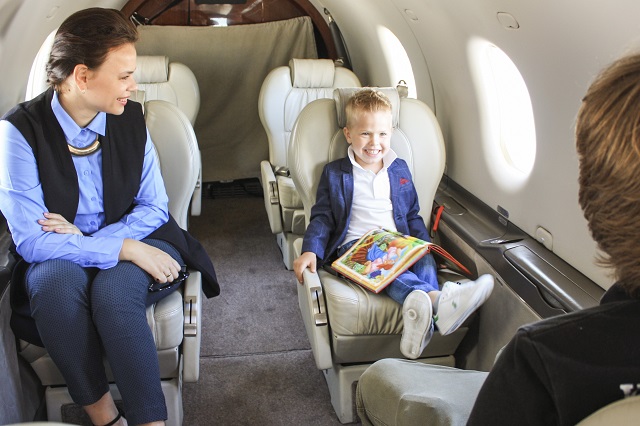 Preparing a family trip, at any level, can be hard work. The luggage, arranging the ground transportation to the airport, getting there three hours before the flight, booking for accommodation just to name a few challenges. Traveling with more than one child and even a pet? Good luck trying to make your flight on time.
This is this case with commercial aviation, where fixed schedules manage the beginning and culmination of the family holidays. Private aviation offers a completely different experience that leaves transportation annoyances out of the equation.
What are the perks of flying private
Did you know your pet can join your family in the cabin, that the plane waits for you instead of the other way around and that the boarding process will take no longer than 15 minutes? Yes, the perks of flying private. Private jet providers such as Monarch Air Group in Fort Lauderdale have seen an increase of family trips via private jet. In 2017 they experienced a 10% growth in booked leisure flights compared to 2016, a fact that demonstrates the relevance of flexibility during holidays.
"Private jet travelers seek flexibility when traveling for business, so why discard that advantage when traveling for pleasure? Price is also in favour when booking a private jet compared to first-class commercial; renting a jet for the family is less expensive than 6 to 8 first-class tickets, especially when travelling to an international destination. We project that this trend will continue; the possibility to completely manage the itinerary, land in almost any airport in the world, discover remote locations and enjoy complete privacy and quality family time onboard is only possible in private aviation," explains David Gitman, Executive Director at Monarch Air Group.
The sky is the limit
Depending of the amount of people flying and the destination, there is a wide array of possibilities regarding the type of aircraft that can be used for the holiday trip; from a turboprop plane like the Pilatus PC-12 for flights less than three hours and seating up to 8 passengers, a mid-size jet like the Embraer Legacy 500 for 12 passengers and for a 6 hour journey, and heavy-jets like the Gulfstream G650 or the Challenger 604, both seating up to 19 passengers and boasting the capacity to cover flights lasting more than 10 hours.
Destinations are also countless when flying private since the client can entirely adapt the aircraft to the runway, an important feature when exploring exotic destinations in the Caribbean, Asia or Africa, where there is a larger chance to find non-paved airstrips suitable for only a reduced amount of aircraft.
Nevertheless, the majority of leisure routes don't need to account for runway conditions; traditional flights like the ones connecting Miami to New York, New York to London and Fort Lauderdale to The Bahamas, just to name a few, which still represent the majority of private holiday flights globally.
Established in 2005, Monarch Air Group is a leading provider of on demand private jet charter, aircraft management and long-term aircraft lease. Among Monarch's customers are Fortune 500 corporations, leading entrepreneurs, Government agencies and world leading NGO's.