With Miami to New York being among our most popular routes, Monarch Air Group is an experienced provider, located in a strategic location, to offer on-demand private air charter flights from South Florida to the North East. By utilizing our Ft. Lauderdale based fleet or one of many preapproved vendors, we provide an extensive array of aircraft for private, group, and executive air charter. Our charter services are guaranteed to be private, efficient, flexible, and customizable to your needs.
Charter a Private Jet From Miami to New York:
One of the most common private jet routes in the world, Miami to New York, spans across 1,200 nm and typically takes just under 3 hours. Travelers utilize the Teterboro, NJ (TEB), White Plains (HPN), La Guardia (LGA), and the Kennedy (JFK) airports in NYC, and the Miami (MIA), Opa Locka (OPF), Ft. Lauderdale (FLL, FXE) airport in the greater Miami area. Private aircraft servicing the route are Heavy, Mid, and Light jets.
Aircraft for Private Jet Flights Between New York and Miami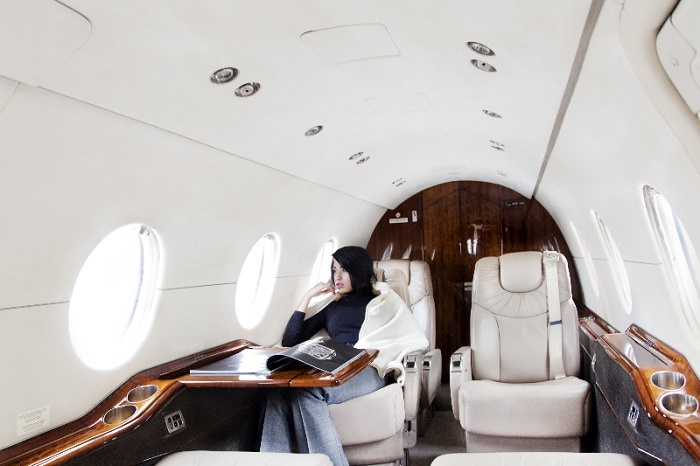 Heavy Jets from Miami to New York
Enjoy being a passenger on a heavy jet for the ultimate flying experience. Typical Heavy jet provides a wide stand up cabin (over 6 ft) high, plenty of luggage room, and comfortably accommodates 12-16 passengers.
Often serviced by a cabin attendant, the aircraft provides for true luxury with amenities such as gourmet catering, enhanced entertainment systems, meeting, and sleeping facilities. Leading manufacturers include the Challenger, Gulfstream, Falcon, and Embraer aircraft.
Midsize Jets from Miami to New York
Midsize jets provide a typical cabin height of 5'7ft, comfortably accommodates 6 passengers with some aircraft configured for up to 9 passengers. While exact amenities vary by specific aircraft, most include WIFI, enclosed lavatory, entertainment system, exterior, and interior luggage capacity. Select manufacturers include the Gulfstream, Lear, Citation, Hawker, and others.
Light Jet from Miami to New York
Accommodating up to 8 passengers, with enclosed lavatory and (often) WIFI service, these aircraft provide hassle-free, non-stop, convenient air charter between Miami and New York. Additional amenities include an entertainment system, Internet access, and onboard catering.
Why choose an air charter between Miami and New York?
Using a private plane charter from Miami to New York is a popular service for business people and those who are time-sensitive. You can handle all your business needs right in the comfort of your private jet and hold meetings right in the air. Call one of our agents about a charter jet from Miami to New York. Through our flexible approach, we can arrange flights for almost any destination.
How much does it cost to book a private jet charter between Miami and New York?
The cost of a private jet from Miami to New York is based on many factors. It would be best to consider the business jet model, the itinerary, and more when making arrangements. Private jet rentals are considered short-haul flights, so even the most miniature charter aircraft, including turboprops, can make the flight. Using the charter flight cost calculator on the website, you can get a rough estimate of the cost of the flight. To find out the exact price it is best to contact our specialists.
The estimated cost of a one-way private jet from Miami to New York is as follows:
Light Jet $18,300 – $24,800;
Midsize Jet $21,100 – $28,500;
Super Midsize Jet $24,400 – $33,100;
Heavy Jet $30,600 – $37,800;
Ultra Long Range Jet $42,300 – $52,400.
What are the advantages of flying from Miami to New York private jet?
Chartering a private jet has several undeniable advantages over commercial flights. First, such flights are organized specifically for the client and are tied exclusively to a personal schedule. This removes all restrictions on flights, and the ability to depart at any time is another significant advantage of business aviation. In addition, our clients can take advantage of our round-the-clock service support, making it possible to book charter routes of any specific type at an optimum price.
How to book an empty leg flight from Miami to New York?
The empty legs system is advantageous for chartering a business jet that makes a return flight and departs without passengers. When hiring a business jet, the client receives the aircraft with the crew and the full range of services on board. After choosing a particular flight, the client gets all the details about the cost of the service. In this case, the flight cost will be considerably reduced compared to the regular price. We are ready to consult you on any issue related to the flight from Miami to New York.
Our clients travel on efficient and comfortable private jets. If you haven't found the answers to all your questions here, you can contact our experienced and reliable team at any time or visit our air charter FAQ page.
We are available anytime and will be happy to help you book your nonstop private air charter. Start by filling out the quote estimate form or call (954) 359-0059 directly.