Monarch Air Group provides Piper Navajo business jet for private flights to any airport. Our aviation consultants are always ready to advise you on private jet charters and other business aviation services.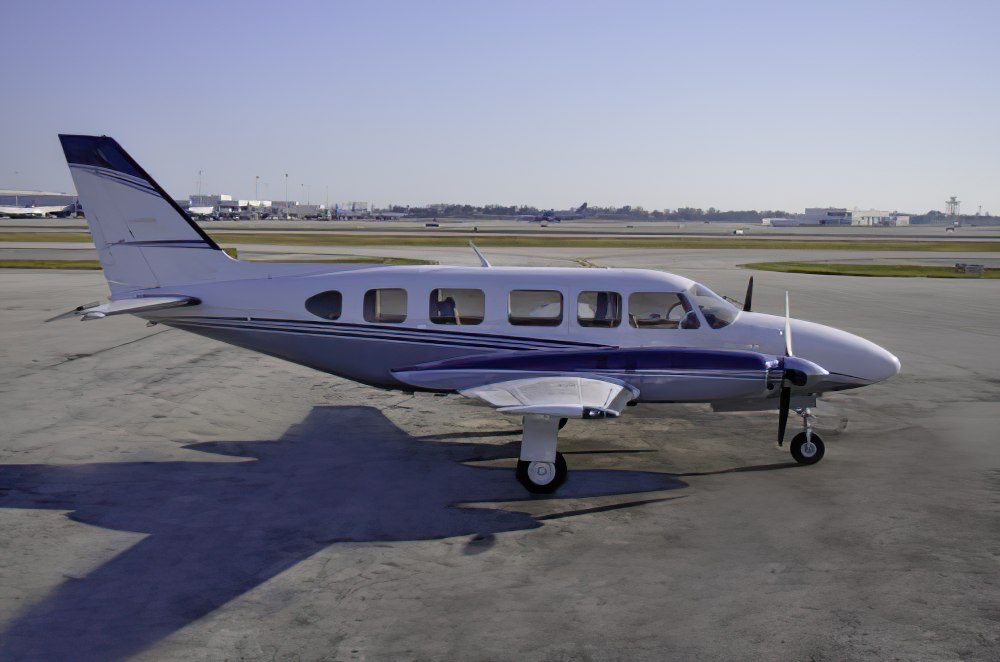 Piper Navajo Charter Flights
Piper Aircraft designed and constructed the Piper Navajo family of twin-engined utility aircraft for small freight and feeder airlines, as well as corporate aircraft. From 1967 through 1984, the series was in production. It was built under license in several South American nations. Piper Navajo private jet charter quickly became one of the most popular general aviation aircraft.
Piper Navajo is a multi-purpose aircraft that may be used for a variety of purposes. It can transport up to eight passengers, making it popular among air taxi businesses and small charter companies. It is also utilized for cargo operations, as it has a large cabin and a large cargo door that makes loading and unloading freight simple. Piper Navajo is also utilized for aerial survey work, medical evacuations, aerial photography, and other specialized applications.
Piper Navajo Charter Cost
Chartering a Piper Navajo private jet starts at $1,000 per hour. The price to rent a private aircraft is determined individually and is based on a number of factors, including the complexity and distance of the trip.
Call our representatives or fill out the flight request form below to learn more about Piper Navajo charter rates and availability.
Charter a Piper Navajo for Private Flights:
Piper Navajo Overview
Piper Aircraft manufactures the Piper Navajo, a twin-engine, low-wing aircraft. The plane was first introduced in 1967 and has undergone various modifications and upgrades since then. Piper Navajo private jet can carry up to seven passengers, so it is a popular choice for small charter and commuter airlines. It is also utilized for individual and business travel and cargo transportation.
Piper Navajo private jet charter is powered by two Lycoming engines and has a top cruise speed of roughly 200 knots (370 km/h). Its range varies depending on the type and configuration, but it can normally fly 800 to 1,200 nautical miles (1,500 to 2,200 kilometers) on a single fuel tank.
Charter Piper Navajo is known for being a dependable and flexible aircraft that has been utilized for various duties ranging from air ambulance and rescue missions to law enforcement and military training. The aircraft has been developed in several variants, including the Chieftain and Cheyenne, which have more powerful engines and increased performance.
Here is a brief overview of some of the most notable Piper Navajo models:
PA-31-300 Navajo: The original Navajo model was powered by two Lycoming TIO-540-A2C engines, each producing 290 horsepower. It had a maximum seating capacity of eight passengers and a maximum range of around 1,200 nautical miles.
PA-31 Navajo B: 1971 enhanced model with 310 hp (231 kW) Lycoming TIO-540-E turbocharged piston engines, modern airconditioning, and optional pilot access door and optional wide utility door.
PA-31 Navajo C: Navajo C, introduced in 1974, had a higher gross weight and improved performance thanks to the use of more powerful Lycoming TIO-540-A2C engines. It also had an upgraded avionics suite.
PA-31P Pressurized Navajo: PA-31 Navajo Pressurized is powered by two 425-hp (317-kW) Lycoming TIGO-541-E1A piston engines.
PA-31-325 Navajo: Known as the "Navajo C/R" for counter-rotating engines, this derivative of the Navajo was launched with the PA-31-350 Chieftain. 325 hp (242 kW) TIO-540 / LTIO-540 engines from Lycoming
PA-31-350 Piper Navajo Chieftain: Stretched Navajo with stronger 350-hp (261-kW) counter-rotating engines (Lycoming TIO-540 and LTIO-540) to eliminate significant engine difficulties.
PA-31P-350 Mojave: 50 aircraft were manufactured as a piston-engined derivative of the PA-31T1 Cheyenne I.
PA-31T3: Also known as the T1040/T-1040, this turboprop airliner has the wings, tail, and Pratt & Whitney Canada PT6A-11 engines of the PA-31T Cheyenne and the fuselage of the PA-31-350T1020.
Piper Navajo Interior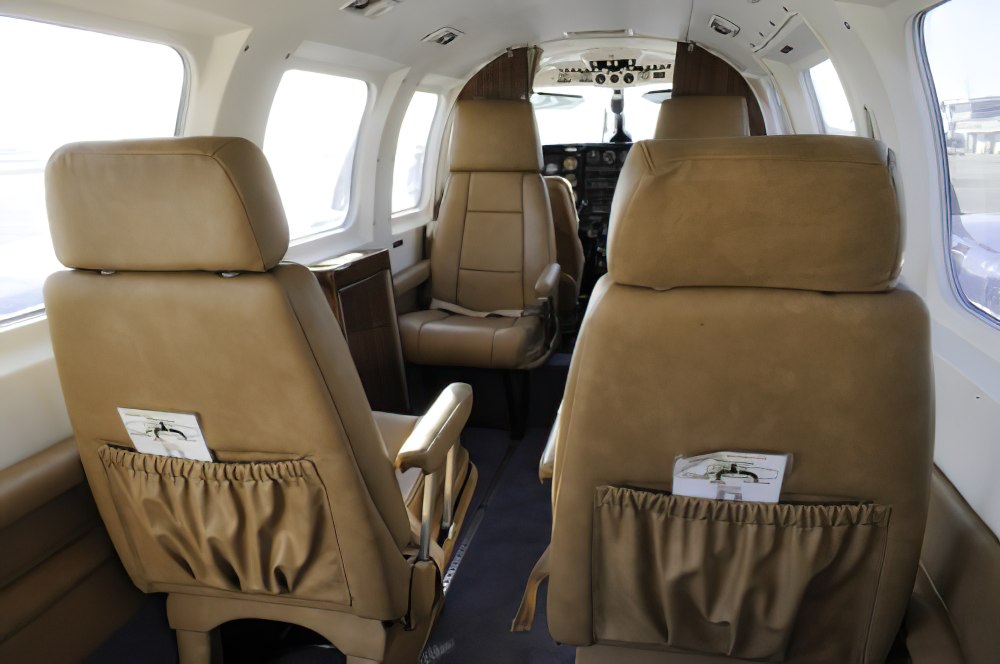 The interior of Piper Navajo private jet charter can vary depending on the specific configuration and the operator's needs, but some general features are common to most models. Piper Navajo's cabin is designed to be spacious and comfortable, with a height of 4.5 feet (1.4 meters) and a width of 4.3 feet (1.3 meters) (1.3 meters). The seating configuration can vary, although the majority of vehicles can seat up to eight travelers in a double-club format. The seats are often covered in leather or comparable material, giving adequate legroom and headroom for a comfortable journey.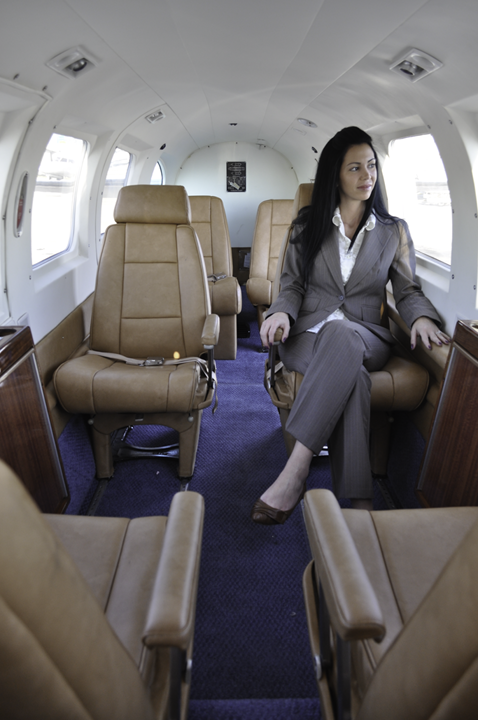 Piper Navajo General Information
| | |
| --- | --- |
| Classification | Turboprop Jet |
| Seats | 7 |
| Cruise Speed | 207 kn |
| Max Range | 1,165 mi |
| Luggage Capacity | 25 to 30 cubic feet |
| Interior Height | 4.5 feet |
| Interior Width | 4.3 feet |
| Interior Length | 12.6 feet |
Monarch Air Group is a private jet charter company that provides on-demand air charter services for individuals, corporations, and government agencies. The company offers a wide range of aircraft for charter, including light jets, midsize jets, heavy jets, and turboprop aircraft, and provides diverse on- and off-board services. Monarch Air Group also provides a reliable and convenient Piper Navajo private jet charter focusing on safety, comfort, and flexibility.
FAQs: Piper Navajo Private Jet for Charter
What Type of Private Jets is Piper Navajo?
Piper Navajo is a turboprop jet. The turboprop jet is an excellent alternative for individuals searching for a fuel-efficient, flexible aircraft that can provide access to various destinations. Whether traveling for business or pleasure, a turboprop jet can provide a pleasant and convenient mode of transportation, as well as cheaper expenses and more accessibility.
When Should I Choose the Piper Navajo Charter Flight?
Your vacation will be safer, more enjoyable, and more luxurious if you rent a Piper Navajo with numerous amenities. This airplane can go nonstop from New York to Miami or from Chicago to Dallas.
What Runway Length Does the Piper Navajo Need?
The needed runway length for a Piper Navajo can vary based on a variety of variables, such as the model, the aircraft's weight, and the prevailing weather conditions. For the takeoff and landing of a Navajo, a minimum runway length of 2,500 feet (760 meters) is recommended as a general rule.
How Far in Advance Can I Charter the Piper Navajo Need?
A private Piper Navajo flight can be planned in six hours. To ensure that your Piper Navajo charter meets your requirements, please contact us as soon as your reservation has been affirmed.