Monarch Air Group provides Pilatus PC-24 business jet for private flights to any airport. Our aviation consultants are always ready to advise you on private jet charters and other business aviation services.

Pilatus PC-24 Charter Flights
Pilatus PC-24 is one of the best modern light aircraft produced by the Swiss manufacturer Pilatus. Developers gave special attention to comfort and safety, adapting the aircraft for corporate traveling in the universal jet class. Pilatus PC-24 private jet charter can land and take off on dry land and has a short takeoff distance.
Pilatus PC-24 Charter Cost
Chartering a Pilatus PC-24 private jet starts at $3,300 per hour. The price to rent a private aircraft is determined individually and is based on a number of factors, including the complexity and distance of the trip.
Call our representatives or fill out the flight request form below to learn more about Pilatus PC-24 charter rates and availability.
Charter a Pilatus PC-24 for Private Flights:
Pilatus PC-24 Overview
Landing as near the destination as possible is made possible by chartering a Pilatus PC-24 private jet. Every piece of contemporary avionics is onboard, and all indications are shown visually on monitors. Additionally, this model has two Williams FJ44 engines, a modular Honeywell APEX complex course approach with vertical guidance, and early warning systems.
Pilatus PC-24 Interior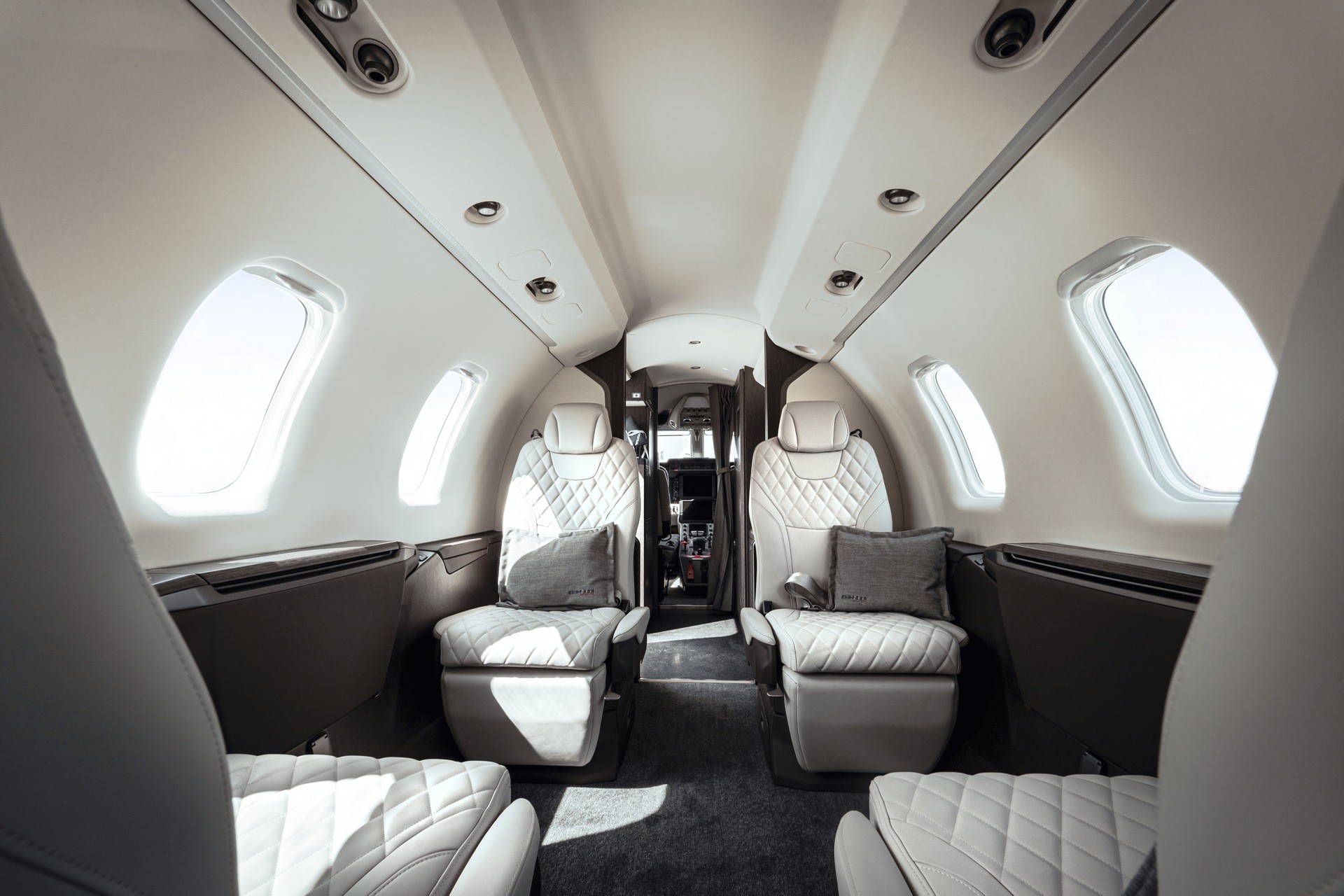 Pilatus PC-24 is a top-tier modern light aircraft with a spacious luggage area, reclining seats, restrooms, and a kitchen for the convenience of its passengers. Additionally, it can be created in any required variations and designs. The interior of Pilatus PC-24 private jet charter provides more capacity than any other aircraft, with seats for eight passengers and 190 square feet more cabin area.
Pilatus PC-24 General Information
| | |
| --- | --- |
| Classification | Light Jet |
| Seats | 8 |
| Max Cruise Speed | 440 kts |
| Max Range | 2.000 nm |
| Luggage Capacity | 90 cu. ft. |
| Interior Height | 5.1 ft |
| Interior Width | 5.5 ft |
| Interior Length | 17.0 ft |
Monarch Air Group's Pilatus PC-24 private charters are unrivaled in the industry for comfort and luxury. We are available 24/7 to provide Pilatus PC-24 private jet service, so please get in touch anytime you need to. Along with trip planning, we'll provide a selection of in-flight and post-flight services.
FAQs: Pilatus PC-24 Private Jet for Charter
What Type of Private Jets is Pilatus PC-24?
Pilatus PC-24 is a super light jet. Such jets are the most adaptable aircraft in the fleet for passengers who must travel to numerous locations in one day.
When Should I Choose the Pilatus PC-24 Charter Flight?
The perfect solution if you need to go fast, privately, and in style is a Pilatus PC-24 charter. Pilatus PC-24 can fly non-stop on such routes as Lisbon to Krakow and Las Vegas to New York.
What Runway Length Does the Pilatus PC-24 Need?
A runway of at least 2,690 feet for takeoff and 2,525 feet for landing is required for the Pilatus PC-24 private jet.
How Far in Advance Can I Charter the Pilatus PC-24?
Organizing a private flight via Pilatus PC-24 private jet will take roughly six hours. Please contact us as soon as possible after making your reservation so that we can satisfy your needs with a Pilatus PC-24 charter.