Monarch Air Group provides Phenom 300 business jet for private flights to any airport worldwide. Our aviation consultants are always ready to advise you on private jet charters and other business aviation services.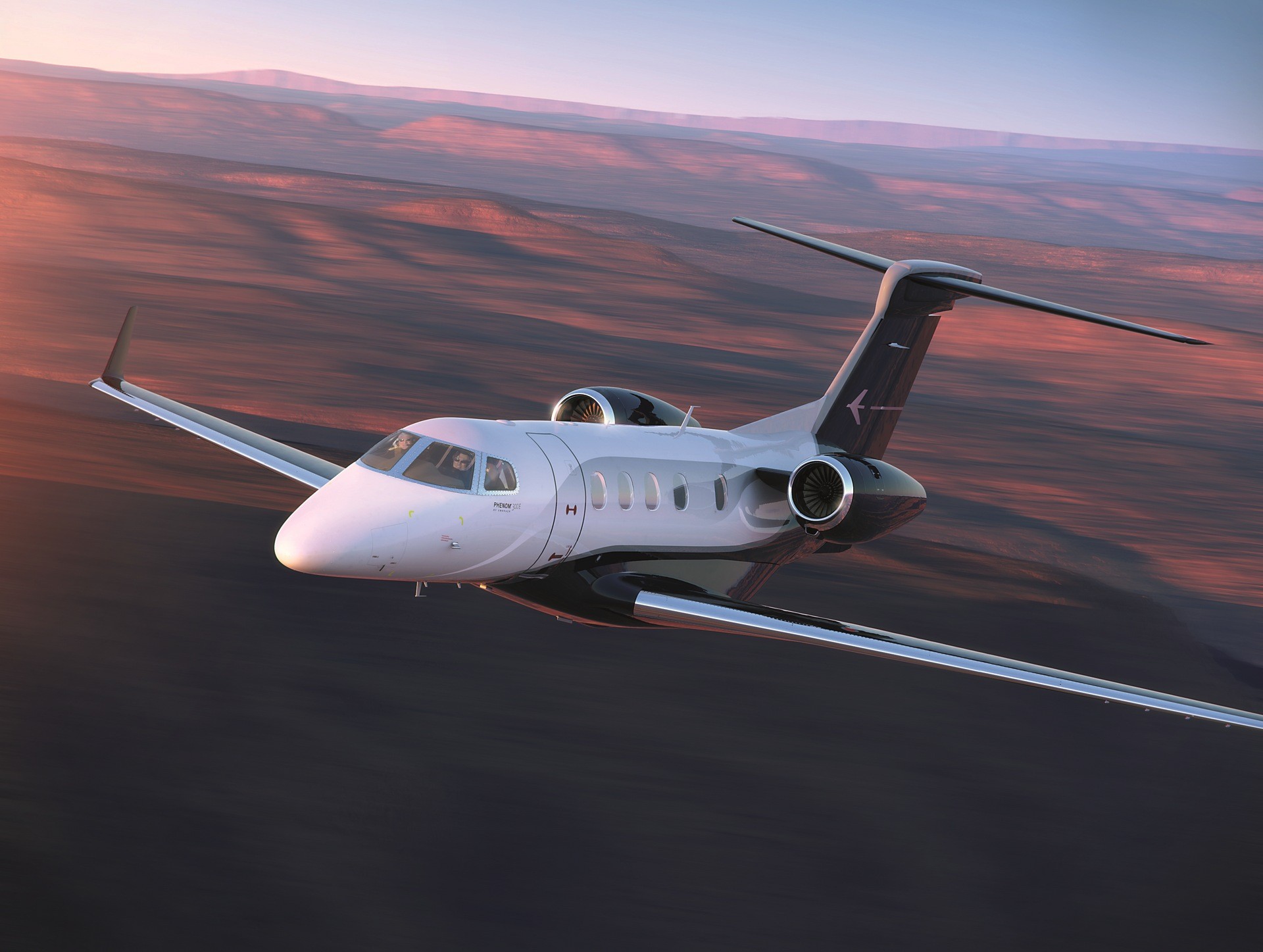 Phenom 300 Charter Flights
The private jet Phenom 300, from the Brazilian company Embraer, is in the light class, suitable for medium-range flights with quite a lot of luggage. It was developed based on the Phenom 100 and is an enlarged version with a more extended range.
The long range of the Phenom 300 private jet, coupled with the ability to land on short runways, makes it one of the most flexible business jets for private charter flights. Book a Phenom 300 jet charter to experience why it is the best-selling light aircraft in the world.
Phenom 300 Charter Cost
Chartering a Phenom 300 private jet will cost from $3,000 per hour. The cost of renting a Phenom 300 is calculated individually, and depends on several parameters, such as the distance and complexity of the route.
For Phenom 300 charter rates and availability, please submit the flight request form below or call our agents.
Charter A Phenom 300 For Private Flights:
Phenom 300 Overview
The main advantages of the Phenom 300 private jet are speed, economy, and high performance. The design feature of this model was a swept wing, which allowed increased speed and range. When creating a business jet, the manufacturer implemented the latest developments in aviation.
Charter jet Phenom 300 is designed for comfortable flights on short and medium distances between international and regional airports. It is also quite a powerful aircraft for its category and is equipped with two Pratt & Whitney Canada PW535E turbofan engines. The engines allow the Phenom 300 to fly up to 1,951 nautical miles with a maximum cruise speed of 453 ktas. Combined with Garmin's G1000 avionics suite, systems work together to increase situational awareness and visibility in less-than-ideal flight conditions for excellent safety.
Main advantages of the Phenom 300 jet charter:
Low operating costs;
High cruising speed on short and medium-haul routes;
State-of-the-art cabin interior;
Spacious cabin.
Phenom 300 Interior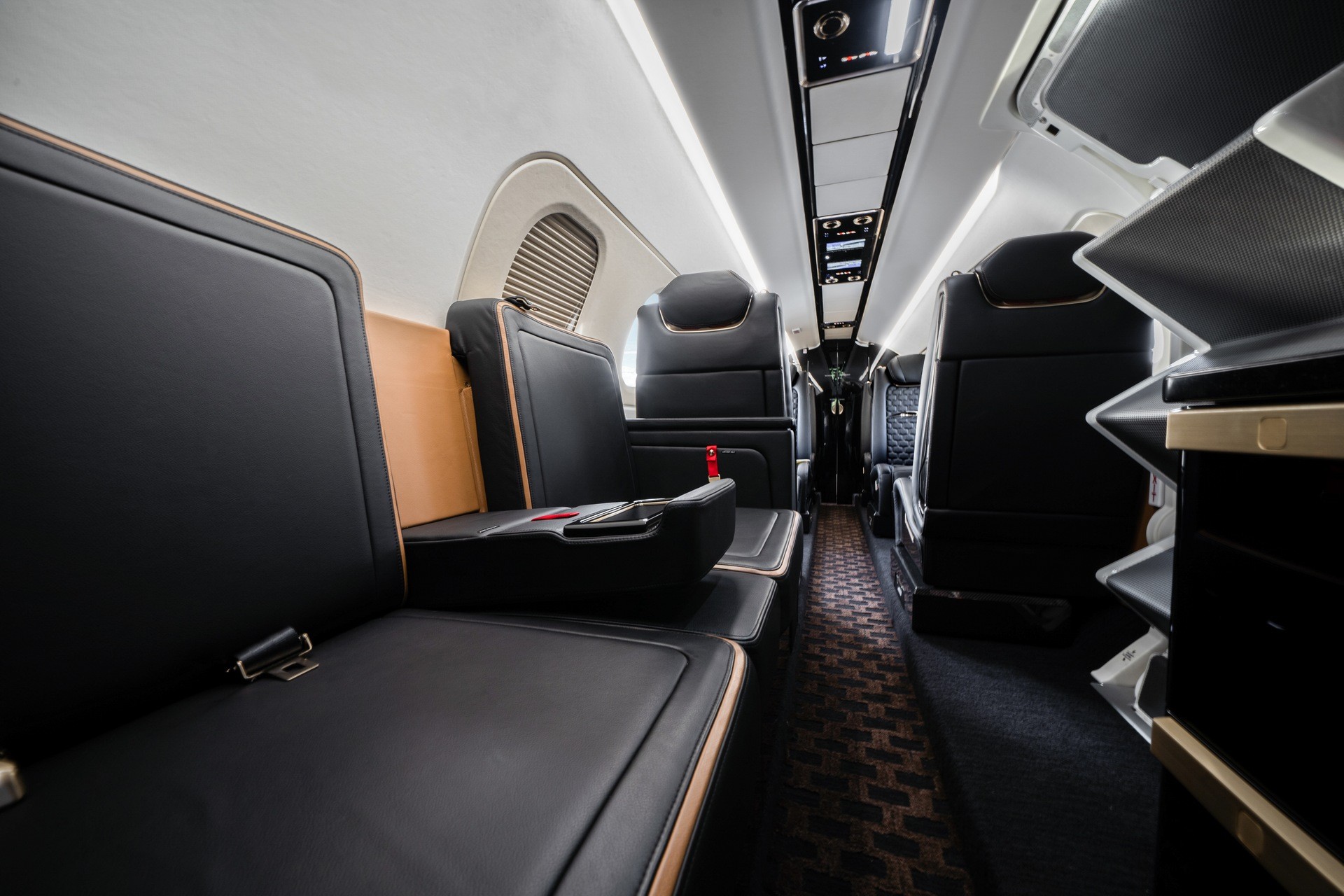 The interior of the Phenom 300 jet, designed by BMW Designworks USA, features a variety of intelligent solutions and details. There are 7 seats on board in the standard club configuration. The aircraft offers passengers maximum comfort, freedom of movement, and comfort when flying privately on the Phenom 300.
The Phenom 300 also has separate pilot temperature areas, a power center, voice and data communications, and an entertainment system. In the nose is a compact kitchen with a bar and checkroom. In the tail, a lavatory and a luggage compartment can easily accommodate skis or golf bags.
Phenom 300 General Information
| | |
| --- | --- |
| Classification | Light Jet |
| Seats | 7 |
| Cruise Speed | 453 ktas |
| Range | 1,951 nm |
| Luggage Capacity | 85 cu ft |
| Interior Height | 4.11 ft |
| Interior Width | 5.1 ft |
Monarch Air Group offers a full range of personalized private aviation solutions to meet and exceed high standards for Phenom 300 private jet charters. Our experts can help you understand your options, whether you're a seasoned traveler or new to private aviation.
FAQs: Phenom 300 Private Jet for Charter
When Should I Choose the Phenom 300 Charter Flight?
The Phenom 300 has achieved great success in its class due to such qualities as cabin volume, takeoff and landing characteristics, and range. It is one of the best-selling aircraft of the last ten years. The Phenom 300 has a private jet combines comfort and capabilities for an unparalleled flying experience.
How Far In Advance Can I Charter the Phenom 300?
To arrange a charter flight on the Phenom 300, contact our specialists 6 hours before your flight. Thus, your private travel, as opposed to flying on empty legs, is 100% guaranteed. You can choose the distance, the airport, additional services on board, and much more.
What Runway Length Does the Phenom 300 Need?
The Phenom 300 has proven its ability to land on the most inaccessible airfields, such as high-altitude airfields. The Phenom 300 private jet requires 3,643 feet for takeoff with a maximum takeoff weight of 17,968 pounds. For landing under the same conditions, the distance is 3,700 feet.