Monarch Air Group provides Phenom 100E business jet for private flights to any airport. Our aviation consultants are always ready to advise you on private jet charters and other business aviation services.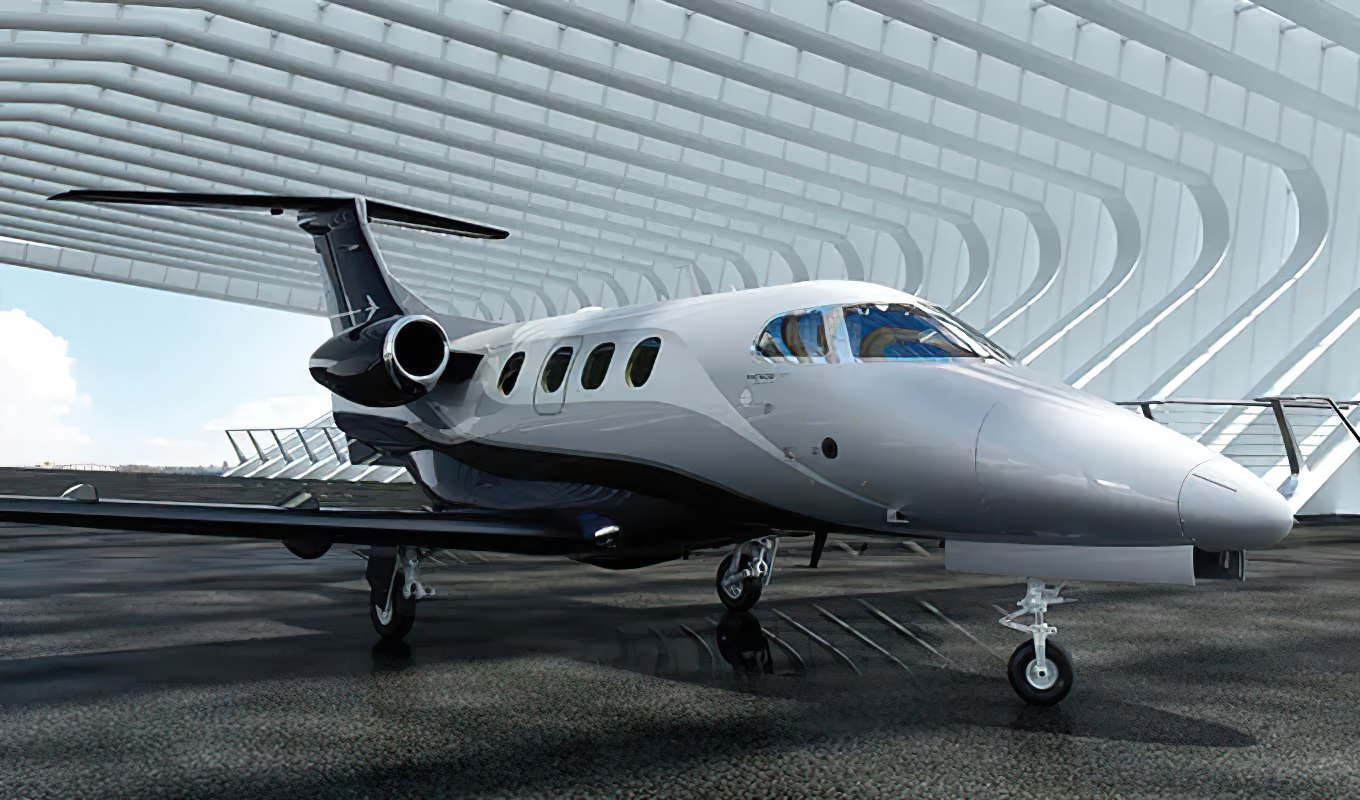 Phenom 100E Charter Flights
Phenom 100E, made by Brazilian aerospace company Embraer, is a very light business jet that can seat up to six passengers in comfort and is a six-time winner of Robb Report's Best of the Best award in its sector. It can take off from runways as short as 3,199 feet and travel under 1,200 nautical miles, making it a performance leader. Phenom 100E private jet charter also boasts the largest baggage space and is one of the quickest jets in its class.
Phenom 100E Charter Cost
The cost of chartering a Phenom 100E private jet can vary depending on several factors such as the duration of the flight, the number of passengers, and the route. On average, the hourly rate for a Phenom 100E can range from $2,000 to $3,500 per hour, however, this is just an estimate, and prices can vary depending on the specific aircraft and the location.
Call our representatives or fill out the flight request form below to learn more about Phenom 100E charter rates and availability.
Charter a Phenom 100E for Private Flights:
Phenom 100E Overview
The Embraer Phenom 100 is a very light jet with two engines that was developed in 2005. It was awarded a certificate in late 2007, and the first aircraft was delivered in December 2008. As of April 2023, 401 have been produced. The Phenom 100 has a capacity for four passengers in its normal configuration, but it can carry up to seven passengers with a single crew. There is an optional side facing seat and belted toilet.
Arguably the best very light jet in the category, the Phenom 100, can climb to 41,000 feet at a rate of 4,760 feet per minute.The interior cabin has a cabin height of 4.9 ft, cabin length of 11 ft, and a cabin width of 5.1 ft. The takeoff distance is 3,119 ft and the landing distance for this aircraft is 4,068 ft. The newest version of Phenom 100, the EV, climbs faster, and has better takeoff performance at higher altitudes and in hotter climates.
Pros
Great aircraft for lots of baggage. The aircraft is trusted by several military Air Forces and airlines around the globe including Emirates airlines, Brazilian Air Force, Pakistan Air Force, and the Royal Air Force.
Cons
The Phenom 100 has been involved in 9 hull loss accidents.
Phenom 100E Interior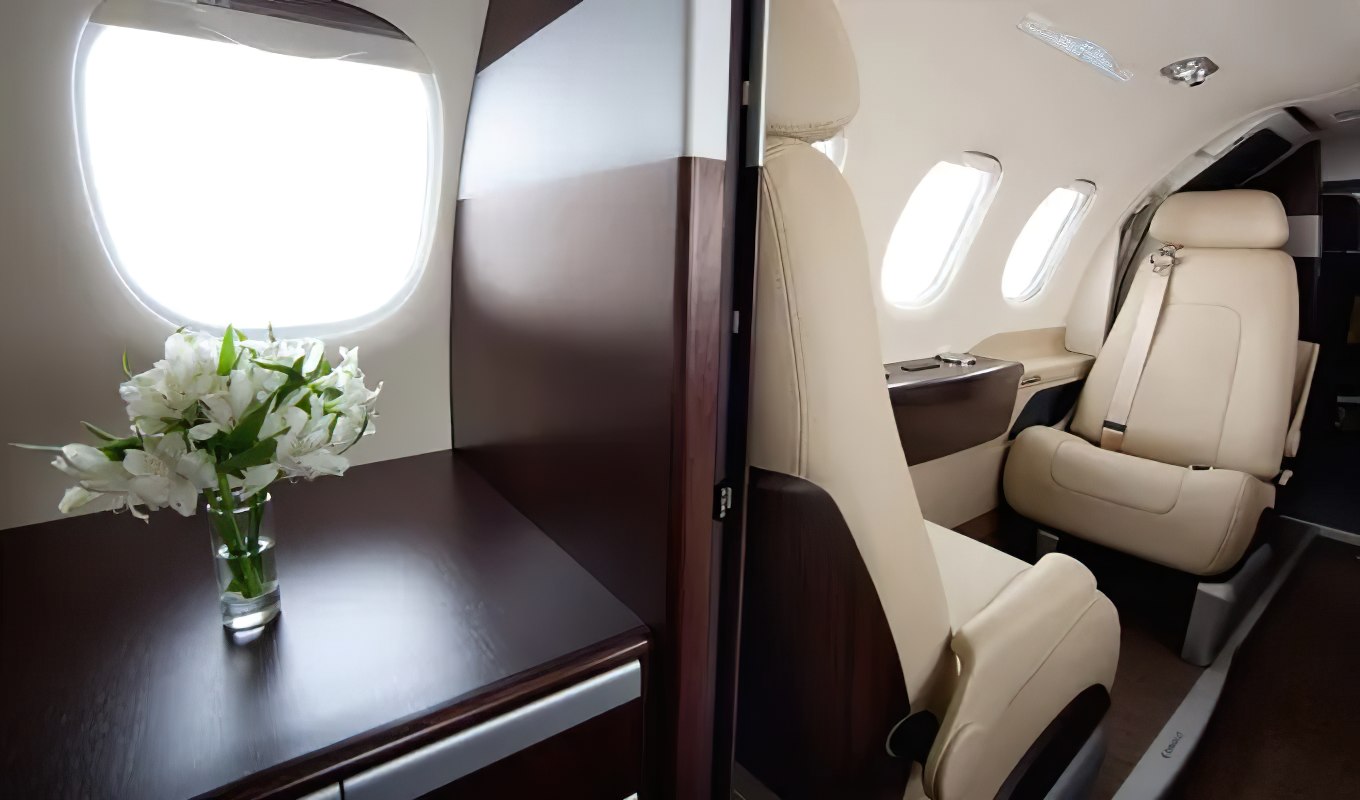 The Phenom 100E is a light jet produced by Embraer that can set up to six passengers in a comfortable and luxurious interior. The cabin features leather seats, wood veneers, and ample legroom, creating a sophisticated and elegant atmosphere. The seats are fully adjustable and offer plenty of room for passengers to stretch out and relax.
Phenom 100E private jet charter is an upgrade of the roomiest aircraft in its class, adding a new floor sill with a straight-line design to expand aisle space and additional power outlets with USB chargers to the interior. It has various cutting-edge innovations, like incorporating luxury automotive-style highlights, LED lighting, and single-piece sidewalls and headliners to make its 4'11" cabin height and 5″1″ cabin width look and feel even wider.
Phenom 100E General Information
| | |
| --- | --- |
| Years of Manufacture | 2008-Present |
| Max of Pax | 6 |
| Range | 915 nm |
| Pilots | 1 or 2 pilots |
| Cabin height | 4.9 ft |
| Cabin length | 11 ft |
| Cabin width | 5.1 ft |
| Max payload | 10,582lbs |
| Fuel capacity | 2,804 lbs |
| Lavatory | Vacuum toilet, some have an optional belted toilet seat |
| Baggage capacity | 55 cubic feet |
Private charters aboard Phenom 100E private jet charter organized by Monarch Air Group provide unmatched levels of luxury and comfort. As we are available around-the-clock, please get in touch with us whenever you need private jet service on a Phenom 100E. We'll arrange the travel and offer a selection of in-flight and post-flight services as well.
FAQs: Phenom 100E Private Jet for Charter
What Type of Private Jet is Phenom 100E?
The Phenom 100E is a light jet produced by Embraer. It is a single-engine aircraft that is designed for personal and business travel. It is known for its compact size and fuel efficiency, making it a popular choice for short-range flights.
When Should I Choose the Phenom 100E Charter Flight?
Renting a Phenom 100E is the best choice if you need to go somewhere fast, safely, and comfortably. A Phenom 100E private aircraft can be used for direct flights from New York to Miami and Los Angeles to Austin. It's a great option for business trips, family vacations, romantic getaways, adventure travel, and medical flights. It's a versatile aircraft that can land on small airports and has a quick turnaround time, making it a great option for travelers who are looking for a more efficient travel experience.
What Runway Length Does the Phenom 100E Need?
Phenom 100E private jet charter requires a runway of at least 3400 ft for takeoff and 3150 ft for landing.
How Far in Advance Can I Charter the Phenom 100E?
A Phenom 100E private jet flight can be planned in about six hours. To ensure that we can provide you with a Phenom 100E charter that meets your demands, we kindly ask that you get in touch with us as soon as possible after making your reservation.