Monarch Air Group provides Mitsubishi MU-2 private jet for charter flights to any airport. Our aviation consultants are always ready to advise you on private jet charters and other business aviation services.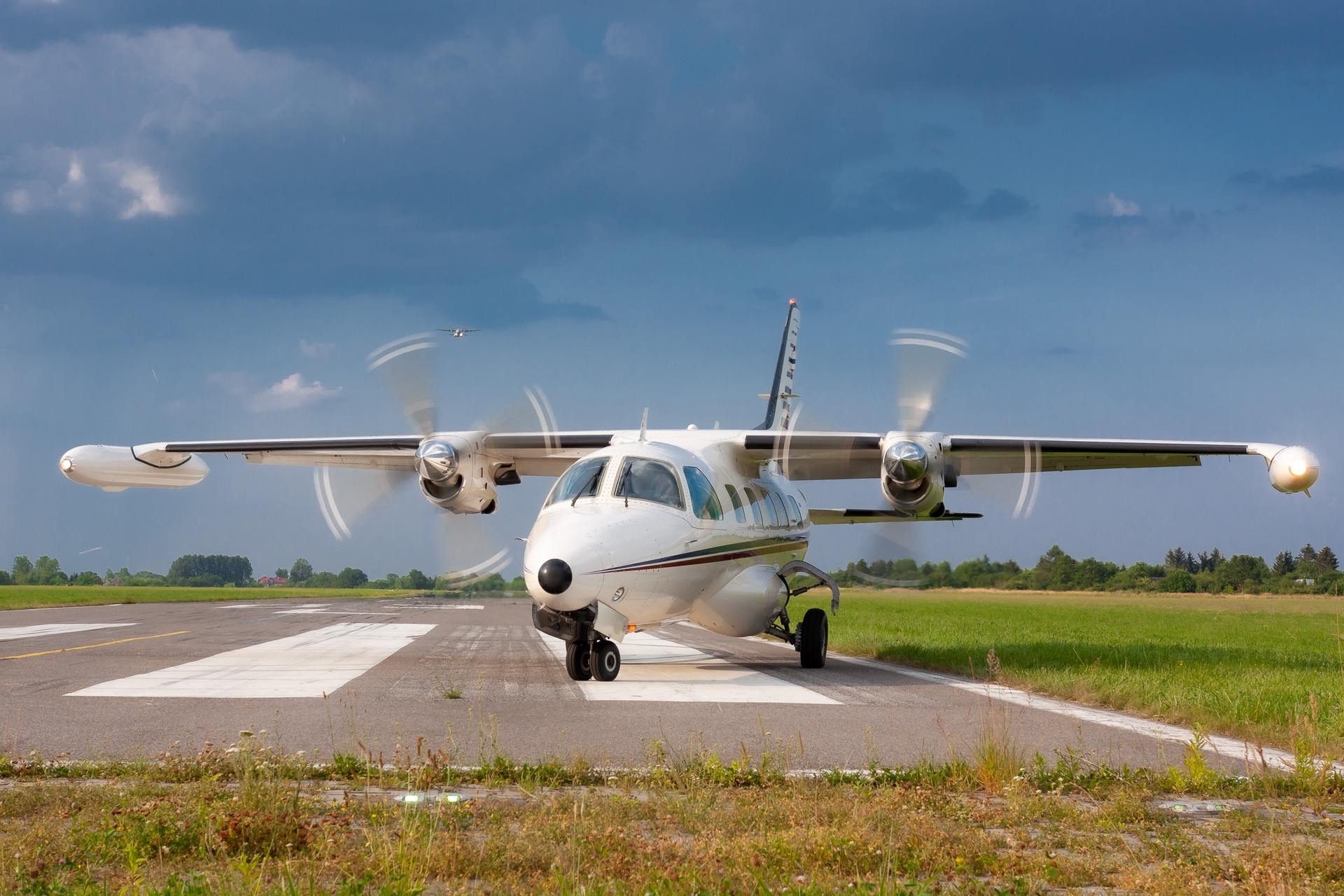 Mitsubishi MU-2 Charter Flights
Mitsubishi MU-2 is a twin-engine turboprop aircraft that was designed and produced by the Japanese company Mitsubishi Heavy Industries. The MU-2 was first introduced in 1963 and remained in production until 1986, with a total of 703 aircraft built. Mitsubishi MU-2 private jet charter remains a popular choice for regional air transport and corporate aviation, thanks to its speed, agility, and versatility.
Mitsubishi MU-2 Charter Cost
Chartering a Mitsubishi MU-2 private jet starts at $1,600 per hour. The price to rent a private aircraft is determined individually and is based on a number of factors, including the complexity and distance of the trip.
Call our representatives or fill out the flight request form below to learn more about Mitsubishi MU-2 charter rates and availability.
Charter a Mitsubishi MU-2 for Private Flights:
Mitsubishi MU-2 Overview
In 1956, Mitsubishi began work on the MU-2, which was their first aircraft design following World War II. It was designed as a light twin turboprop transport that could serve various queries. Mitsubishi MU-2 private jet charter maiden flight took place on September 14th, 1963, with the initial model and three MU-2As utilizing the Turbomeca Astazou turboprop.
Garrett engines were later used to power civil variants of Mitsubishi MU-2, which were certified under the MU-2B type and designated with a corresponding number. To differentiate between the various versions for marketing purposes, each variant was given a letter suffix. For example, the MU-2B-10 was marketed as the MU-2D, while the MU-2B-36A was sold as the MU-2N.
Mitsubishi MU-2 Interior
Mitsubishi MU-2 for private jet charter boasts a spacious and pressurized cabin that offers a comfortable flight experience at high altitudes. With ample large windows, passengers can enjoy an exceptional view of the outside world. The windows are designed to reduce both glare and heat from the sun, which helps maintain a cool and comfortable cabin environment.
The cabin can accommodate up to six passengers on seats upholstered in high-quality leather, which can be reclined for added comfort on longer flights. Moreover, the interior of Mitsubishi MU-2 is equipped with modern amenities that enhance the flying experience, including a top-notch sound system, climate control, and in-flight entertainment options such as satellite TV and Wi-Fi.
Mitsubishi MU-2 General Information
| | |
| --- | --- |
| Classification | Turboprop |
| Seats | 6 |
| Cruise Speed | 250 KTAS |
| Range | 1391 nm |
| Luggage Capacity | 43.08 ft³ |
| Interior Height | 4.26 ft |
| Interior Width | 4.92 ft |
| Interior Length | 10.98 ft |
Monarch Air Group provides individuals, companies, and governmental organizations with on-demand private aircraft charter services. Turboprops, light jets, medium jets, and heavy jets are all part of their vast fleet of charter aircraft, each with its unique set of on- and off-board facilities. Monarch Air Group's Mitsubishi MU-2 private jet charter service places a premium on dependability, luxury, and versatility.
FAQs: Mitsubishi MU-2 Private Jet for Charter
What Type of Private Jet is Mitsubishi MU-2?
Mitsubishi MU-2 is a turboprop aircraft, which means it is powered by a gas turbine engine that drives a propeller to generate the necessary force for forward motion. Unlike turbojets or turbofans that rely on exhaust gases to produce thrust, turboprop engines are engineered to deliver high torque at lower RPMs, making them highly efficient for lower-speed flights.
When Should I Choose the Mitsubishi MU-2 Charter Flight?
If you want a quick and comfortable flight, you should consider hiring a Mitsubishi MU-2. With a range of 1391 nautical miles, this aircraft can fly from Miami to Mexico City as well as from Seattle to Los Angeles.
What Runway Length Does the Mitsubishi MU-2 Need?
Mitsubishi MU-2 private jet charter requires a runway length of at least 2170 ft for takeoff and 1880 ft for landing.
How Far in Advance Can I Charter the Mitsubishi MU-2 Need?
Please call us at least six hours in advance to book a private Mitsubishi MU-2 aircraft. Please notify us as soon as your reservation is confirmed so that we can meet your particular requirements.