Monarch Air Group provides Learjet 45 private jet for charter to any airport. Our aviation consultants are always ready to advise you on private jet charters and other business aviation services.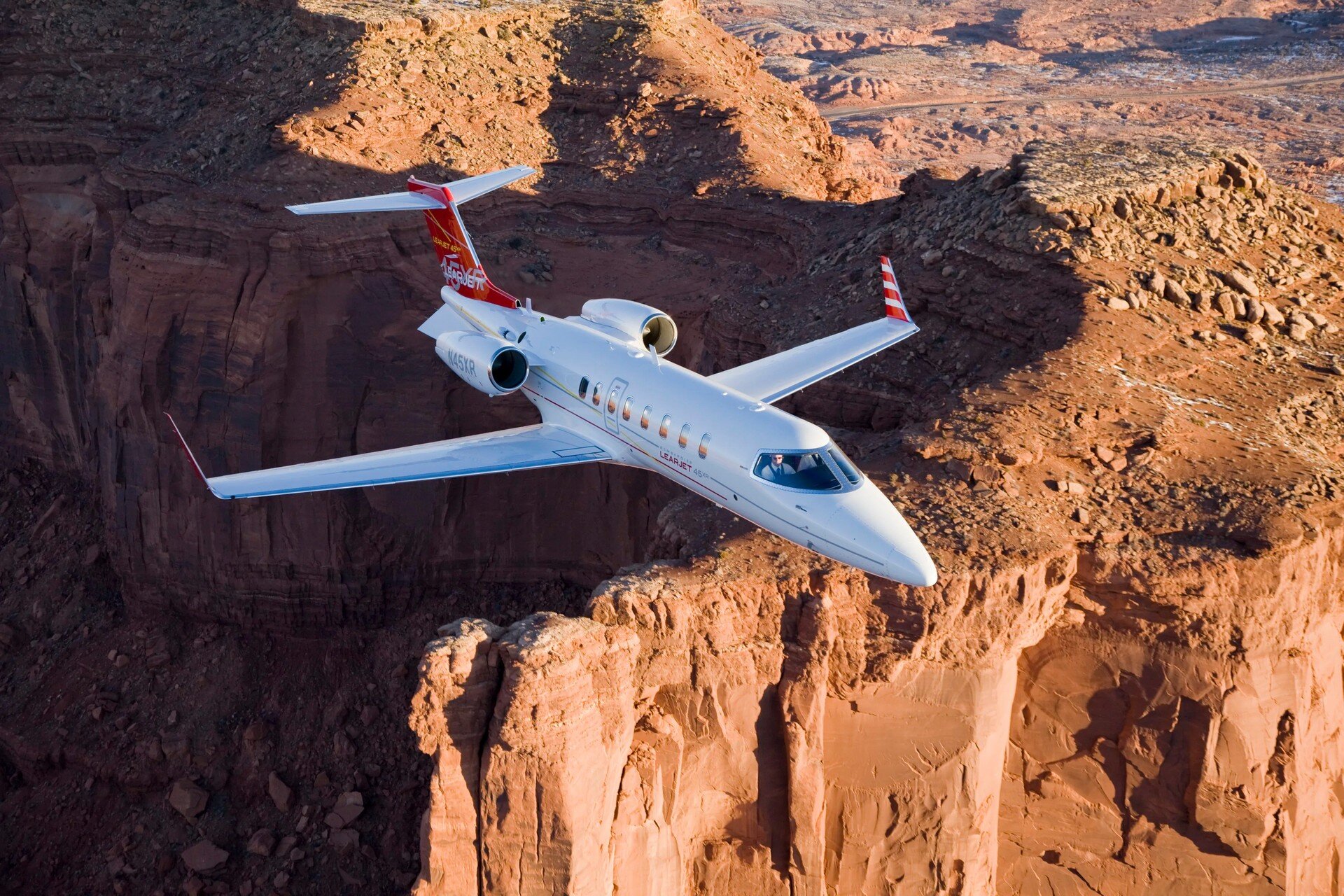 Learjet 45 Charter Flights
The Learjet 45 completely outperforms all competitors with the best indicators for cruise speed, fuel efficiency, and suitable characteristics for hot climates and high altitude conditions. It is one of the best aircraft in its class of light jets and will satisfy every passenger's needs when chartering a Lear 45 private jet.
Since 2004 the market has been joined by an improved version of the Lear 45 private jet, the Learjet 45XR, with increased take-off weight, cruising speed, and climb rate. Among the Learjet 45 and 45XR occupies an intermediate position between the smaller Learjet 31 and 40 and the larger Learjet 60.
Learjet 45 Charter Cost
Chartering a Learjet 45 private jet will cost from $4,200 per hour. The cost of renting a Bombardier Learjet 45 may depend on the flight range, the number of additional services, the airport for landing, and others.
For Learjet 45 charter rates and availability, please submit the flight request form below or call our agents.
Charter a Learjet 45 for Private Flights:
Learjet 45 Overview
The Learjet 45 business jet from Bombardier Aerospace of Canada is a reliable light-class administrative aircraft. The plane is recognized primarily for its spacious, luxurious cabin and one of the most extended mileage in its category. The private jet flight Learjet 45 performance has been upgraded to a new and more advanced level, while the passenger cabin remains the most spacious in its class.
The private jet Learjet 45 is equipped with a modern navigation system and excellent aerodynamic qualities. It also has two turbofan engines Honeywell TFE731-20AR with 198 gallons per hour fuel consumption. The engines are digitally controlled for maximum efficiency and performance while reducing pilot strain and operating costs.
Carrying four passengers, the private jet charter Learjet 45 achieves a range of 1,824 nautical miles. The aircraft can maintain a speed of 416 knots at 47,000 feet in a long-range flight configuration to reach its long-range destination.
Main advantages of the Learjet 45 jet charter:
Comfortable cabin;
Fine leather upholstery;
Independent onboard temperature controls;
Fold-down tables.
Learjet 45 Interior
The cabin of the Lear 45 jet can comfortably accommodate eight passengers, usually in a two-seat club layout. There is plenty of room on board with ample space for turning and moving around. Sixteen windows surround the cabin, providing an easy atmosphere, ideal for both work and relaxation.
For long enough private flights on the Learjet 45, the designers made the traditional club double seats wider than standard seats and added legroom. In addition, the aircraft can hold 670 pounds of luggage, so it's roomy enough to meet your luggage needs.
Learjet 45 General Information
| | |
| --- | --- |
| Classification | Light Jet |
| Seats | 8 |
| Cruise Speed | 533 mph |
| Range | 1,710 nautical miles |
| Luggage Capacity | 15 cu ft |
| Interior Height | 4.9 ft |
| Interior Width | 5.1 ft |
Our clients hire a private jet, Learjet 45, for various reasons. First, it allows you to choose departure dates and times, personalized service according to your specific needs, and maximum privacy and security. You enjoy using private aviation terminals, avoiding flight delays, cancellations, and any unpleasantness associated with private air travel.
FAQs: Learjet 45 Private Jet for Charter
When Should I Choose the Learjet 45 Charter Flight?
It is worth hiring a Learjet 45 charter jet if you are going to a business meeting with your colleagues. It is reliable, has excellent fuel economy, and has superior performance characteristics. The private jet Learjet 45 has a large passenger capacity and can accommodate up to 8 people with the possibility of one additional seat.
How Far In Advance Can I Charter the Learjet 45?
The next time you have a private flight, a Learjet 45 charter jet might be your best bet. The Bombardier Learjet 45 is ready for departure with 6 hours in advance. It can help you better choose a charter option that fits your needs.
What Runway Length Does the Learjet 45 Need?
The Learjet 45 private jet requires only 2,320 feet of runway to land. However, the aircraft requires 4,350 feet of runway to take off at an elevated airport. At a 5,000-foot airport, the Learjet 45 charter jet's runway requirement increases to 7,290 feet of runway.