Monarch Air Group provides Learjet 35 jet charter for private flights to any airport. Our aviation consultants are always ready to advise you on private jet charters and other business aviation services.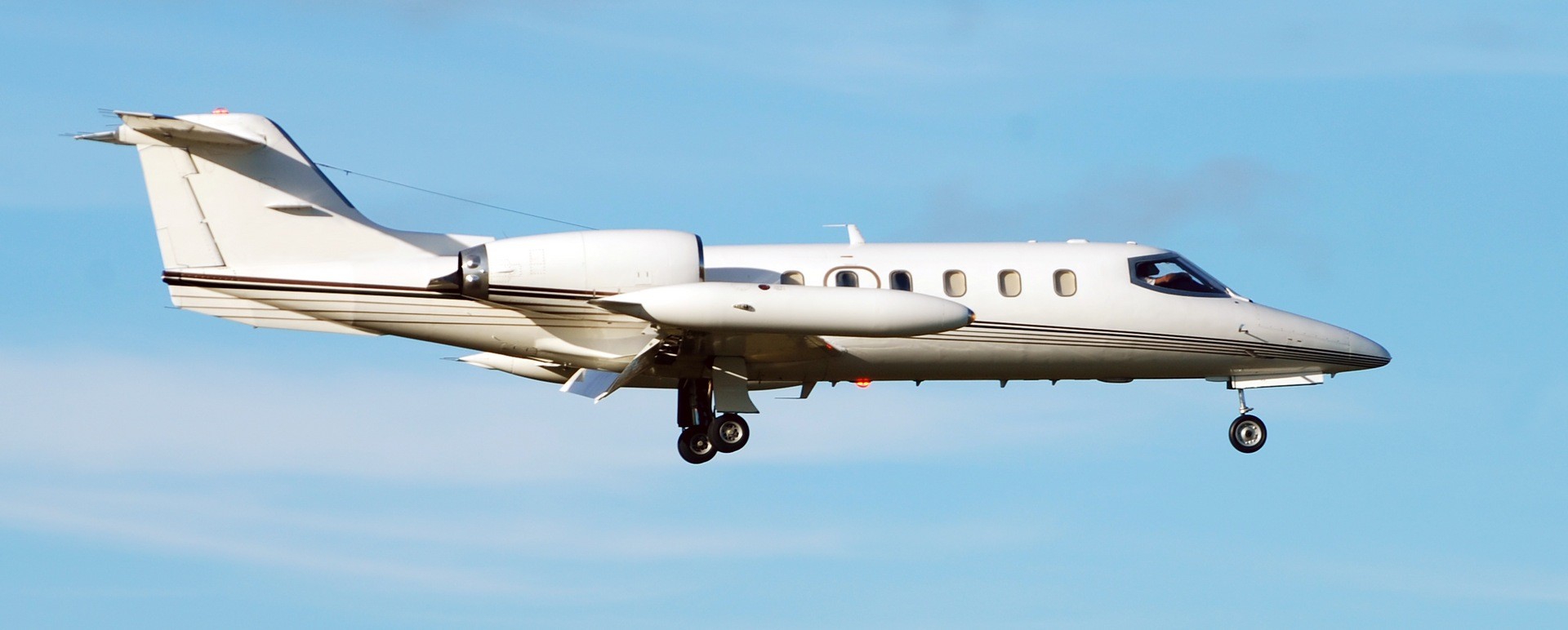 Learjet 35 Charter Flights
Learjet 35 is a modern business jet produced by the Learjet corporation. It is now considered one of the quickest business jets and is operated by various countries' air forces. This type, which is a variant of the Learjet 25 business jet, has a significantly different flight range. If you are looking for the ultimate in luxury air travel, a Learjet 35 private jet charter is the perfect solution.
Learjet 35 Charter Cost
Chartering a Learjet 35 private jet starts at $3,200 per hour. The price to rent a private aircraft is determined individually and is based on a number of factors, including the complexity and distance of the trip.
Call our representatives or fill out the flight request form below to learn more about Learjet 35 charter rates and availability.
Charter A Learjet 35 for Private Jet Flights:
Learjet 35 Overview
Learjet 35 private jet charter can travel farther because of its expanded fuselage and new low-noise turbofan Garrett TFE731 engine. Additionally, it has specialized LOROP cameras, a high-resolution TV system, and other tools. Lear 35 and 35A were significant models in establishing the Learjet brand. The Lear family of business jets is renowned for their range, speed, and overall performance.
Learjet 35 Interior
Learjet 35 offers several benefits, including a high level of safety, small dimensions, and a spacious saloon with tables, a toilet, and a minibar. Approximately eight passengers can travel by charter aboard a Learjet 35, which has room for work and rest.
Learjet 35 General Information
| | |
| --- | --- |
| Classification | Light Jet |
| Seats | up to 8 |
| Cruise Speed | 460 KTAS |
| Range | 2,874 nmi |
| Luggage Capacity | 40 cu ft |
| Interior Height | 4.3 ft |
| Interior Width | 4.9 ft |
Monarch Air Group offers the finest level of comfort and luxury while traveling privately aboard a Learjet 35 jet. Contact us at any time of day or night for a private jet charter on Learjet 35. We will assist you in selecting the airport and crew for the flight. We will also plan the route and offer a number of in-flight and post-flight services.
FAQs: Learjet 35 Private Jet for Charter
What Type of Private Jets is Learjet 35?
The Learjet 35 is a light business jet manufactured by Learjet.
When Should I Choose the Learjet 35 Charter Flight?
If you need to get somewhere quickly, privately, and with plenty of comfort and amenities, Learjet 35 charter flight is for you. Lear 35 can cross most of the United States without stopping, for example, from New York to San Diego or Chicago to Los Angeles.
What Runway Lenght Does the Learjet 35 Need?
Learjet 35 private jet needs 4972 ft of runway to take off and 3075 ft to land.
How Far in Advance Can I Charter the Learjet 35?
Learjet 35 private flights typically take six hours to arrange. As soon as you have booked your flight, get in touch with our experts so that we can tailor your Learjet 35 charter to meet your unique needs.