The King Air family is part of a line of twin-turboprop aircraft produced by Beechcraft Corporation headquartered in Wichita, Kansas. Announced by Beechcraft in October of 2008 the King Air 350i is the latest version in the B300 series with major improvements to the passenger cabin being the highlight.
Charter a King Air 350i private jet: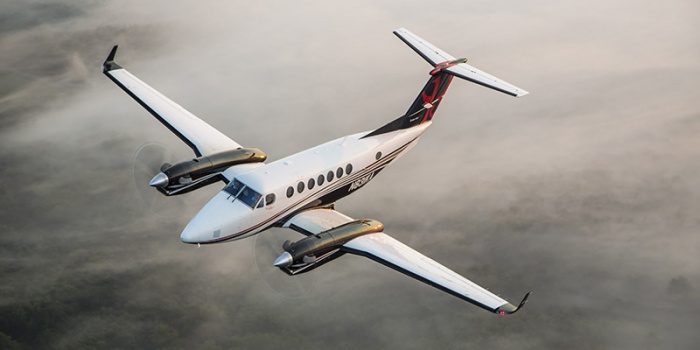 Founded in 1939 by Walter Beech and working out of an idle Cessna factory the company has gone on to make not only some of the most reliable, safe, and efficient business aircraft but several critically important military air, many of which are still used to this day.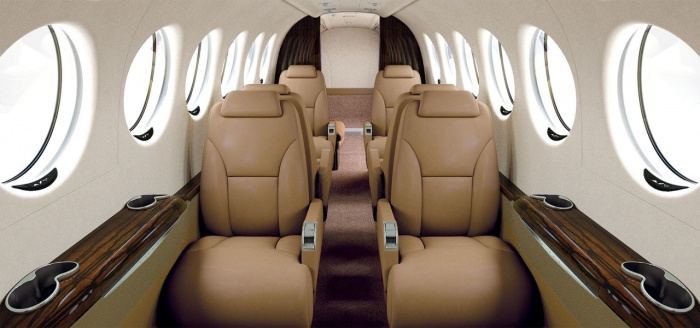 Passenger Capacity: up to 11 passengers (std config)
Max Range: 1,806 NM
Max Operational Speed: 312 ktas
Cabin Height: 4.75 ft
Cabin Width: 4.5 ft
Cabin Length: 19.5 ft
Baggage Capacity: 71 cu ft
Beechcraft had restyled the cabin chairs with recessed headrests, retractable armrests, with inboard and outboard tracking. The cabin overhead has indirect lighting that glows softly. And cabin furniture has also been upgraded with a large hot and cold beverage unit as well as cabinets built into the seat backs.
The King Air 350i is one of the most comfortable solutions for short-haul flights. It has a tremendous payload and range capability that is nearly unmatched in its class. Also being significantly more economical than comparable jets while offering nearly the exact same flight time for short to medium distances.
For charter rates and availability of the King Air 350i, please submit the below flight request form, or call our agents 24/7 at 1-877-281-3051