The Honda Jet HA-420 is a game-changer with superior performance and innovative design as a small business jet that is lightweight and fuel-efficient. In 2017 through 2019, it was the most delivered light jet worldwide and holds the 2018 AIAA Foundation Award for Excellence.
Charter a Honda Jet Private Jet: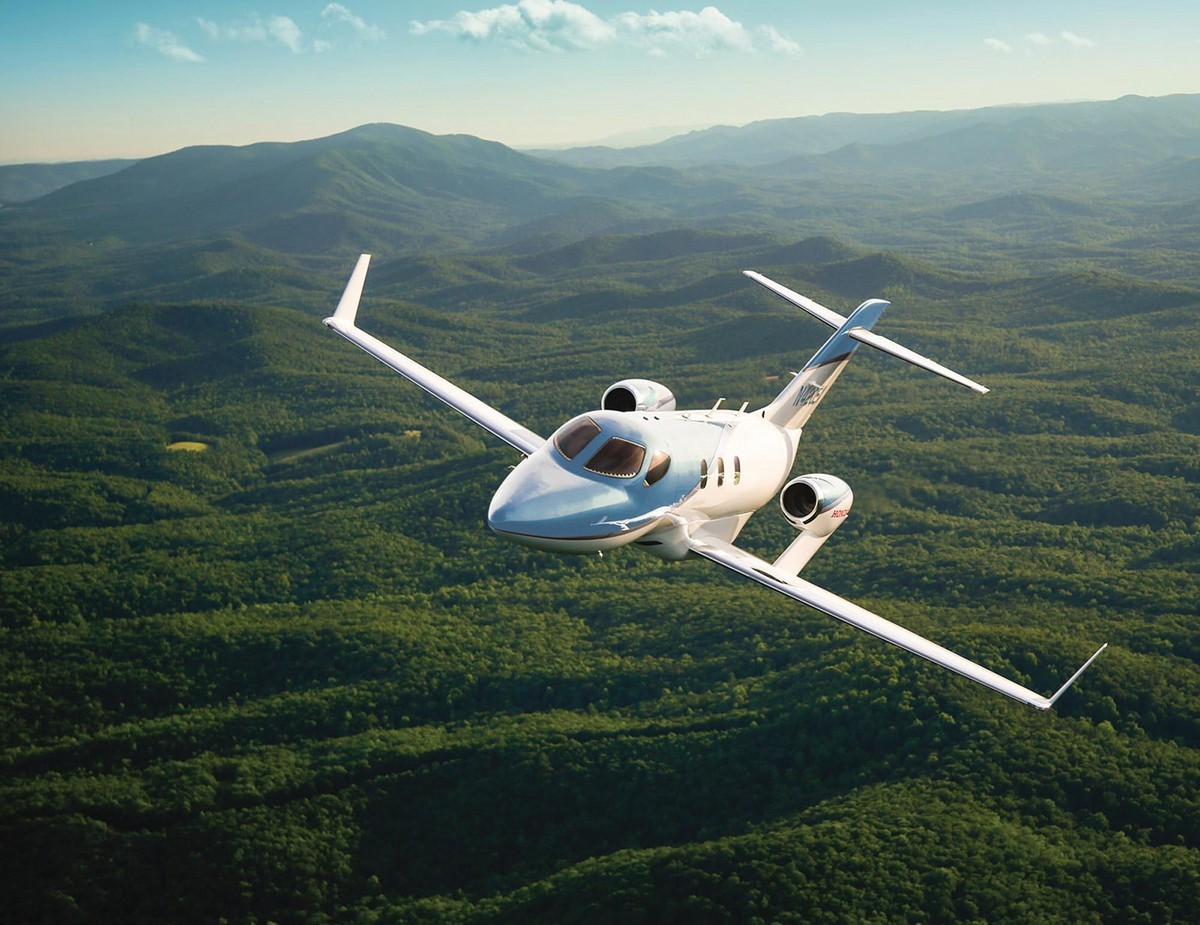 The 30 plus years of research went into creating the Honda Jet with attention to comfort and a spacious cabin. Aerodynamics and technology were used in the design of the Over-the-Wing Engine Mount which places the engines on pylons above the wings which increases cargo capacity and reduces cabin noise.
Also, the Natural Laminar Flow (NFL) nose shape helps reduce drag and contributed to the increased cruising speed which results in longer distances. The Honda Jet can reach speeds up to 420kn (780km) and has a range up to 1,437 nm, making it the fastest jet in its category.
Compact Light Jet Features
For its ample space, the cabin is designed for superior comfort. The Honda Motor Company founder, Soichiro Honda, said that he "aims for 120% product quality…" The design for the mounted engines frees up a lot of space for the cabin and lowers the noise levels inside.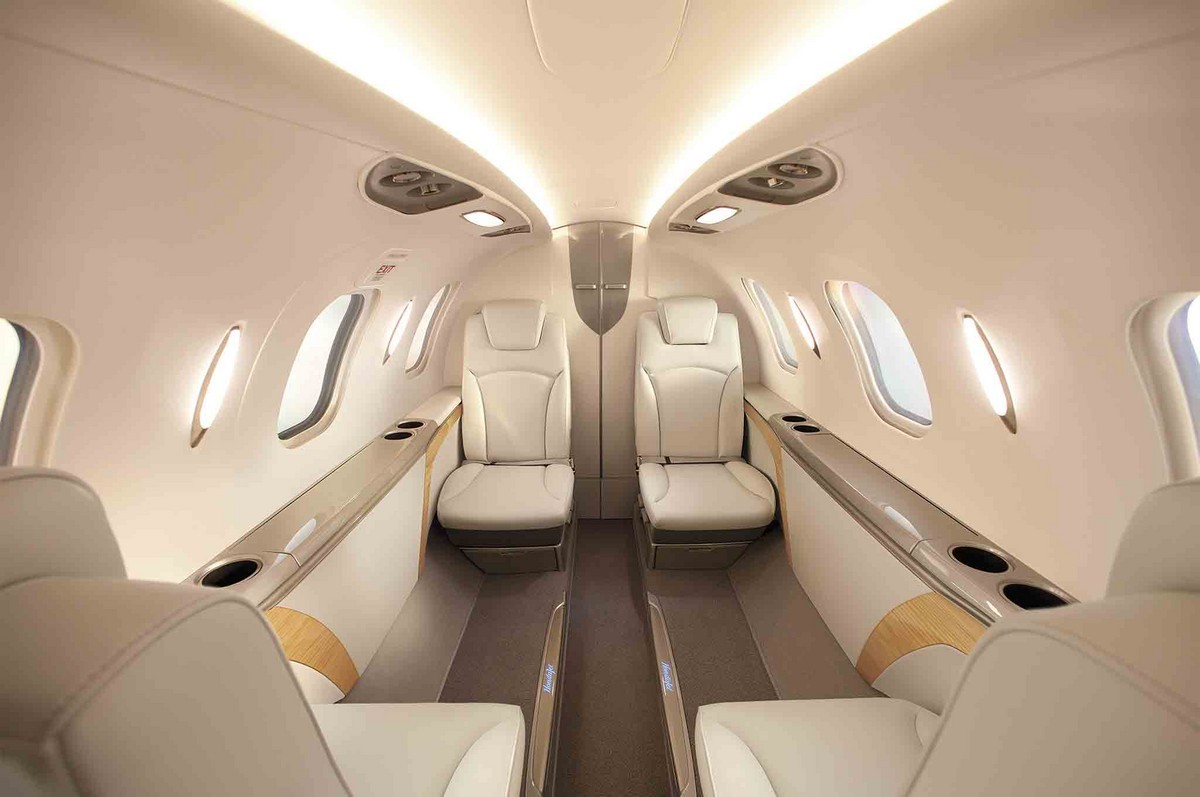 It can seat four passengers comfortably with adjustable executive seating, a private lavatory, and a full-service galley. The interior measures 17.8 ft in length, 5 feat in width, and 4.9 feat high.
Honda Jet Dimensions
Capacity: Up to 5 passengers
Cabin Size (L/W/H): 17.8 ft / 5 ft / 4.9 ft
Cruise Speed: 424 mph
Range: 1,437 nm
Charter a Private Flight on a Honda Jet
Monarch Air Group offers on-demand private jet charter services on the Honda Jet, a light business jet manufactured by Honda Aircraft Company. Additionally, Monarch Air Group operates charters for private, corporate, group and luxury travel on-demand for your next charter flight. For Honda Jet charter rates and availability, please submit the flight request form or call our agents at 1-877-281-3051 for 24/7 support.
FAQ for charter a Honda Jet
How far can a Honda HA-420 jet fly?
Within the class of light jets, the jet charter Honda HA-420 is a featured model. The aircraft has several technological innovations and a practical range of more than 1.437 nm. Due to this, Honda Jet HA-420 charter flights will go quickly and with maximum comfort.
What runway length is required for a Honda Jet HA-420?
The Honda Jet HA-420 charter will satisfy the most demanding private flight customer at an attractive price. The private jet Honda Jet HA-420 takes off, flies faster, and offers passengers more space. The plane has a runway length of fewer than 1,219.2 meters (4,000 feet) to take off, while landing requires 929.64 meters (3,050 feet).
How much does it cost per hour to charter a Honda Jet HA-420?
The Honda Jet HA-420 is an efficient option for short to medium-range flights. The aircraft makes less noise and consumes less fuel. HA-420 private jet charter pricing is $2,000—$2,500 per hour. Various factors, such as the amount of luggage or the complexity of the route, can affect the rental price. Using the charter flight cost calculator, you can get a rough estimate of the flight cost.
What are the cabin amenities of the Honda Jet aircraft?
The cabin of the Honda Jet HA-420 is equipped with an entire toilet cabin, a roomy luggage compartment, and large windows. In addition, there are five comfortable seats on board, facing each other. If you need expert help finding the best private Honda Jet HA-420, contact our charter experts at your convenience.
Popular Routes
The Honda Jet HA-420, in terms of passenger comfort, is a competitor to other popular models in the light jet class. It is equipped with many technological innovations with no analogs in the world. The most popular Honda Jet HA-420 charter routes are:
Boston to Atlanta;
Dallas to Chicago;
Los Angeles to San Francisco.
Our clients travel on efficient and comfortable private jets. If you haven't found the answers to all your questions, you can contact our experienced and reliable team at any time or visit our air charter FAQ page.