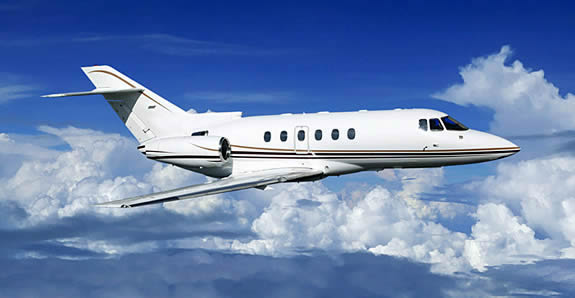 Based on a lengthy heritage the third generation model of the 800 series, the Hawker 800XP, is designed to complete flights coast to coast. Its features such as cruise and climb speeds, runway performance and weight limits are great for its class. The Hawker 800XP in particular is able to reach long ranges with a high loading capacity.
The cabin comfortably seats eight travelers, typically in four-person club style seating, a three-person divan, and one forward-facing seat. The seats are fully adjustable and can swivel 360 degrees, for casual conversations and business meetings. The cabin measures 21.3 feet in length, 5.7 feet in height and 6 feet in width, including a separate lavatory which is located in the rear of the plane. The baggage compartment is large enough to accommodate eight small soft-sided pieces of luggage.
The Hawker 800XP features a good balance between fuel economy, climb and cruise performance, and takeoff distance. It is also one of the most popular aircraft choices when planning a flight that can range between four to five hours. For more information on chartering a Hawker 800XP, price out your flight here for an instant quote.
Charter a Hawker 800XP Private Jet:
Cabin Dimensions
Height: 5.7 ft.
Length: 21.3 ft.
Width: 6 ft.
Lavatory: Yes