Monarch Air Group provides Gulfstream G650 private jet for charter to any airport worldwide. Our aviation consultants are always ready to advise you on private jet charters and other business aviation services.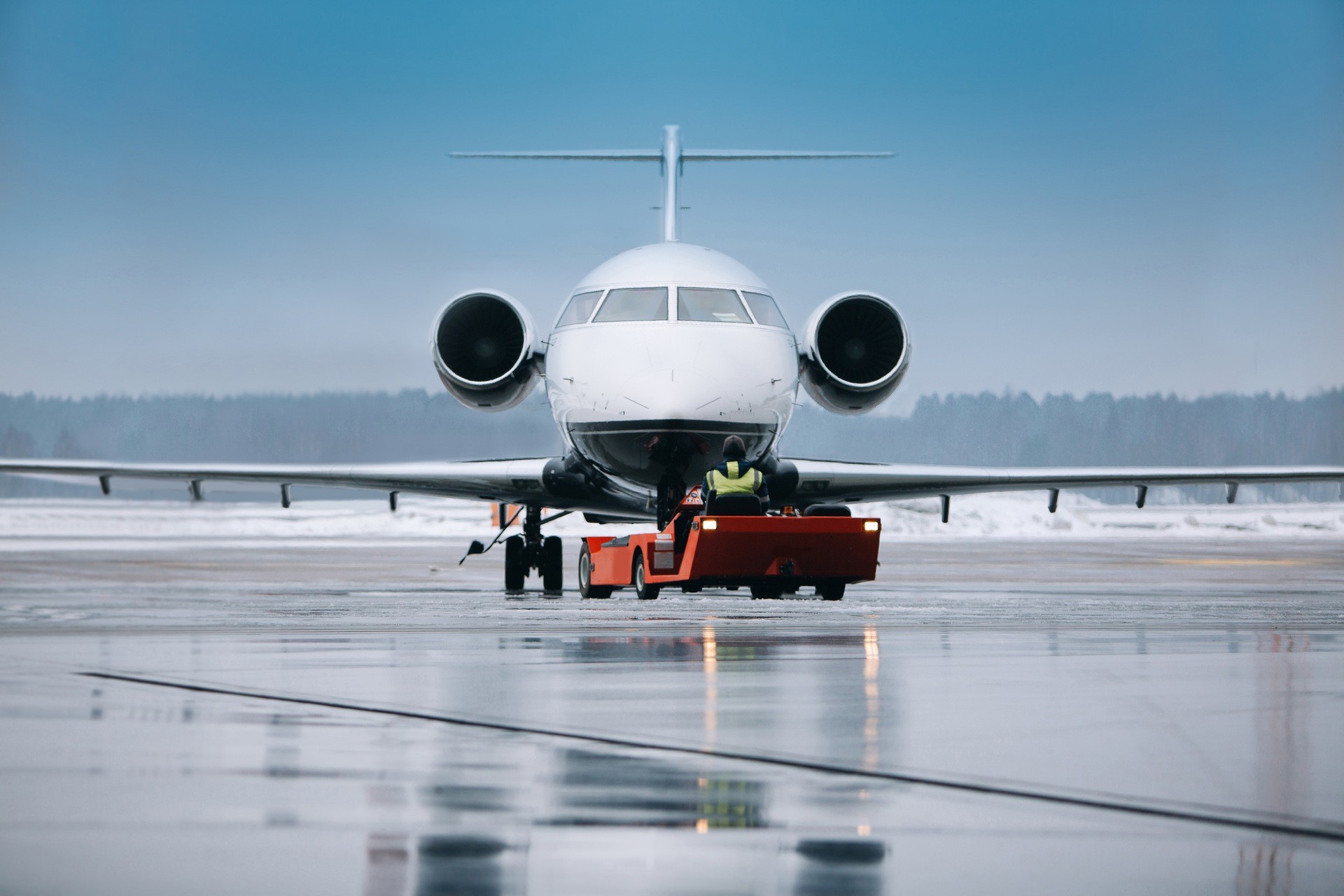 Gulfstream G650 Charter Flights
The upgraded Gulfstream G650 was introduced in 2008 by Gulfstream Aerospace, a subsidiary of General Dynamics. The aircraft is the most expensive business jet, with high cruise speed and ultra-long range. Gulfstream completed testing of the G650 in 2010 and received its type approval from the Federal Aviation Administration (FAA) in September 2012. The model also has type approval from the European Aviation Safety Agency.
In 2014, an improved version of the G650, the high-demand Gulfstream G650ER, was introduced to the charter market. The main difference between the two popular models is the Gulfstream G650ER size of the fuel tanks. With a full tank, Gulfstream G650ER will fly about 500 nautical miles farther than the Gulfstream G650. However, business jets are great for long flights, air meetings, or group charter flights.
Gulfstream G650 Charter Cost
Organizing Gulfstream G650 jet charters is an individual task; therefore, the price is set individually. Chartering a Gulfstream G650 private jet will cost from 11,400 USD per hour. However, prices vary depending on the length of the flight, airports, and the number of passengers on board. Contact our specialists if you do not find the necessary information about hourly air charter Gulfstream G650 rates.
For Gulfstream G650 charter rates and availability, please submit the flight request form below or call our agents.
Charter a G650 for Private Flights:
Gulfstream G650 Overview

The Gulfstream Aerospace Corporation is an American-owned subsidiary of General Dynamics. The company produces a wide range of the most exclusive private jets. Gulfstream has produced more than 2,000 aircraft since 1958. Today the sophisticated customers of the most capable business jet are looking for outstanding performance across the board, from low cabin altitudes to excellent climbing ability.
The business jet G650 exterior design is elegant and straightforward. The Gulfstream G650 private jet design and manufacturing process utilizes techniques that reduce assembly time and energy consumption, such as bonded sheeting, precision assembly, and machined frames. The aircraft's fuselage is made of metal, while the tail section and wings are made of composites. The manufacturer offers a full range of paint schemes, so it is possible to customize the business aircraft to jet charters specifications.
The Gulfstream G650 private jet was designed from scratch with a new fuselage cross-section compared to previous models. Gulfstream engineers partnered with several consumer advisory boards to create the aircraft to set the standard in business jet charters. As a result, the aircraft has become the successful epitome of the next generation of electronically controlled private jets. It showcases many of Aerospace's record-breaking aviation achievements.
The G650 can fly 7,000 nautical miles non-stop with 19 passengers on board, covering a distance of 7,000 nm. Thus, the business aircraft will connect Dubai with New York and Los Angeles with Buenos Aires.
Main advantages of the Gulfstream G650 jet charter:
Large screen TVs
Each seat can be folded flat
Large oval windows
Lowest pressurized cabin altitude
195 cubic feet of luggage storage
Extensive galley facilities
The G650 jet provides an extra-large cockpit, offers privacy, functionality, and luxurious amenities as a premium charter aircraft, and is recognized as the gold standard for the amount of natural light. It offers special latest avionics that provides excellent safety, such as Runway Advisory and Information System, Head-up Display II (HUD II), and Synthetic Vision System (SV-PFD) to help pilots maintain situational awareness. The Gulfstream G650 cockpit has an Interactive Network Active Traffic Visualization (INAV) and four 14-inch Liquid Crystal Display (LCD) screens.
Moreover, it features an integrated Engine Indication and Crew Alert System (EICAS) and a full suite of sophisticated next-generation enhanced vision system technologies to enhance situational awareness and safety under low visibility conditions.
The Gulfstream G650 is powered by twin Rolls-Royce Deutschland BR725A1-12 turbofan engines designed primarily for ultra-long-range business jets. The engines provide better jet charters fuel efficiency, cruise speed, cleaner and quieter operation, and longer maintenance intervals. The G650 ultrafast business jet is designed for long-haul travel. It flies faster, farther, and more comfortably than any other business jet in its class.
Gulfstream G650 Interior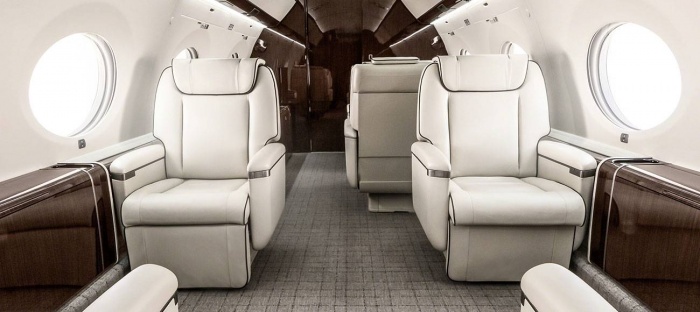 With the most extended, most expansive, and tallest cabin in its class, the Gulfstream G650 offers seating for up to 19 passengers in comfort. The cabin key features upgraded in-flight natural lighting, a convection oven, video monitors, and an advanced communications system. It is one of the largest cabins that help create a comfortable environment for private jet charter passengers.
The new cabin width allows for wider seats and more aisle space. Each chair is handcrafted, upholstered in leather, and located next to a large window. The high portholes further visually enhance the interior space of the cabin and generous aisle spaces and create a unique atmosphere in the air. There's also a sofa that turns into a double bed, a 26-inch pop-up LCD monitor with three-dimensional color images, and two windows on each side.
Into the middle section of the spacious cabin, you enter the second living area, which features a four-seat conference unit that allows business travelers to hold virtual meetings en route to their final destination.
Gulfstream G650 General Information
| | |
| --- | --- |
| Classification | Ultra-Long Range |
| Seats | 19 |
| Cruise Speed | 594 mph |
| Range | 7,000 nm |
| Interior Height | 6.45 ft |
| Interior Width | 8.5 ft |
Book Your Private Flight on Gulfstream G650 with Monarch Air Group
Whether you are traveling for business or pleasure with your family, chartering a Gulfstream G650 with Monarch Air Group will maximize your trip and reduce your private jet charter time. Enjoy comfort, personalized service, and maximum safety aboard your G650. Private jets can fly to small airfields and depart from the nearest airport at any time convenient for you.
FAQs: Gulfstream G650 Private Jets for Charter
When should I choose the Gulfstream G650 charter flight?
Traveling by private jet has become the most comfortable and safest mode of transportation. It's a great solution if you want to guarantee your privacy and avoid the usual wait at the airport. The Gulfstream G650 charter is the best option in its class if range, speed, and efficiency are essential to you. The idea behind the G650 cabin was that things like air vents, seat adjustments, or Wi-Fi are critical in jet charters for such long distances.
What runway length does the Gulfstream G650 need?
The G650 is the most technically advanced business jet ever to take to the skies. With its impressive size and weight, the Gulfstream G650 can take off from relatively short runways, allowing you to rent an aircraft and land as close to your final destination as possible. The Gulfstream G650 aircraft requires a minimum of 1,786 meters for takeoff and 812 meters for landing.