The Gulfstream G550, winner of the prestigious Robert J Collier Trophy, is a heavy business jet produced by Gulfstream Aerospace headquartered in Savannah, GA.
Charter a Gulfstream G550 private jet: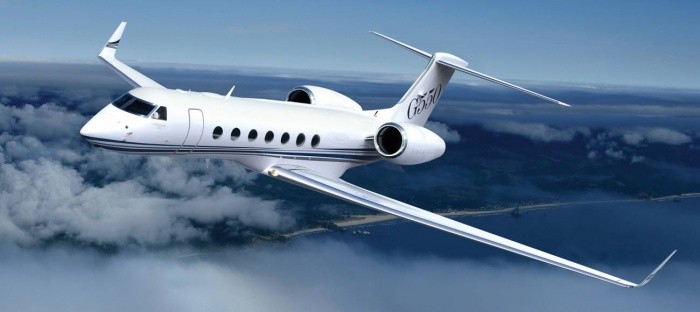 Gulfstream Aerospace Corporation designs, develops, and manufactures a large range of jet aircrafts, from midsize jets to heavy extended range aircraft. Since 1958 Gulfstream has produced over 2000 aircraft globally. Today's sophisticated customers of the most capable business aircraft are looking for great performance across the board, from low cabin altitudes to excellent climbing ability.
The G550 is one of the most dependable aircraft, with more than 400 currently in operation, with over 1 million hours flown, a performance that gives the G550 a National Business Aviation Association (NBAA) dispatch reliability rating of 99.9 percent.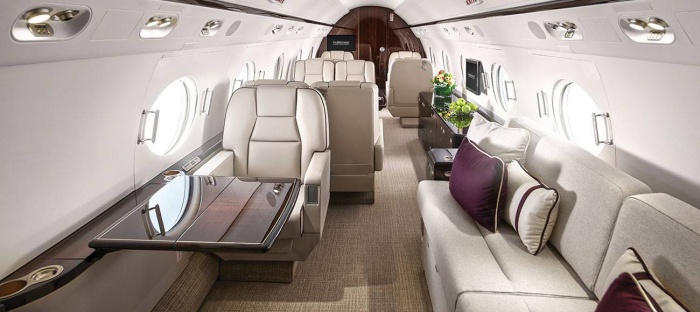 Powered by two Rolls-Royce engines that produce the most thrust of any jet in its class, the Gulfstream G550 not only has a cruise range of 6,750 nautical miles /12,501 kilometers, but also has the capability to operate out of short-field and high-altitude airports.
Passenger Capacity: up to 19 passengers (std configuration) Sleeps 8
Cabin Length: 43.9ft | 13.39m
Cabin Height: 6.16ft | 1.88m
Cabin Width: 7.4ft | 2.24m
Baggage Capacity: 170 cu ft | 4.81 cu m
There are fourteen of Gulfstream's signature oval windows fill the cabin with natural light, while the aircraft pulls in fresh air and combined with a cabin pressurized to a very low altitude, the result is a subtle, but effective method to help passengers stay alert and focused. Low-altitude pressurization requires less exertion from the body and ensures passengers arrive at their destinations refreshed and alert.
The G550's quiet interior also improves the cabin experience. Advanced sound suppression techniques keep engine noise outside the cabin.
Like all Gulftream aircraft, safety is the first priority. The G550's cockpit is fitted with a triple-redundant flight management system that allows pilots to have command of enhanced and essential flight data. Using two side-mounted Cursor Control Devices (CCDs), pilots can select and scroll where and how they want to see airways, airports, navigational aids and radar data.
For charter rates and availability of the Gulfstream G550, please submit the below flight request form, or call our agents 24/7 at 1-877-281-3051