The G450 has one of the most loyal followings due to its reliability, speed, and versatility, making it one of the best-selling business jets.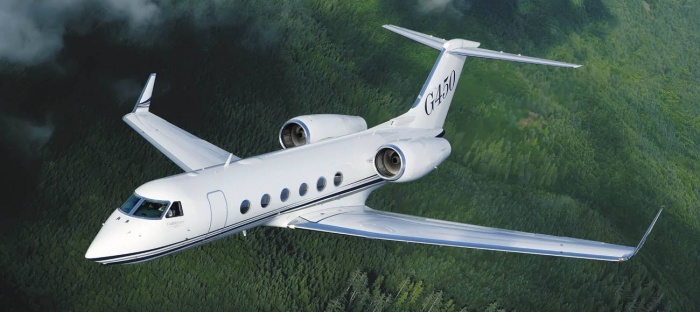 In 2001 Gulfstream began work on an improved version of the GIV-SP, originally designated GIV-X, then later renamed G450. The G450 is lengthened 1 ft over the G400 and shares the forward fuselage and larger cockpit of the G550. Production of the G450 began in October 2004, replacing the G400.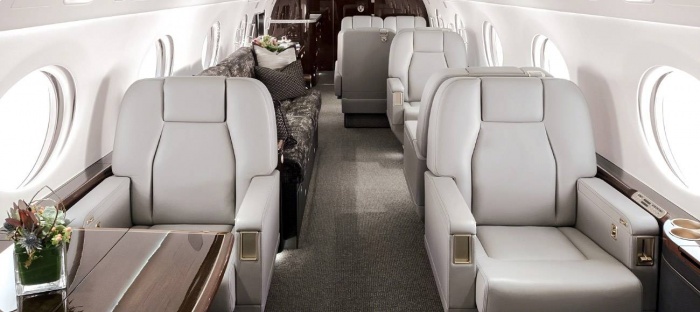 The Gulfstream G450 is high-performance and stylish aircraft equipped to meet the demands of international and domestic travel. Flying cross continent, with a cruise speed Mach 0.80, carrying a team of 16 people.
Passenger Capacity: up to 19 passengers (std configuration) Sleeps 6
Max Range: 4,350 NM | 8,056 km
Max Operational Speed (Mach): 0.88
Cabin Length: 40.4ft | 12.29m
Cabin Height: 6.1ft | 1.88m
Cabin Width: 7.3ft | 2.24m
Baggage Capacity: 130 cu ft | 3.68 cu m
The G450 also has one of the longest times between maintenance overhauls with up to 12,000 hours on its Rolls-Royce engines.
Robb Report in 2012 and 2014 named the G450 Best of the Best in the large aircraft category. The roomy with enough space for three living areas, two lavatories and a full-size galley, which can be located forward or aft.
In the G450, the interior environment is pressurized to 6,000 feet/1,829 meters at a cruise altitude of 45,000 ft/13,716 m. Fresh air and a lower cabin altitude improve oxygen delivery in the body, which reduces fatigue and increases alertness and productivity, in other words there is virtually no jet lag.
For more information on chartering the Gulfstream G450, price out your flight here for an instant quote.
Charter a Gulfstream G450 private jet: