Monarch Air Group provides Gulfstream G150 charter for a private flight to any airport worldwide. Our aviation consultants are always ready to advise you on private jet charters and other business aviation services.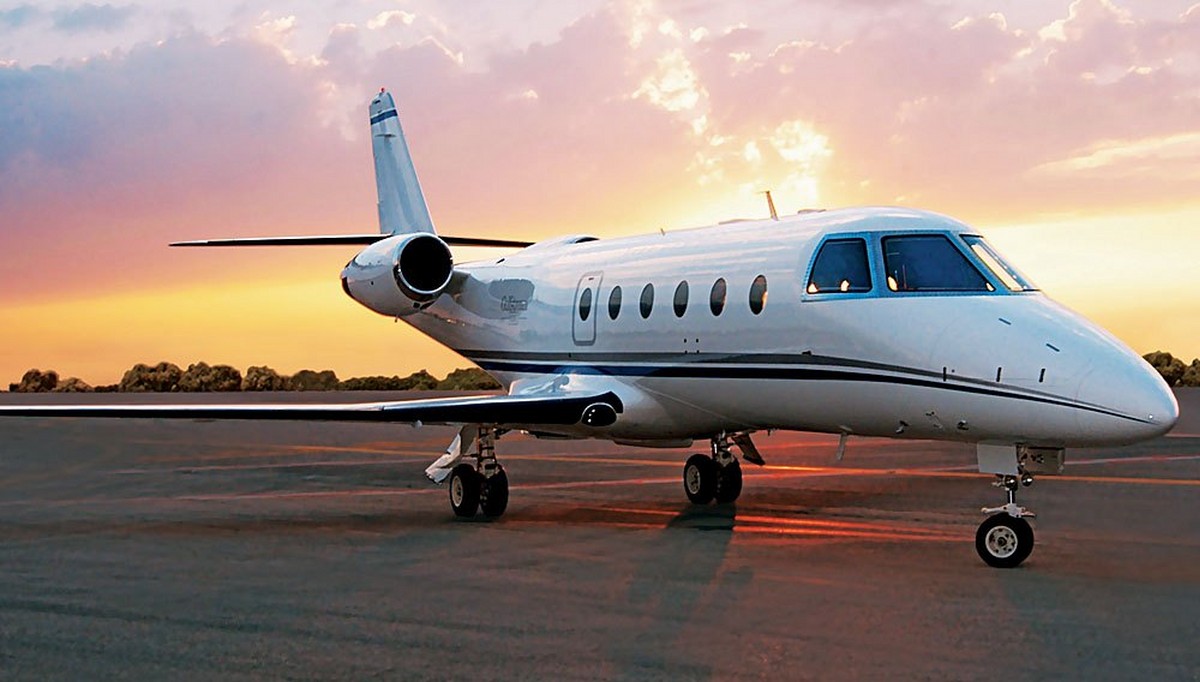 Gulfstream G150 Charter Flights
The Gulfstream G150 business jet, with its long-range, comfortable cabin and advanced avionics, has quickly gained popularity in the private aviation segment and has become one of the most attractive offerings in its class. The G150 is right up there with the highest standards in terms of cabin concept, speed, and soundproofing.
The mid-size Gulfstream G150 jet offers the same outstanding performance as the larger members of the family. Charter a Gulfstream G150 jet provides an impressive range for an aircraft of this size, flies faster than its competitors, and can fly nonstop from coast to coast in the United States.
Gulfstream G150 Charter Cost
Chartering a Gulfstream G150 private jet will cost from $3,950 per hour. The cost of renting a G150 is calculated individually and depends on several parameters, such as the distance and complexity of the route.
For Gulfstream G150 charter rates and availability, please submit the flight request form below or call our agents.
Charter a Gulfstream G150 for Private Flights:
Gulfstream G150 Overview
The Gulfstream G150 private jet has a maximum range of 3,130 nautical miles, allowing passengers to fly nonstop from New York to Los Angeles. The new Honeywell engines contribute to this performance, offering good fuel economy and high efficiency. Operating at speeds up to Mach 0.85, it can easily and quickly transport passengers over continental distances. With such outstanding performance, the G150 jet requires the lowest operating costs in its class.
Gulfstream takes flight reliability and safety seriously. The Rockwell Collins Pro Line 21-based cockpit, augmented with special joystick control for adjustments, enhances not only the safety of the aircraft but also the comfort of the pilot.
Gulfstream G150 Interior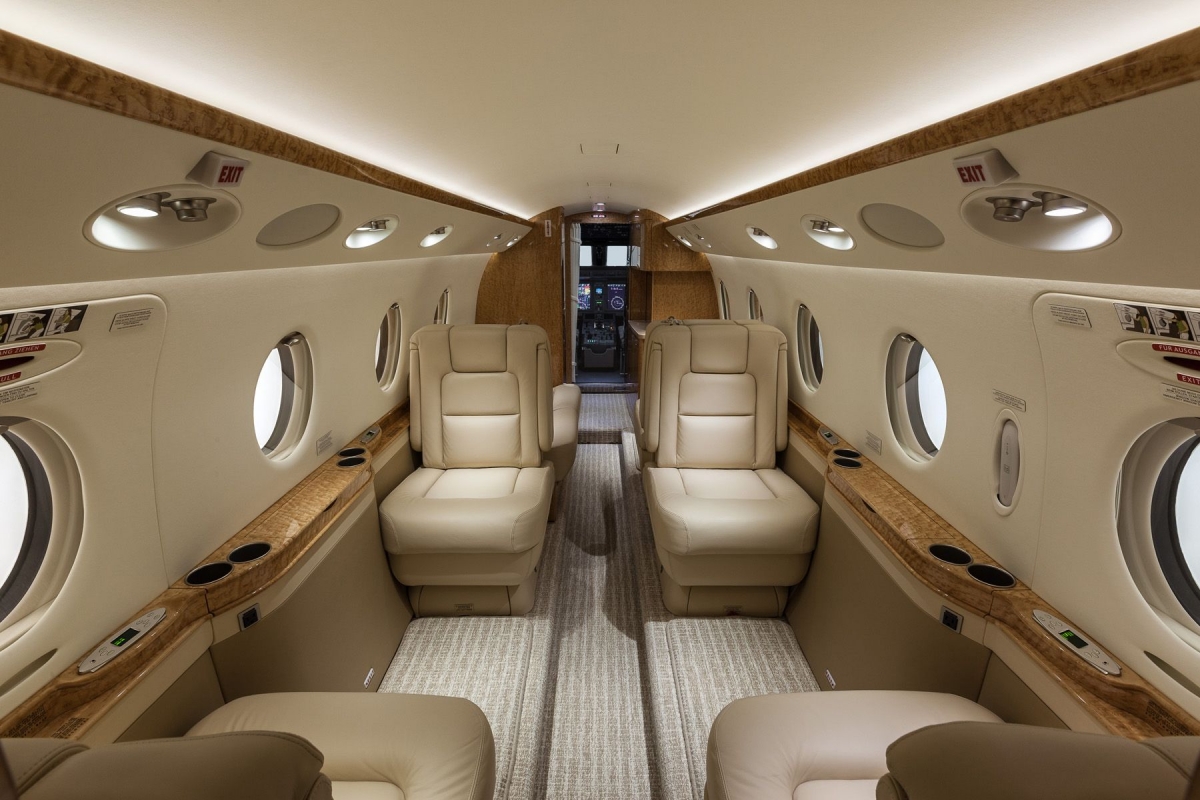 Taking the already impressive spec sheet of the G100, Gulfstream's G150 raises the bar even further. The cabin allows almost any stature to move comfortably, and Gulfstream's experience in the private aviation industry means passengers get to their destinations as comfortably and smoothly as possible.
The G150 charter jet cabin is optimally sized for eight passengers while maintaining a high degree of comfort in the spacious cabin. The lavatory is located in the aircraft's tail section, and the onboard kitchen is equipped with everything necessary for food storage and cooking. Passengers are also offered a multimedia system with a wealth of entertainment options, LCD monitors connected to the video system, a Hi-End audio system, and high-speed internet.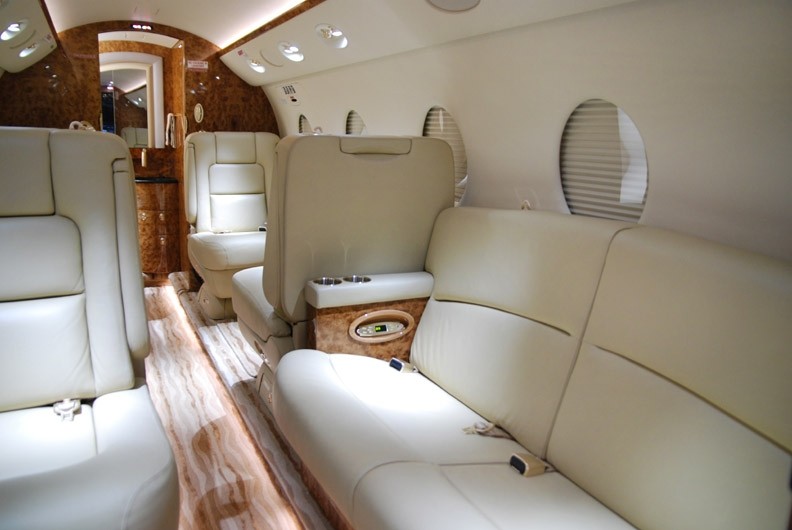 Gulfstream G150 General Information
| | |
| --- | --- |
| Classification | Midsize Jet |
| Seats | 8 |
| Cruis Speed | 459 KTAS |
| Range | 2294 nm |
| Luggage Capacity | 80 cu ft |
| Interior Height | 5.75 ft |
| Interior Width | 5.75 ft |
Monarch Air Group offers exceptional service, comfort, safety, and absolute confidentiality in a private jet charter on the Gulfstream G150. A business or leisure flight on a G150 private jet will allow you to use your time as efficiently as possible and visit different cities in the shortest possible time.
FAQS: Gulfstream G150 Private Jet for Charter
When Should I Choose the Gulfstream G150 Charter Flight?
A Gulfstream G150 charter is perfect for both business and leisure. With its highly fuel-efficient engines, the private jet flight on the Gulfstream G150 allows for non-stop flights between most American cities.
What Runway Length Does the Gulfstream G150 Need?
Designed for the longest flights at the highest speeds, the private aircraft G150 also has a relatively short takeoff (5015 ft) and landing (2445 ft) distance. It is also certified to fly in steep terrains, such as London City or Zion, making the Gulfstream G150 private flight experience much more attractive.
How Far In Advance Can I Charter the Gulfstream G150?
To arrange a charter flight on the Gulfstream G150, it is best to contact us immediately after you decide to fly or at least 6 hours before departure. We will be able to review the current jets and routes and make an individual offer, considering your wishes.