Like earlier variants newest model of the Falcon 900, the 900LX offers operators significant flexibility in load-carrying capacity, range and short-field capabilities.
Charter a Falcon 900LX private jet: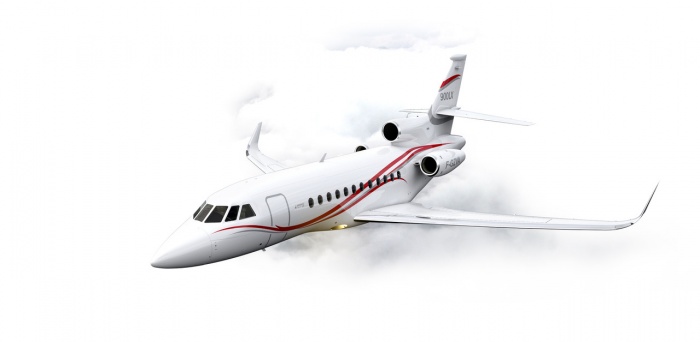 The Falcon 900 is a tri-engine jet aircraft made by Dassault Aviation in France. The 900 are developed upon of the Falcon 50, which is in turn a development of the earlier Falcon 20. To date more than 500 Falcon 900 aircraft have been delivered, with each generation refining and building upon the strengths of the previous.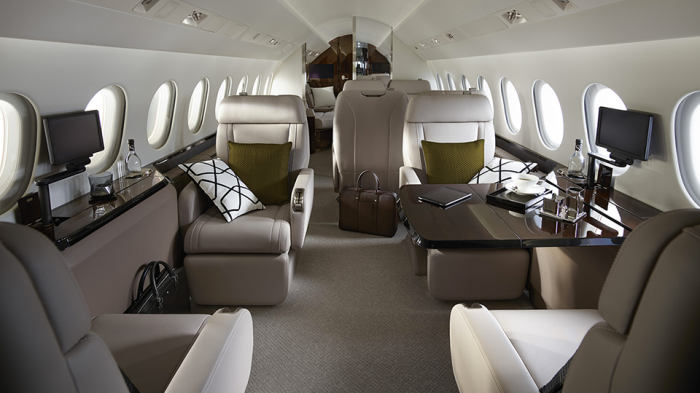 Passenger Capacity: up to 12 passengers (std config)
Max Range: 4,750 NM
Max Operational Speed: 0.84 Mach
Cabin Height: 6.2 ft
Cabin Width: 7.8 ft
Cabin Length: 33.20 ft
Baggage Capacity: 1,264 cu ft
Many of the 900LX's finer attributes result from technology developed for Dassault's military programs. Its design assures pilots of precise aerodynamic feedback, without some of complex supplementary systems required by other business aircraft. Handling is highly praised by leading pilots as potential dangers can easily be avoided.
In part due to the aircraft's "High-Mach" blended winglets the maximum range is stretched to an amazing 4,750 NM, allowing it to cross nearly any continent or ocean.
The 900LX cabin measures 6 feet, 2 inches tall and 7 feet 8 inches. The aisles are broad and individual seats offer plenty of recline. There are also three distinct lounge areas for work, rest and relaxation, allowing you to optimize the use of your time on long-range flights.
For charter rates and availability of the Dassault 900LX, please submit the below flight request form, or call our agents 24/7 at 1-877-281-3051