Monarch Air Group provides Embraer Praetor 500 jet charter for private flights to any airport. Our aviation consultants are always ready to advise you on private jet charters and other business aviation services.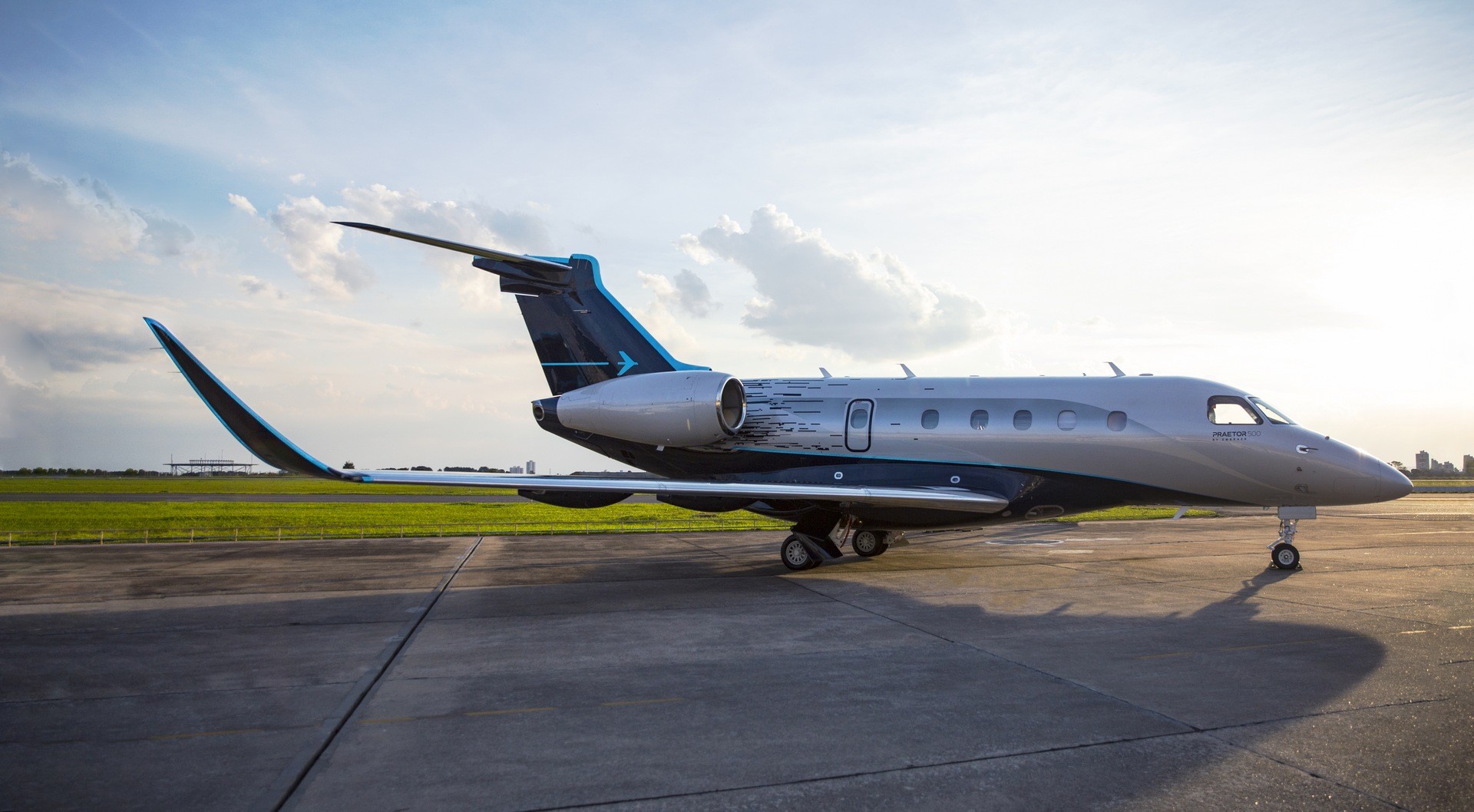 Embraer Praetor 500 Charter Flight
The Brazilian aircraft manufacturer Embraer's Praetor 500, a restyling of the Legacy 450 and a super-midsize business jet, holds a prominent position in the business aviation sector. Furthermore, this model has better aerodynamics, making it more comfortable and effective for long-haul trips. A Praetor 500 charter offers unrivaled comfort and customization.
Embraer Praetor 500 Charter Cost
Chartering a Praetor 500 private jet starts at around $5,000 – $7,500 per hour. The hourly charter rates depend on several factors, the most important of which are the trip's distance and flight time.
Contact our agents to learn more about Embraer Praetor 500 charter rates and availability, or complete the flight request form below.
Charter a Global 6500 for Private Flights:
Embraer Praetor 500 Overview
The most distinguishing characteristics of the charter Praetor 500 are its redesigned wing, higher fuel capacity, and more potent engines. The modified Praetor 500 is now equipped with twin HTF 7500E turbojet engines, Rockwell Collins ProLine Fusion avionics, and a cockpit visualization system with image projection.
Embraer Praetor 500 Interior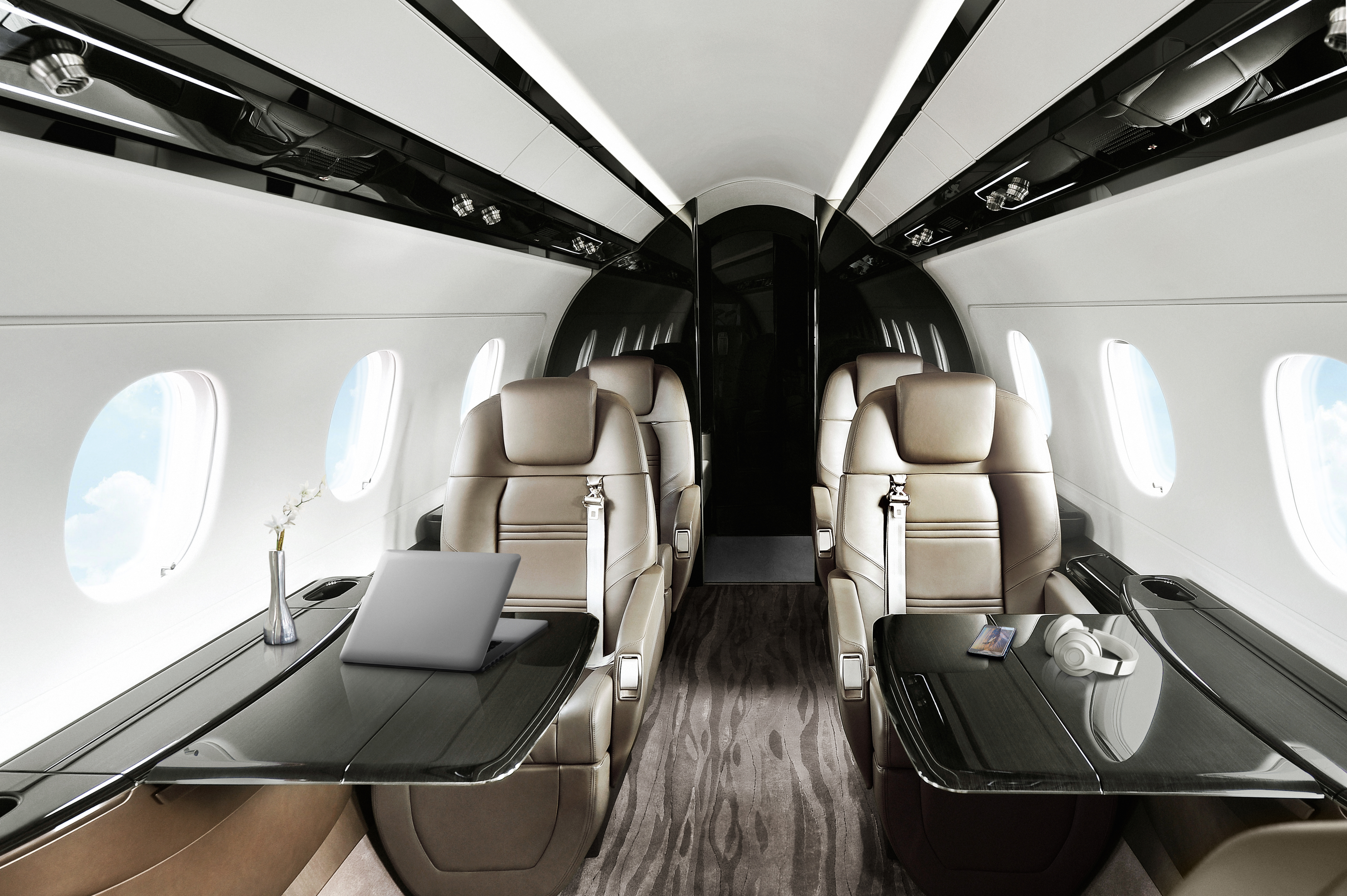 The interior of the new Praetor 500 private jet has been redesigned in DNA Design to include more customization and amenities. In addition, it has renewed seats, an enlarged headrest, a retractable armrest, a new table, a side wall, a wider aisle between rows, and other mobility-enhancing features.
Embraer Praetor 500 General Information
| | |
| --- | --- |
| Classification | Super Midsize Jet |
| Seats | 7 |
| Cruise Speed | 462 KTAS |
| Range | 3,340 nm |
| Interior Height | 6 ft |
| Interior Width | 6.82 ft |
| Interior Length | 24 ft |
| Luggage Capacity | 150 cu ft |
If you prefer to charter an Embraer Praetor 500, Monarch Air Group will serve you with all of the comforts you could possibly require throughout your trip. We will assist you in selecting the airports for your departure and arrival, as well as the flight crew, as you arrange your journey. Along with route planning, we will provide a variety of in-flight and after-flight services. Contact us if you want to book an Embraer Praetor 500 private jet.
FAQs: Embraer Praetor 500 Private Jet for Charter
What Type of Private Jets is Embraer Praetor 500?
The Praetor 500 is a super-midsize business jet built by Brazilian aircraft manufacturer Embraer that entered service in 2019.
When Should I Choose the Embraer Praetor 500 Charter Flight?
You can save time while traveling in the ultimate comfort thanks to the superior speed of this aircraft. Charter a Praetor 500 and fly from Miami to New York, Los Angeles to Washington, Madrid to London, or Dubai to Hong Kong aboard a transcontinental flight without any stops.
What Runway Length Does the Embraer Praetor 500 Need?
Praetor 500 requires a runway of 4263 ft to take off and 2091 ft to land.
How Far in Advance Can I Charter the Embraer Praetor 500?
Planning a private flight on an Embraer Praetor 500 takes roughly six hours. Get in touch with us as soon as you make your reservation if you'd like to customize every aspect of your Embraer Praetor 500 charter.