Monarch Air Group provides Legacy 450 business jet for private flights to any airport. Our aviation consultants are always ready to advise you on private jet charters and other business aviation services.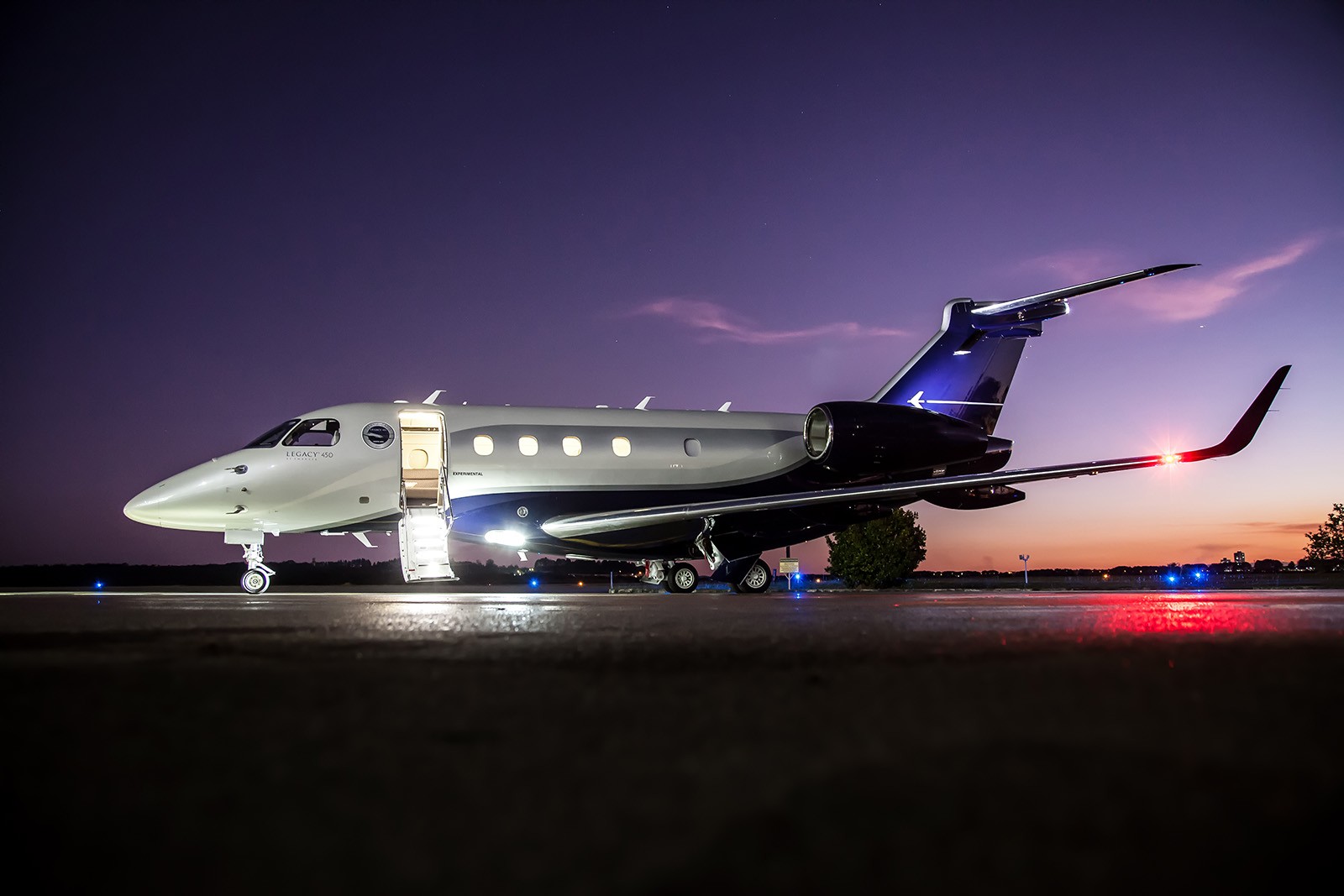 Legacy 450 Charter Flights
The midsize Legacy 450 jet from Brazilian aircraft manufacturer Embraer is a ground-breaking design with cutting-edge technology. The plane was created as a brand-new independent type and was the first one produced in Brazil with an electric remote control. Customers can travel as soon as possible across distances up to 2,900 nm with Legacy 450 private jet charter.
Legacy 450 Charter Cost
The cost to charter a Legacy 450 starts at around $4,800 an hour. Hourly rates will vary based on scheduling, routing, passenger and luggage amounts, and more.
Call our representatives or fill out the flight request form below to learn more about Legacy 450 charter rates and availability.
Charter A Legacy 450 For Private Flights:
Legacy 450 Overview
The Embraer Legacy 450 is one of the best business jets on the market, offering an impressive combination of performance, comfort, and affordability. The Legacy 450 is a super-midsize category business jet produced by Brazilian manufacturer Embraer, based on the company's EMB-545 type. The Legacy 450 is a mid-size business jet, filling the gap between Embraer's smaller Phenom aircraft and the larger Legacy 500 and 650 models. The aircraft is designed to cater to the needs of business travelers, with a spacious and well-appointed cabin, and state-of-the-art technology.
One of the main advantages of the Legacy 450 is its range. The aircraft can fly up to 2,900 nautical miles (5,370 km) nonstop, allowing it to connect cities such as New York to London or Los Angeles to Rio de Janeiro without the need for refueling. This makes it an ideal choice for long-range business trips or for those who value the convenience of nonstop flights.
The Legacy 450 is equipped with advanced technology that ensures a smooth and safe flight. The aircraft features an advanced avionics suite, which includes a digital flight control system, and a synthetic vision system, which enhances the pilot's situational awareness. The aircraft also features a state-of-the-art weather radar system, which can detect and avoid adverse weather conditions, making it one of the safest aircraft in its class.
When chartering a Legacy 450, you can expect a comfortable and luxurious flying experience, with amenities such as private lavatories, a state-of-the-art entertainment system, and a fully-equipped galley.
Legacy 450 Interior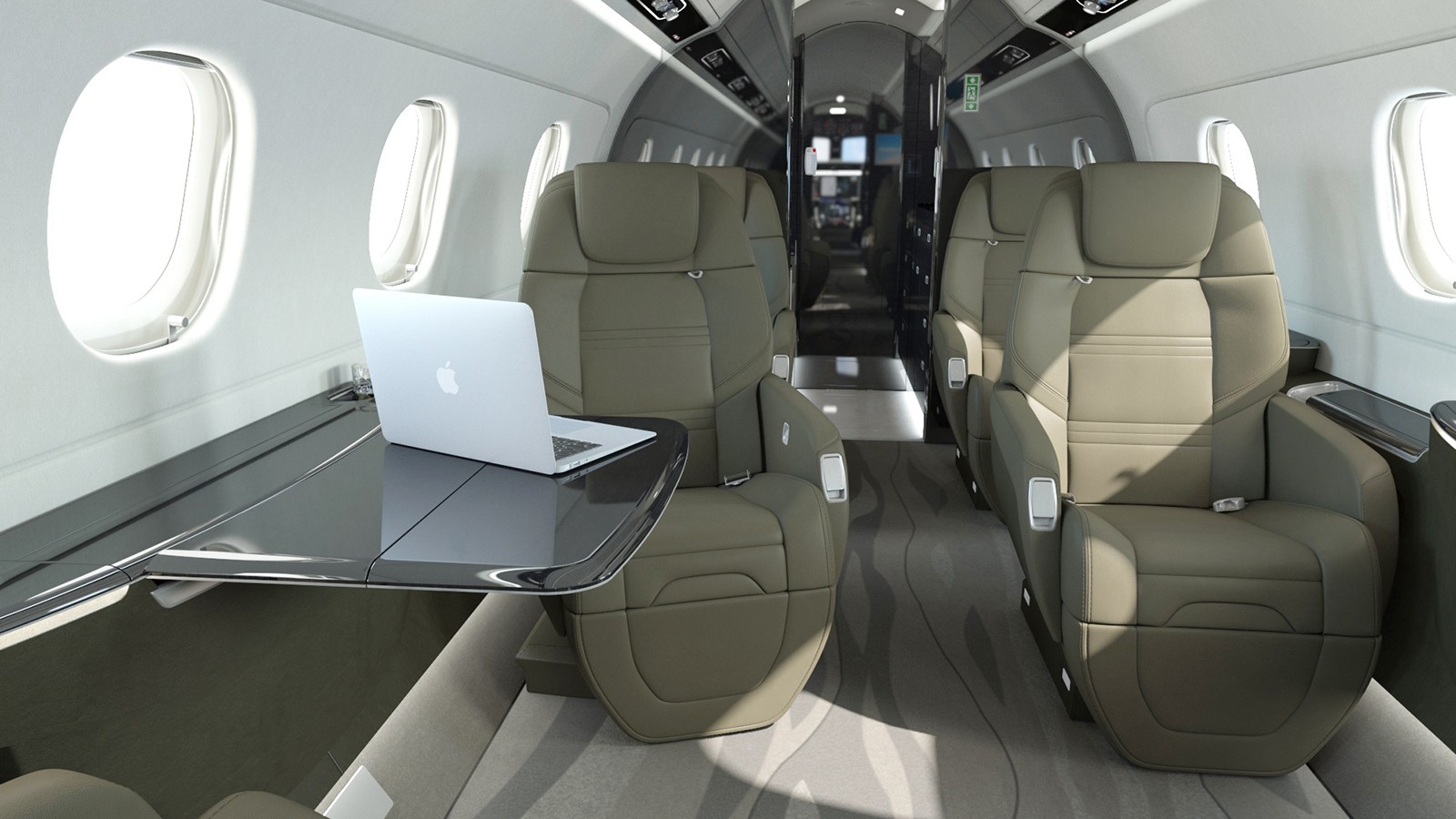 The interior of Legacy 450 private jet charter interior was likewise outfitted with cutting-edge aviation technology. The design was created by the BMW Group Designworks USA team and differed dramatically from prior Legacy series cars. All of the current features of a business aircraft, such as entertainment audio and video systems, chairs made of premium materials with several adjustments, and full-fledged sleeping berths, can be found here.
Legacy 450 General Information
| | |
| --- | --- |
| Classification | Midsize |
| Seats | Up to 8 |
| Cruise Speed | 515 ktas |
| Range | 2900 nm |
| Luggage Capacity | 150 ft³ |
| Interior Height | 6 ft |
| Interior Width | 6.1 ft |
| Interior Length | 38.38 ft |
Monarch Air Group's private charters via Legacy 450 aircraft are unparalleled in terms of comfort and luxury. We provide private jet charter service on a Legacy 450 seven days a week, 24 hours a day. In addition to trip planning, we will offer a variety of onboard and offboard services.
FAQs: Legacy 450 Private Jet for Charter
What Type of Private Jet is Legacy 450?
The Legacy 450 is a midsize category business jet produced by Brazilian manufacturer Embraer that are based on the company's EMB-545 type.
When Should I Choose the Legacy 450 Charter Flight?
When you book a Legacy 450 private jet, you can be confident that you will travel in comfort, luxury, and with a wide range of amenities. This aircraft can fly nonstop from New York to San Diego, and from Los Angeles to Nashville.
What Runway Length Does the Legacy 450 Need?
Legacy 450 private jet charter needs a runway of at least 3825 ft for takeoff and 2083 ft for landing.
How Far in Advance Can I Charter the Legacy 450?
It is possible to arrange a private Legacy 450 jet flight in as little as six hours. After making a reservation, please get in touch as soon as possible so that we can ensure you receive a Legacy 450 charter that fits your needs.