Monarch Air Group provides Embraer E195 private jet for charter flights to any airport. Our aviation consultants are always ready to advise you on private jet charters and other business aviation services.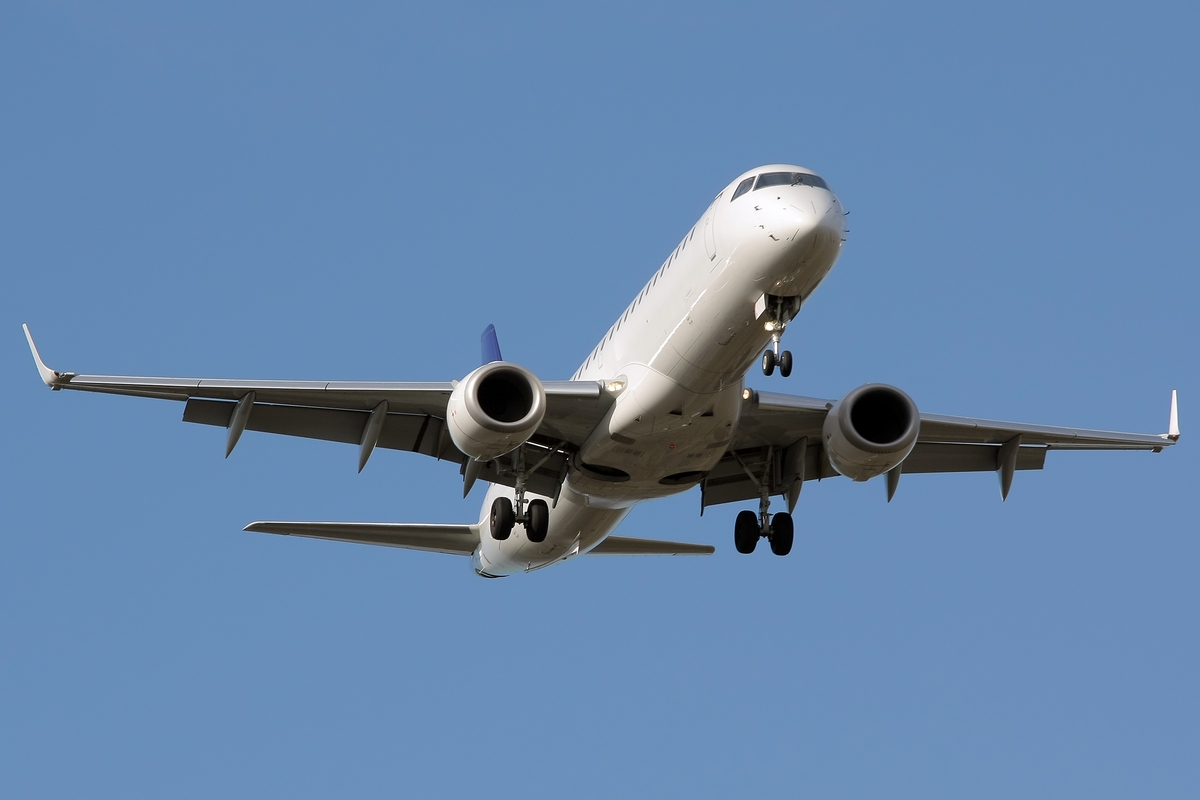 Embraer E195 Charter Flights
Embraer E195 is a medium-range, modern, narrow-body aircraft that stands out in the Embraer aviation family. The model, which debuted in 2006, is a stretched version of the prior E190 model. The Embraer E195 can contend with Boeing and Airbus with improved flight performance and upgraded avionics. The efficiency of Embraer E195 private jet charter is one of its primary benefits. In addition, its operating expenses are lower than those of many other regional jets due partly to its modern design and advanced technology.
Embraer E195 Charter Cost
Chartering an Embraer E195 private jet will cost from $15,000 per hour. The price to rent a private aircraft is determined individually and is based on a number of factors, including the complexity and distance of the trip.
Call our representatives or fill out the flight request form below to learn more about Embraer E195 charter rates and availability.
Charter an Embraer E195 for Private Flights:
Embraer E195 Overview
The flight pace and luxurious accommodations of the Embraer 195 are impressive. Moreover, the aircraft's turbines are robust. Two General Electric CF34-10E turbofan engines provide a maximum thrust of 18,500 lbf (82.3 kN) each for the Embraer E195 private jet charter. In addition, it employs a computerized Intelligence-by-Wire control system to automate additional operations. Since its introduction in 2006, the E195 has undergone numerous modifications and enhancements. As a result, it has a spacious cabin with a single aisle and a modern fly-by-wire flight control system.
Embraer E195 Interior
The cabin of Embraer E195 private jet charter is outfitted with the most recent aviation innovations. The tail features a spacious baggage compartment, restrooms, comfortable seats, a premium audio system, and a multimedia system with large monitors. This jet is available in standard, long and advanced range configurations. This aircraft's double-bubble fuselage design provides additional capacity and comfort for all passengers. The cabin is immensely spacious and can accommodate 108 to 124 passengers. There is a center aisle and four seats across per row.
Embraer E195 General Information
| | |
| --- | --- |
| Classification | Airliner |
| Seats | up to 124 |
| Cruise Speed | M 0.82 |
| Range | 2300 nm |
| Luggage Capacity | 748 ft3 |
| Interior Height | 6.56 ft |
| Interior Width | 8.99 ft |
| Interior Length | 92.42 ft |
Monarch Air Group, a provider of private jet charter services, offers aircraft charter services on demand to businesses, governments, and individuals. The company delivers a range of charter aircraft, such as turboprops, light jets, medium jets, and heavy jets. In addition, it provides a variety of on-board and off-board amenities. Embraer E195 private aircraft charter service provided by Monarch Air Group prioritizes safety, luxury, and adaptability.
FAQs: Embraer E195 Private Jet for Charter
What Type of Private Jets is Embraer E195?
Embraer E195 is an airliner jet. An airliner jet is a type of jet aircraft designed and used for commercial air transportation of passengers and cargo. These aircraft are typically operated by airlines and are designed to carry large numbers of passengers on scheduled flights between airports.
When Should I Choose the Embraer E195 Charter Flight?
Consider chartering an Embraer E195 when you require a swift and comfortable flight. The airliner Embraer E195 can travel up to 2,300 nautical miles nonstop, enabling you to fly from San Francisco to Chicago and New York to Los Angeles.
What Runway Length Does the Embraer E195 Need?
For takeoff, an optimal runway length for an Embraer E195 private jet charter is 4,698 ft, and for landing – 4,183 ft.
How Far in Advance Can I Charter the Embraer E195 Need?
A private Embraer E195 aircraft can be reserved six hours in advance. As soon as your reservation is confirmed, please contact us so that the rental can be tailored to your requirements.