Monarch Air Group provides Eclipse 500 private jet for charter flights to any airport. Our aviation consultants are always ready to advise you on private jet charters and other business aviation services.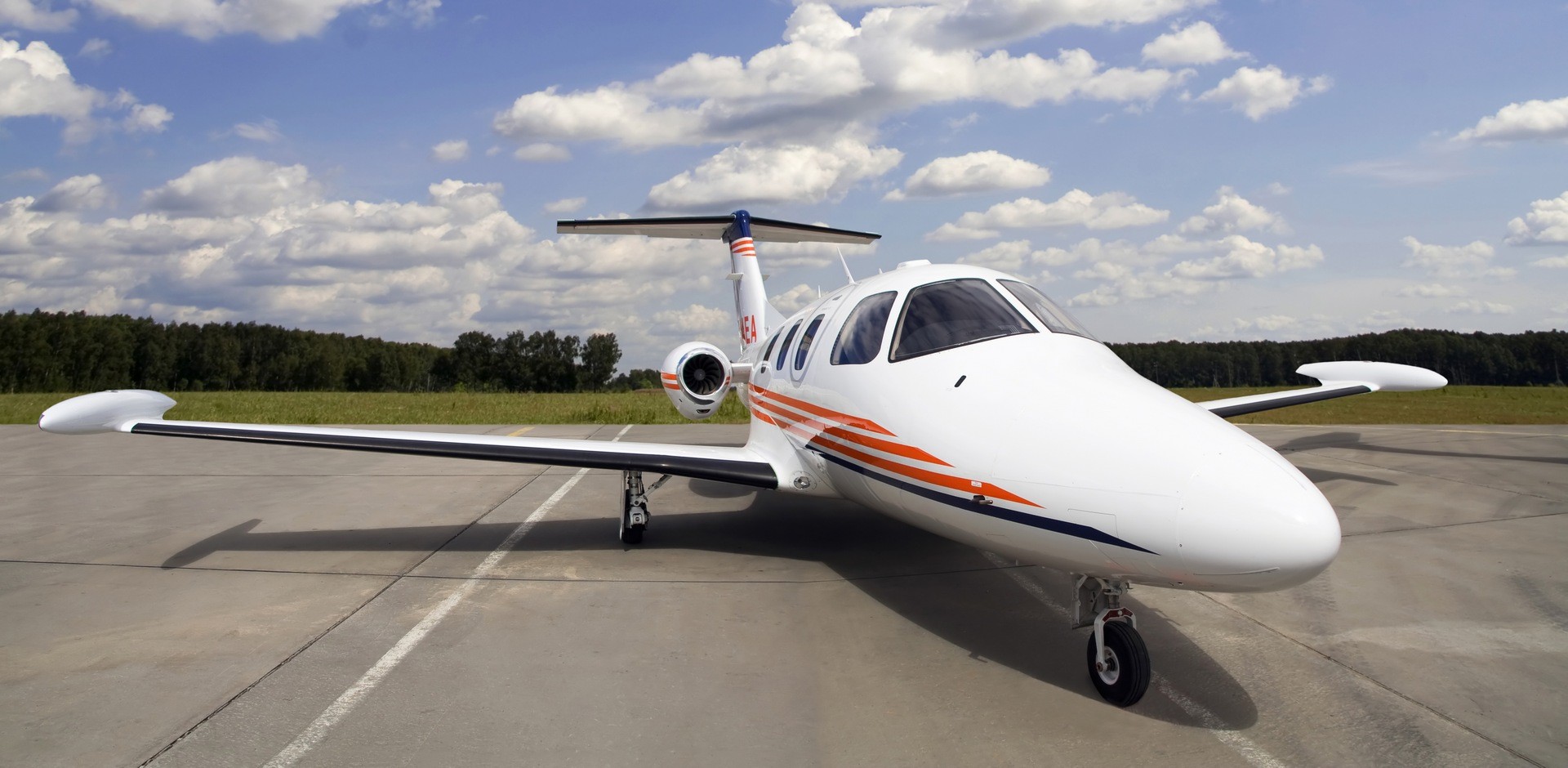 Eclipse 500 Charter Flights
Eclipse 500 is an all-metal lightweight business jet from Eclipse Aviation, the industry leader in private aviation. This model is completely made of duralumin. The Eclipse 500 first flew in 2004, and the firm has continued to upgrade and maintain previously produced aircraft since 2009. Eclipse 500 private jet charter was a groundbreaking aircraft that helped to revolutionize the private jet industry. Its innovative design and advanced technology made it an attractive option for individuals and businesses looking for an affordable and efficient way to travel by air.
Eclipse 500 Charter Cost
Chartering an Eclipse 500 private jet will cost from $2,500 – $3,500 per hour. The price to rent a private aircraft is determined individually and is based on a number of factors, including the complexity and distance of the trip.
Call our representatives or fill out the flight request form below to learn more about Eclipse 500 charter rates and availability.
Charter an Eclipse 500 for Private Jet Flights:
Eclipse 500 Overview
Eclipse 500 is a small, sleek jet with a distinct design that distinguishes it from other light aircraft. Because it is constructed of lightweight composite materials, it is more fuel-efficient and ecologically friendly than other private jets. Two Pratt & Whitney Canada PW610F turbofan engines provide a maximum running speed of 430 knots and a range of up to 1,125 nautical miles.
Manufacturers automated the fuselage as much as possible with the most advanced technology. Eclipse 500 private jet charter aircraft obtained international certification in the middle of 2008. It also features a glass cockpit with a multifunctional display for simple operation.
Eclipse 500 Interior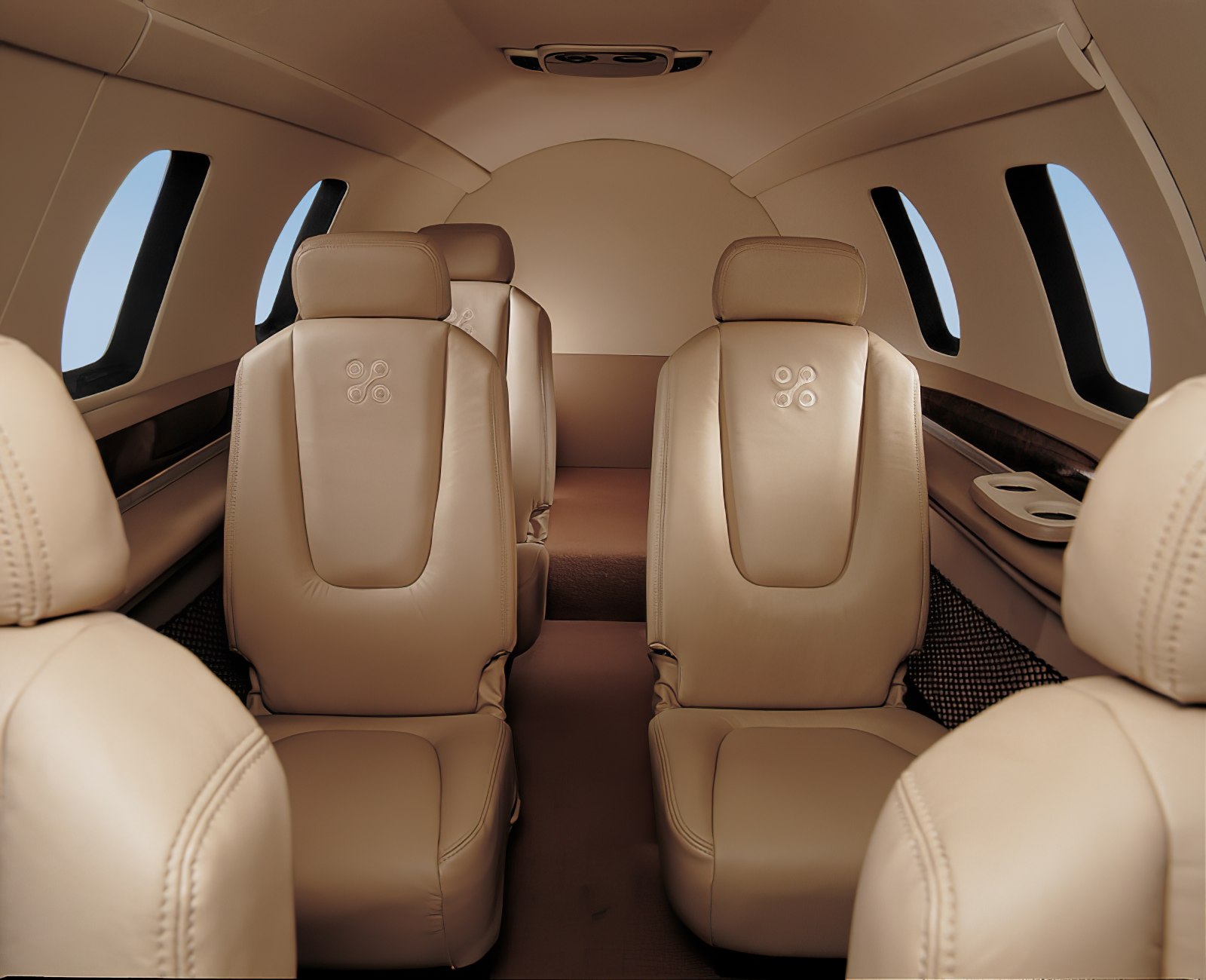 The reasonable cost of ownership and comfortable cabin are two significant advantages of Eclipse 500 private jet charter. In addition, it is outfitted with everything necessary for a short-haul flight and is frequently used for corporate, personal, and aero transportation purposes. Eclipse 500 cabin is designed to fit four passengers and a pilot comfortably. It has air conditioning, leather seats, and a modern avionics suite with sophisticated safety features.
Eclipse 500 General Information
| | |
| --- | --- |
| Classification | Very Light Jet |
| Seats | 4 |
| Cruise Speed | 370 KTAS |
| Range | 1125 nm |
| Luggage Capacity | 15.9 ft³ |
| Interior Height | 4.18 ft |
| Interior Width | 4.66 ft |
| Interior Length | 12.34 ft |
As a provider of private jet charter services, Monarch Air Group offers on-demand aircraft charter services to corporations, governments, and individuals. The company provides a variety of charter aircraft, including turboprops, light jets, medium jets, and heavy jets. Additionally, there are numerous on-board and off-board amenities available. Monarch Air Group's Eclipse 500 private jet charter service prioritizes safety, opulence, and adaptability.
FAQs: Eclipse 500 Private Jet for Charter
What Type of Private Jet is Eclipse 500?
Eclipse 500 is a very light jet. VLJs are characterized by their efficiency, speed, and relatively low operating costs compared to other types of private jets. In addition, they are equipped with modern avionics systems, including GPS and glass cockpit displays, which make them easier and safer to operate.
When Should I Choose the Eclipse 500 Charter Flight?
Consider chartering an Eclipse 500 when you require a swift and comfortable trip. The Eclipse 500 has an uninterrupted range of 1125 nautical miles, allowing nonstop flights between Salt Lake City and Chicago, Kansas City and New York.
What Runway Length Does the Eclipse 500 Need?
For takeoff, an optimal runway length for an Eclipse 500 private jet charter is 2342 ft, and for landing – 2668 ft.
How Far in Advance Can I Charter the Eclipse 500 Need?
Six hours in advance, a private Eclipse 500 aircraft can be reserved. Please contact us as soon as your reservation is confirmed so that we may accommodate your specific requirements.