Monarch Air Group provides Diamond D-Jet business jet for private flights to any airport. Our aviation consultants are always ready to advise you on private jet charters and other business aviation services.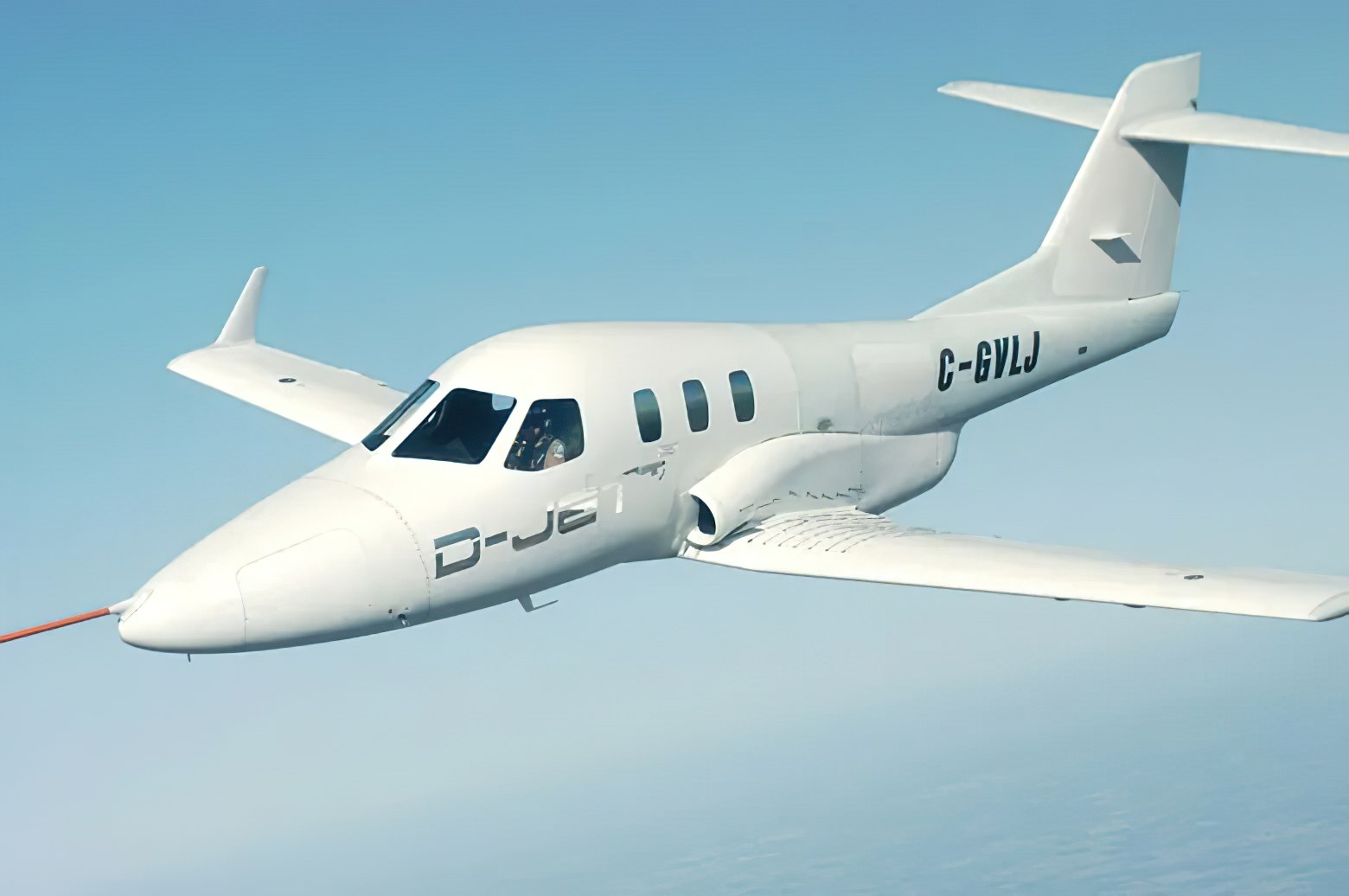 Diamond D-Jet Charter Flights
When it comes to single-engine business aircraft, the Diamond D-Jet private jet charter is the gold standard. It's internationally recognized as having superior security characteristics. This model's exceptional stability and maneuverability are further enhanced by its light composite structure, sweeping wings, and T-tail.
The Diamond D-Jet is a popular choice for private charter flights due to its small size, fuel efficiency, and advanced avionics. When chartering a D-Jet, you can expect the following:
Direct flights: The D-Jet is designed for short-range flights, which allows you to fly directly to your destination without the need for layovers or connecting flights.
Flexibility: With a private charter flight, you can set your own schedule and depart and arrive at a time that is convenient for you.
Privacy: The D-Jet's comfortable and luxurious cabin provides a private and quiet environment, allowing you to relax and work during the flight.
Efficiency: The D-Jet's small size and fuel efficiency make it a great option for travelers who are looking for a more efficient travel experience.
Comfort: The D-Jet's comfortable seats and ample legroom, as well as the entertainment system, make the flight a pleasant experience.
Safety: The D-Jet is an advanced aircraft, with the latest avionics, which offers the latest technology in navigation and communication.
Diamond D-Jet Charter Cost
On average, the hourly rate for a Diamond D-Jet can range from $2,000 to $3,500 per hour. The price to rent a private aircraft is determined individually and is based on a number of factors, including the complexity and distance of the trip.
Call our representatives or fill out the flight request form below to learn more about Diamond D-Jet charter rates and availability.
Charter a Diamond D-Jet for Private Jet Flights:
Diamond D-Jet Overview
A Williams FJ33-4A turbofan engine with full-authority digital engine control (FADEC) provides power for D-JET. The FADEC system effortlessly automates a number of formerly manual tasks, including the starting of the engine and the prevention of the selection of high speeds. The avionics of D-Jet private jet charter include a Garmin G1000 glass cockpit with a huge multi-function display in the middle of the cockpit dashboard.
Moreover, notable technologies include a traffic warning system, a certified global positioning system, and satellite communication for the transfer of weather data; a navigator with a locator and instrument landing system; and a traffic monitoring system.
Diamond D-Jet Interior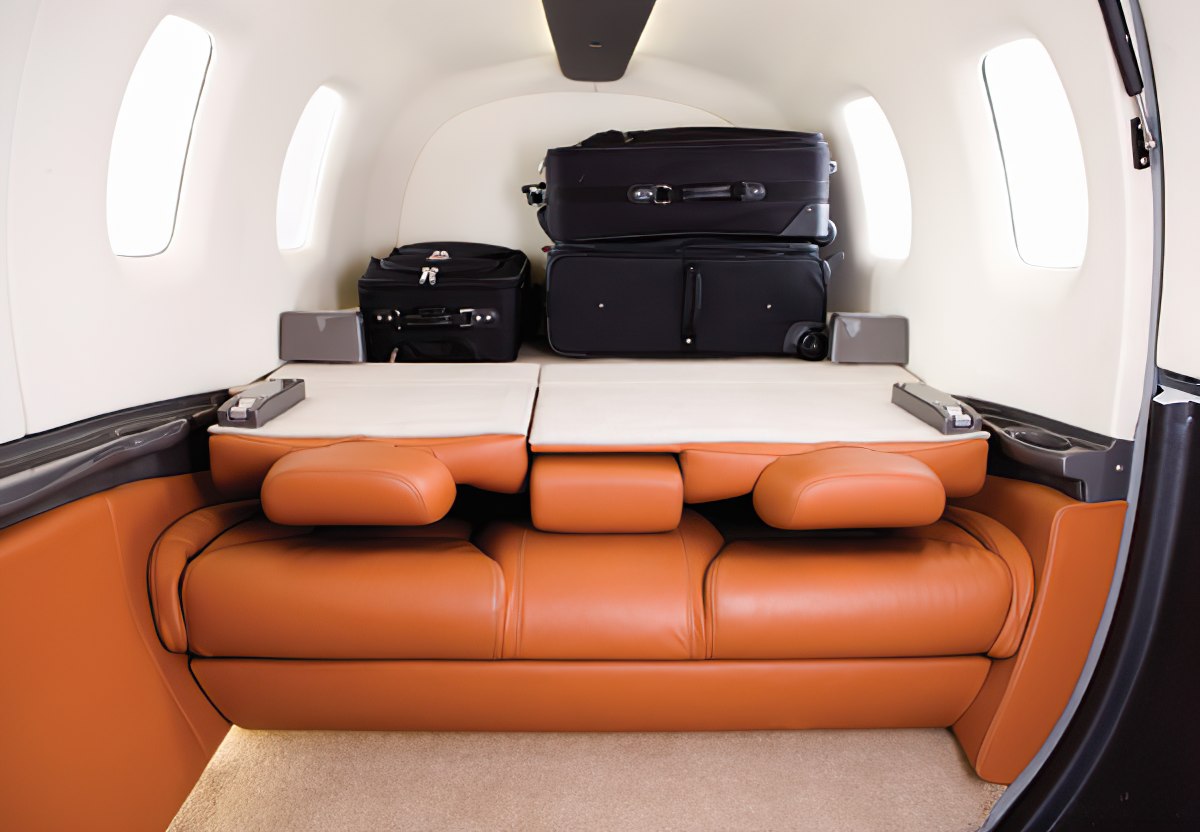 The interior of D-Jet was planned with a number of features to improve onboard comfort, such as the suggested seating layout and the low vibration levels present during flight, for both passengers and crew. With a cantilevered pedestal in the center of the cockpit, it's much easier to get in and out of this aircraft than some of the others on the market. There are two externally accessible baggage lockers in the aircraft, one in the nose and one behind the main cabin.
In addition, Diamond D-Jet private jet charter has state-of-the-art active and passive safety features to ensure the security of its passengers. The cabin is spacious and pleasant, making it a wonderful place to relax or get some work done on a long ride.
Diamond D-Jet General Information
| | |
| --- | --- |
| Classification | Very Light Jet |
| Seats | 4 |
| Max Cruise Speed | 315 kts |
| Max Range | 1.553 nm |
| Luggage Capacity | 40 cu ft |
| Interior Height | 4.8 ft |
| Interior Width | 4.8 ft |
| Interior Length | 11.6 ft |
The level of luxury and comfort offered by Monarch Air Group's Diamond D-Jet private charters is unmatched in the sector. Please contact us anytime since we provide Diamond D-Jet private jet service around-the-clock. We'll provide a variety of in-flight and post-flight services in addition to trip preparation.
FAQs: Diamond D-Jet Private Jet for Charter
What Type of Private Jet is Diamond D-Jet?
The Diamond D-Jet is a very light jet (VLJ) produced by Diamond Aircraft Industries. It is a single-engine aircraft that is designed for personal and business travel.
When Should I Choose the Diamond D-Jet Charter Flight?
The Diamond D-Jet is an excellent choice for a charter flight when you are looking for a smaller, fuel-efficient aircraft that can accommodate a small group of passengers. It is ideal for short-range flights and can be used for a variety of travel needs such as:
Business trips: The D-Jet's compact size and advanced avionics make it a great option for business travelers who need to get to a meeting or conference quickly and efficiently.
Family vacations: The D-Jet's comfortable cabin and ample storage space make it a great option for families who are looking to travel in style and comfort.
Romantic getaways: The D-Jet's luxurious cabin and private setting make it a great option for couples who are looking to get away for a romantic weekend.
Adventure travel: The D-Jet's versatility and performance make it a great option for adventure travelers who are looking to explore remote destinations.
Medical flights: The D-Jet's small size and fuel efficiency make it a great option for medical transport flights, as it can reach remote places and have quick access.
It's worth noting that the D-Jet can land on small airports, and it can have a quick turnaround time, making it a great option for travelers who are looking for a more efficient travel experience.
What Runway Length Does the Diamond D-Jet Need?
The Diamond D-Jet is a very light jet (VLJ) aircraft, which means it has a relatively short runway requirement. According to Diamond Aircraft Industries, the D-Jet has a balanced field length (the minimum runway length required to safely take off and climb) of just 1,800 feet (549 m) and a takeoff distance of 2,050 feet (625 m). This makes it suitable for operation at small regional airports and even some private landing strips, as well as some of the smaller commercial airports. However, specific requirements may vary depending on the aircraft's weight, weather conditions, and other factors.
How Far in Advance Can I Charter the Diamond D-Jet?
Organizing a private flight via Diamond D-Jet will take about six hours. Contact us as soon as possible after making your flight reservation so we can meet your needs with your Diamond D-Jet charter.