Announced at EBACE 2014 in Geneva Switzerland the Dassault's flagship Falcon 8X is a large-cabin, long range triple, engine business jet manufactured by the French based Dassault Aviation. It is built upon the Falcon 7X, with longer range possible through engine modifications, aerodynamic improvements and an increased fuel capacity.
Charter a Dassault Falcon 8x private jet: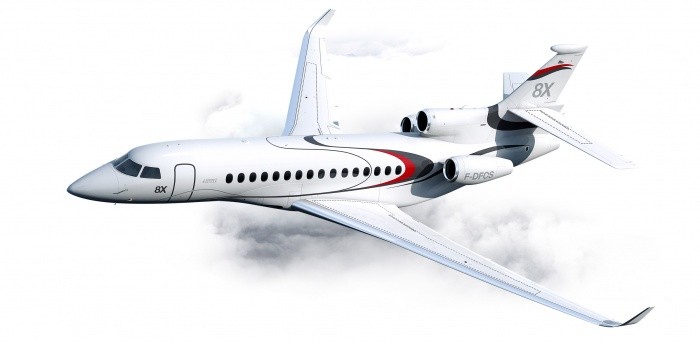 Passenger Capacity: up to 18 passengers (std configuration)
Max Range: 6,450 NM
Max Operational Speed: 0.90 Mach
Cabin Height: 6.17 ft
Cabin Width: 6.67 ft
Cabin Length: 42.67 ft
Baggage Capacity: 1,695 cu ft.
When designing the Falcon 8X, Dassault rethought all major structures and systems, adapting and optimizing them into a highly efficient airframe.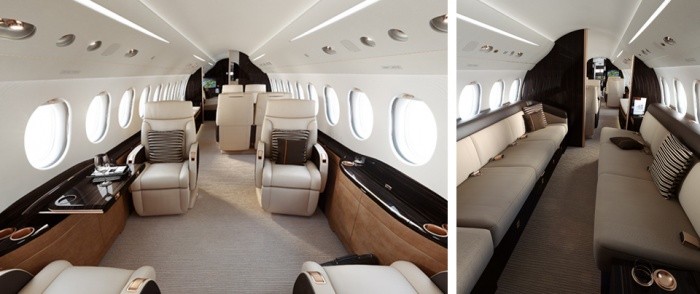 The new internal wing architecture not only lightens the wing structure but allows for more fuel. New winglets reduce drag to boost efficiency. The fuselage houses more fuel without reducing passenger space. Even the landing gear has been reinforced to provide increased payload.
The jet features a spacious and long, three-lounge cabin that can comfortably accommodate all passengers as well as three crew members.
The FalconCabin HD+ cabin management system, available on most Falcon 8x, gives passengers control over their environment from anywhere in the cabin, using their own devices. There is an app that lets you call up a virtual moving map of any area around you by simply pointing an iPad in its direction.
For charter rates and availability of the Dassault Falcon 8x, please submit the below flight request form, or call our agents 24/7 at 1-877-281-3051