Monarch Air Group provides Citation V business jet for private flights to any airport. Our aviation consultants are always ready to advise you on private jet charters and other business aviation services.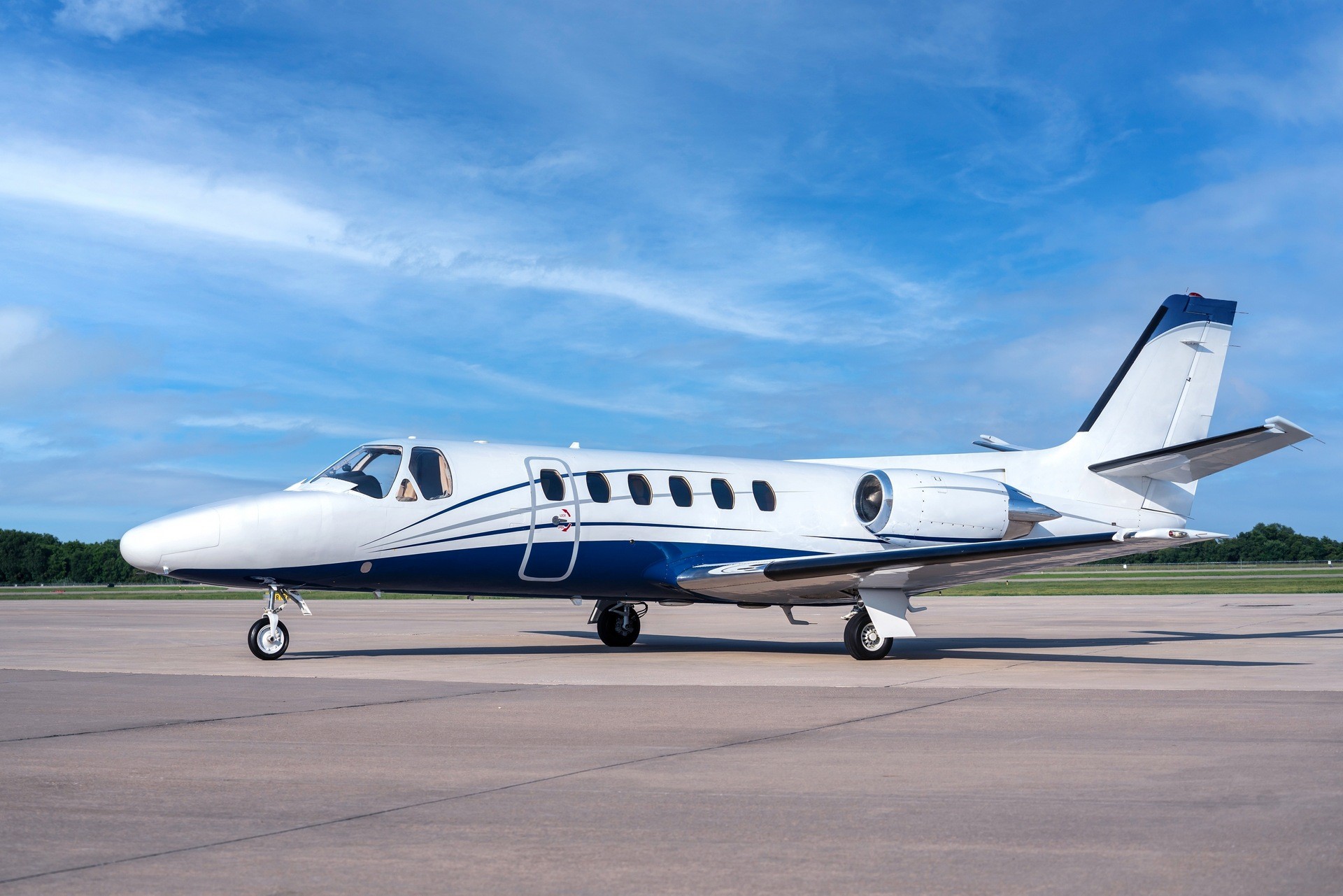 Citation V Charter Flights
Cessna Citation V (Model 560) is a modern business jet that represents a light twin-engine aircraft from the American company Cessna. On August 18, 1987, the plane took off for the first time, and after many years it got an international certificate, following which serial production began. Passengers who charter Citation V private jet can travel at high speed of 430 kts in maximum luxury.
Citation V Charter Cost
Chartering a Citation V private jet starts at $3,000 per hour. The price to rent a private aircraft is determined individually and is based on a number of factors, including the complexity and distance of the trip.
Call our representatives or fill out the flight request form below to learn more about Citation V charter rates and availability.
Charter a Citation V for Private Flights:
Citation V Overview
Citation V was introduced as the largest straight-wing jet in Cessna's Citation line. Delivery began the following spring after certification was achieved in late 1988. Powerful Pratt & Whitney Canada JT15D5A engines and a slightly expanded fuselage allowed for up to 7-8 passengers in the cabin, compared to the smaller II/SP (when including one person on the belted lav).
With a total of 262 constructed until 1994, when Cessna began production on the improved Citation Ultra, Citation V was one of Cessna's most successful light jets. An upgraded Honeywell Primus 1000 avionics system, a new ice removal system, larger fuel tanks, and a redesigned passenger compartment interior are among the other Citation V private het charter enhancements.
Citation V Interior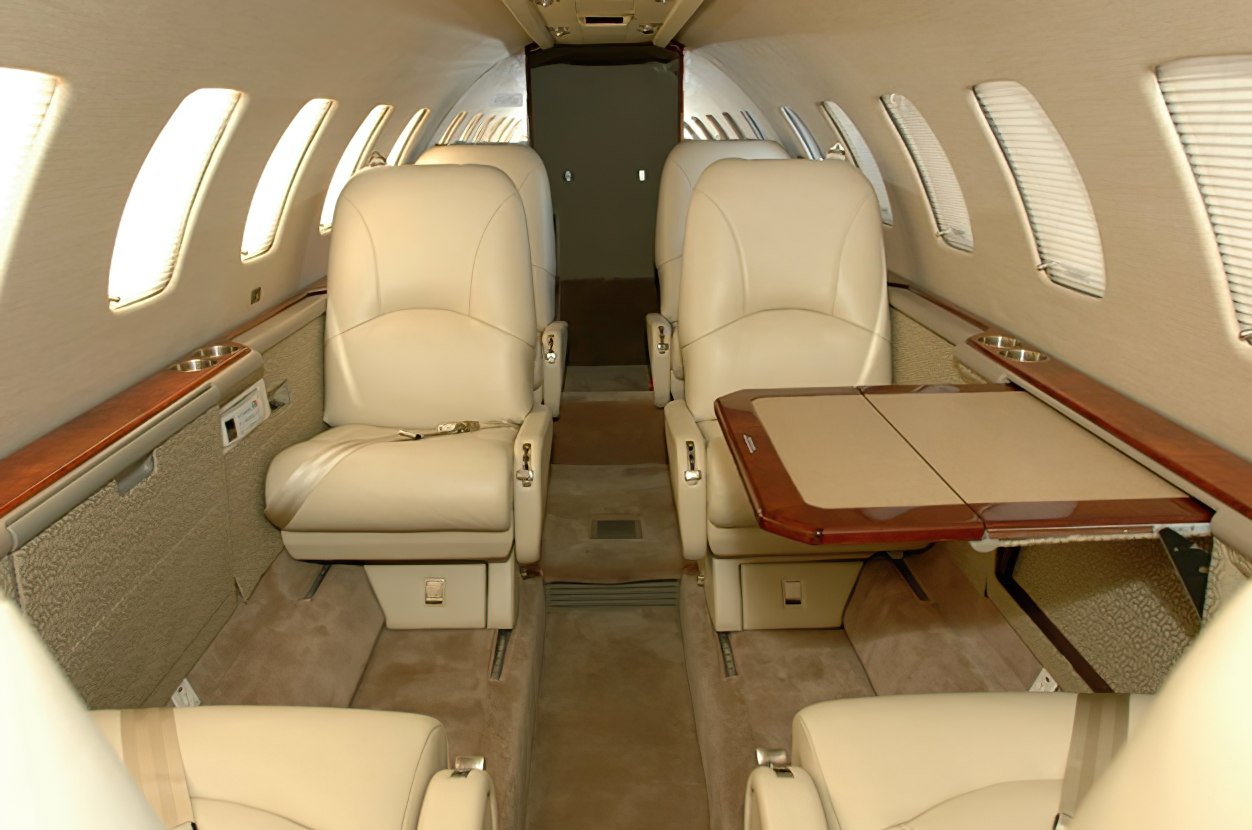 Citation V private jet charter is typically set up to seat seven passengers, while it is capable of carrying up to ten. Passenger seats may recline up to 60 degrees and come standard with lumbar back support to make the most of the longer cabin. Citation V incorporates innovative soundproofing techniques and multiple glazes have been put on the windows for a quieter cabin.
Citation V General Information
| | |
| --- | --- |
| Classification | Light Jet |
| Seats | 7 |
| Cruise Speed | 429 KTAS |
| Range | 1760 nm |
| Luggage Capacity | 70.62 ft³ |
| Interior Height | 4.72 ft |
| Interior Width | 4.82 ft |
| Interior Length | 22.34 ft |
Monarch Air Group, a provider of private jet charter, provides corporations, governments, and people with on-demand aircraft charter services. The company offers a vast selection of aircraft for charter, including light jets, medium jets, heavy jets, and turboprop aircraft. It also offers a variety of on- and off-board services. Citation V private jet charter service provided by Monarch Air Group also emphasizes security, luxury, and versatility.
FAQs: Citation V Private Jet for Charter
What Type of Private Jets is Citation V?
Citation V is a light jet. Light jets are intended for shorter, regional flights with a maximum seating capacity of 6–8 passengers. Small companies, individuals, and charter companies frequently utilize them for executive travel, medical transportation, and other private aviation requirements.
When Should I Choose the Citation V Charter Flight?
Hiring a Citation V with lots of amenities will improve all aspects of your journey, including safety, enjoyment, and luxury. This plane can make nonstop trips between New York and Miami, Chicago and Cancun.
What Runway Length Does the Citation V Need?
Model, weight, and the weather are just a few of the variables that can affect the length of the runway needed for a Citation V. A minimum runway length of 3593 feet is generally recommended for a Citation V private jet charter's takeoff.
How Far in Advance Can I Charter the Citation V Need?
Citation V private jet charter may be booked for a private flight in about six hours. As soon as your reservation is confirmed, get in touch so we can make sure your Citation V rental is appropriate for your requirements.