Cessna's Citation Sovereign is a balance between comfort, high performance and efficiency. The high point of the Sovereign is its range. It is easily able to fly coast to coast and features the ability to fly at a cruise speed of approximately .75 Mach. The cabin is equipped with many comforts, making this jet a top contender in its class of private aircraft.
The cabin features a length of approximately 25.3 feet long and can accommodate up to twelve passengers. The height and width being at almost six feet, gives passengers enough room to stand and move about the cabin comfortably. The baggage area of this aircraft is very large measuring at 135 cubic feet, holding about 1000 pounds of luggage. This is ample room for suitcases and sporting equipment.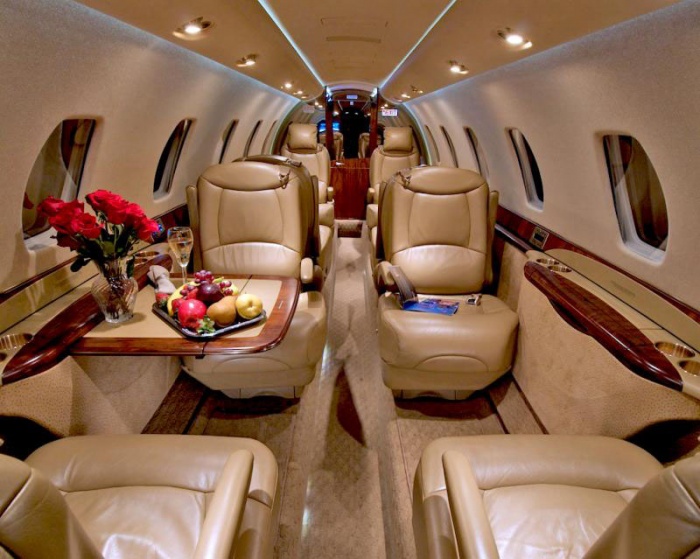 Cessna did not stop at the baggage area in providing storage for the Sovereign, but continued in providing a storage area inside the cabin, offering a full closet that is large enough to hold full-sized garment bags. The aft washroom is also spacious, doubling as a dressing room and featuring double-sided sliding doors that provide complete privacy.
With passenger comfort and low operating costs in mind, the Citation Sovereign features a dimmable LED lighting system, and a cooling system that operates without starting the engines.
The range of the Sovereign is approximately 2,884 nautical miles and a flight time between five to seven hours. The aircraft features a Pratt & Whitney turbofan engines and wing design that greatly improves airflow and lift capabilities, resulting in fuel efficiency and the ability to reach cruise speeds of approximately .75 Mach.
Cabin Dimensions
Height: 5.7 feet
Length: 25.3
Width: 5.9
Lavatory: Yes
Charter a Citation Sovereign private jet:
*Monarch Air Group does not currently operate the aircraft.