Monarch Air Group provides Cessna Citation Sovereign jet for private flights to any airport worldwide. Our aviation consultants are always ready to advise you on private jet charters and other business aviation services.
Cessna Citation Sovereign Charter Flights
The Citation Sovereign is a comfortable and quick business jet. Its key features are properly balanced in terms of passenger comfort and safety. It provides the optimum balance of cabin space, onboard comfort, speed, range, and price.
Cessna Citation Sovereign Charter Cost
Chartering a Citation Sovereign private jet starts at $5,000 per hour. The distance and intricacy of the route flown substantially impact the total cost of the charter.
Please contact one of our agents or fill out the flight request form on this page if you're interested in booking a Cessna Citation Sovereign and would like more information on pricing and availability.
Charter a Citation Sovereign for Private Flights
Cessna Citation Sovereign Overview
The Sovereign is based on Citation Excel, from which it gained the fuselage and control systems. Sovereign's straight sweep wing and tail fins are its most distinctive features. Honeywell's four LCD monitors are included in its standard aviation equipment.
The plane's powerful and efficient Pratt&Whitney engines allow it to fly at a top speed of 849 km/h and use a runway as short as 1126 m in length. The flight range of 5,339 kilometers makes the Sovereign in demand in the USA and other countries.
Cessna Citation Sovereign Interior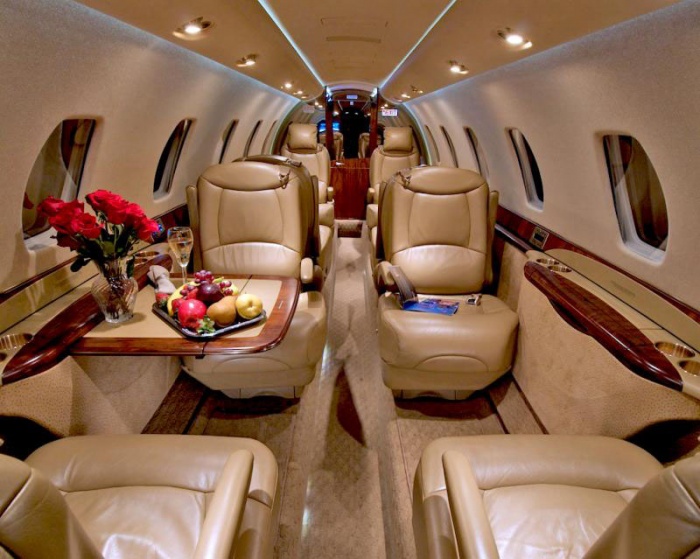 The cabin is around 25 feet long and can comfortably seat twelve people. There is plenty of room for passengers to stand up and move around because of the nearly six-foot height and width. This aircraft has a huge baggage area that can accommodate up to a thousand pounds of luggage thanks to its 135 cubic feet of space. There's room for a couple of luggage plus some sports gear.
Cessna did not stop providing storage for the Sovereign at the baggage compartment but also provided a storage place within the cabin with a closet that is spacious enough to carry full-size garment bags. In addition, the aft washroom doubles as a dressing room and features double-sided sliding doors for maximum privacy.
The Citation Sovereign's dimmable LED lighting system and cooling system that works without starting the engines are two examples of how the jet prioritizes the comfort of its passengers while keeping fuel expenses to a minimum.
Cessna Citation Sovereign General Information
| | |
| --- | --- |
| Classification | Super Midsize Jet |
| Seats | up to 8 |
| Cruise Speed | 529 mph |
| Range | 3,200 nmi |
| Interior Height | 5.7 feet |
| Interior Width | 5.9 |
| Interior Length | 25.3 |
| Hourly Rate | around $5,000 |
When you rent a Cessna Citation Sovereign charter choosing Monarch Air Group, you'll experience the highest luxury and comfort. As you plan your trip, we will help you choose the airports for your departure and arrival as well as the flight crew. Along with route planning, we'll provide a wide range of in-flight and after-flight services. If you want to book a Cessna Citation Sovereign private aircraft, get in touch with us.
FAQs: Cessna Citation Sovereign Private Jet for Charter
What Type of Private Jet is Cessna Citation Sovereign?
The Cessna Citation Sovereign belongs to the super-midsize jet category.
When Should I Choose the Cessna Citation Sovereign Charter Flight?
Charter Citation Sovereign is up to 3,200 nautical miles, making it ideal for trips with groups of 8 to 12 people. California to Miami, New York City to Los Angeles, and Paris to Rome are all accessible via nonstop flights.
What Runway Length Does the Cessna Citation Sovereign Need?
The Cessna Citation Sovereign charter needs a runway of 3530 ft to take off.
How Far in Advance Can I Charter the Cessna Citation Sovereign?
A private Cessna Citation Sovereign flight can be scheduled in around six hours. Please contact us as soon as you confirm your reservation so we can tailor your Cessna Citation Sovereign charter to your specific needs.