Monarch Air Group provides Citation M2 jet charter for private flights to any airport. Our aviation consultants are always ready to advise you on private jet charters and other business aviation services.

Citation M2 Charter Flights
The Cessna Aircraft Company of Wichita, Kansas, produces the Cessna CitationJ M2 series (Model 525), a light business jet in the Cessna Citation family. A 7,000th model in the Cessna Citation series was delivered on June 27, 2016, making it one of the most numerous business jet lines in operation. More than 35 million flight hours have been logged since the first Citation entered service in 1972. For those looking for a luxurious and convenient travel option, look no further than Citation M2 private jet charter.
Citation M2 Charter Cost
Chartering a Citation M2 private jet starts at around $3,000 per hour. The price to rent a private aircraft is determined individually and is based on a number of factors, including the complexity and distance of the trip.
Call our representatives or fill out the flight request form below to learn more about Citation M2 charter rates and availability.
Charter a Citation M2 for Private Flights:
Citation M2 Overview
Citation M2 private jet charter is an updated version of the CitationJet CJ1. M2 is comparable to CJ1 in terms of its avionics, but it features a modified cabin design and an improved William FJ44 engine. Citation M2 has one of the longest ranges and fastest speeds in the light jet class. In addition, M2's cockpit is outfitted with the Garmin G3000 avionics suite, which has touchscreen technology and precise, ergonomic controls for a more comfortable, effective flight.
Citation M2 Interior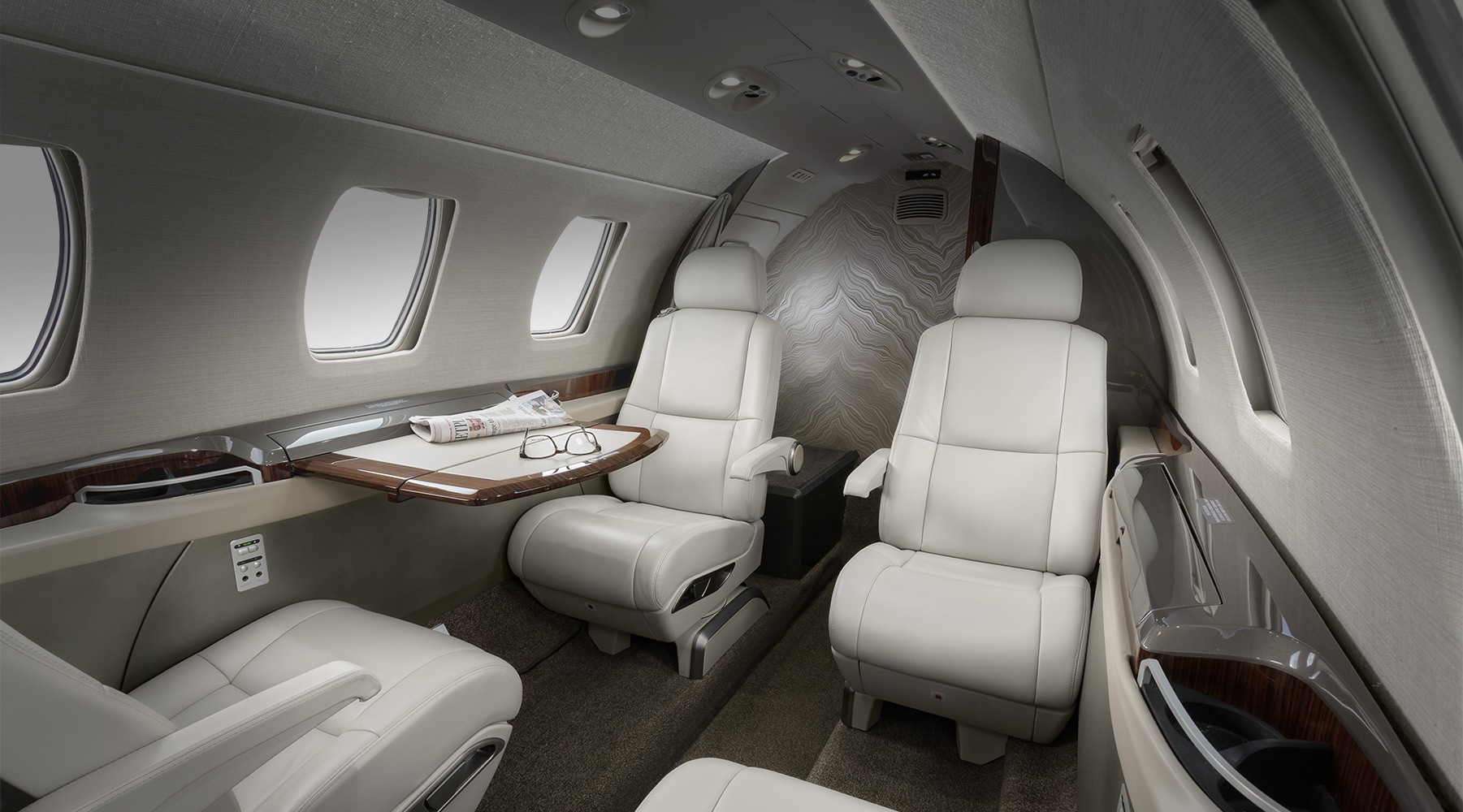 The cabin of Citation M2 private jet charter has been entirely changed in comparison to previous generations. There are completely new seat appointments that have greatly enhanced comfort and a new entertainment system known as Cessna Clarity.
A stylishly remodeled hard-door lavatory, a new food-storage space, and warm LED lighting everywhere are now available when you charter Citation M2 private jet. The interior was completely redesigned by the same team that worked on Cessna's two much larger models, the Latitude and the much larger Longitude. That is, the quality of the materials and workmanship in the M2 is on par with that of Cessna's flagships.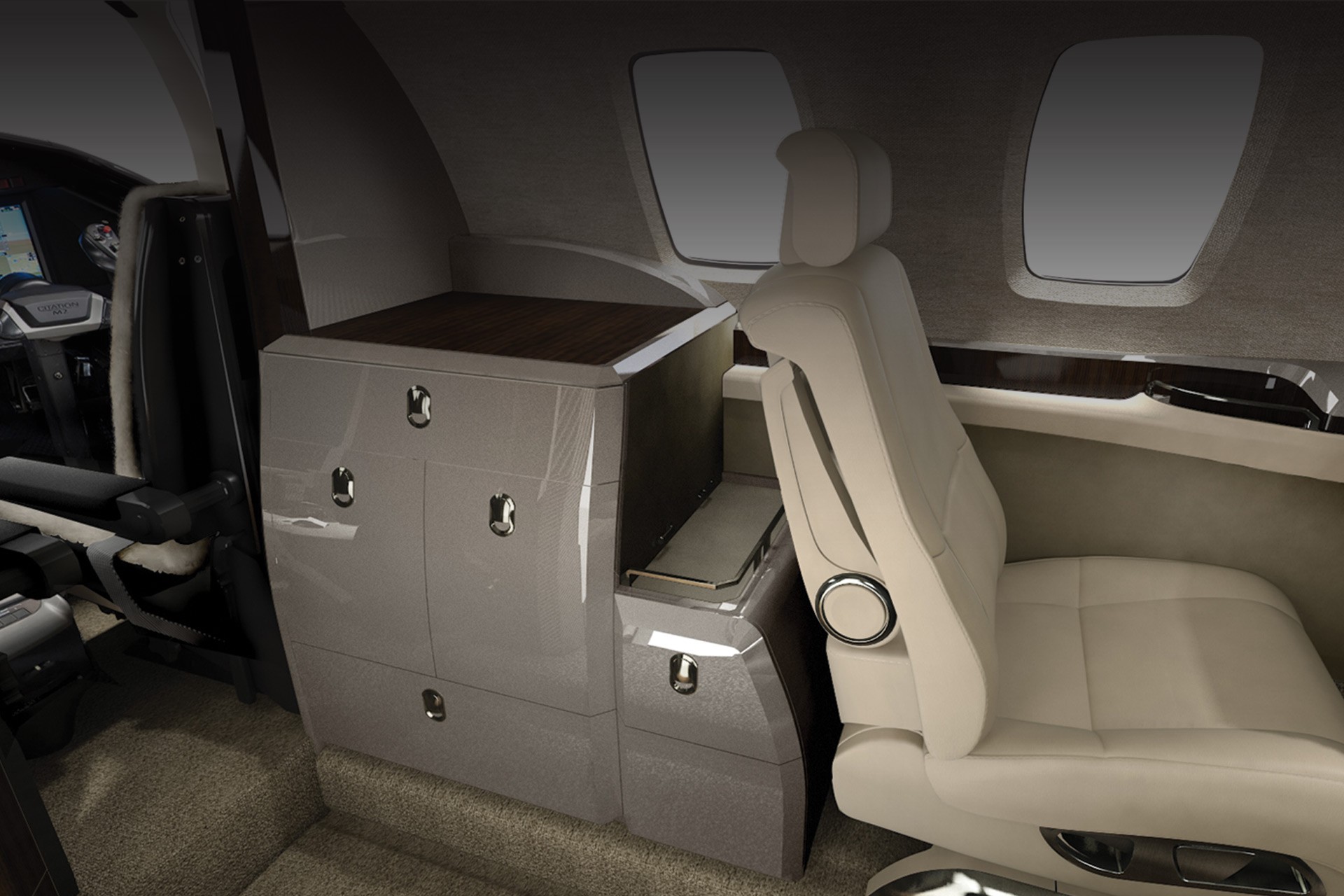 Citation M2 General Information
| | |
| --- | --- |
| Classification | Light Jet |
| Seats | 7 |
| Cruise Speed | 404 ktas (748 km/h) |
| Max Range | 1,580 nm (2,926 km) |
| Luggage Capacity | 46 cu ft |
| Interior Height | 57 in |
| Interior Width | 58 in |
| Interior Length | 11 ft |
Citation M2 private charters organized by Monarch Air Group are unsurpassed in the industry for their degree of comfort and luxury. Please get in touch with us at any time since we offer 24/7 Citation M2 private jet service. Along with trip planning, we'll provide a range of in-flight and post-flight services.
FAQs: Citation M2 Private Jet for Charter
What Type of Private Jet is Citation M2?
Citation M2 is a light jet. Light private aircraft can transport up to eight passengers to neighboring locations quickly and safely.
When Should I Choose the Citation M2 Charter Flight?
If you need to go fast, confidentially, and in style, a Citation M2 charter flight is the ideal solution. San Francisco to Dallas and Chicago to Houston are two possible nonstop destinations.
What Runway Length Does the Citation M2 Need?
Citation M2 private jets require a runway 3250 ft to take off and 2592 ft to land.
How Far in Advance Can I Charter the Citation M2?
A Citation M2 private flight will take roughly six hours to arrange. After making your flight reservation, get in touch with us as soon as you can so we can accommodate your demands with a Citation M2 charter.