Monarch Air Group offers Cirrus Vision Jet private aircraft for a luxury charter flight, exceptional service, safety, and absolute confidentiality. Our aviation consultants are always ready to advise you on private jet charters and other business aviation services.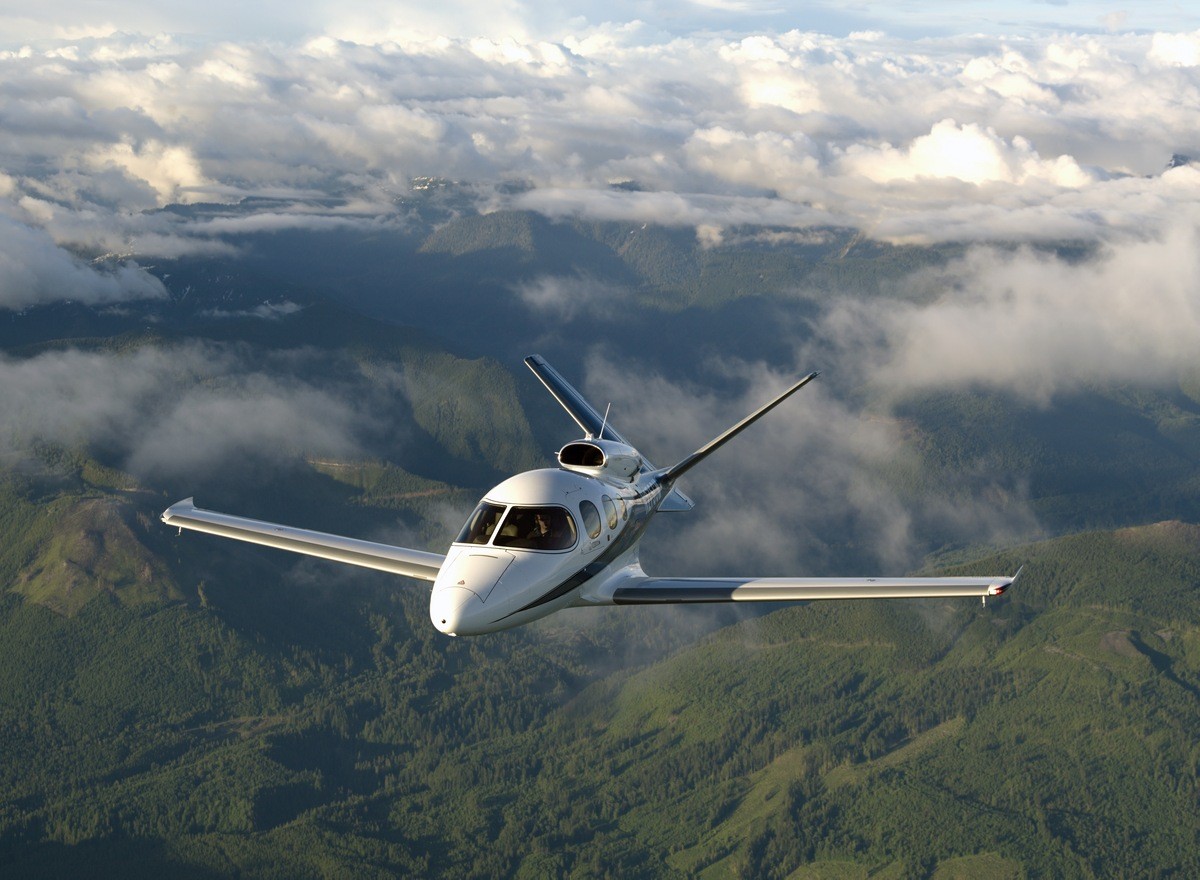 Cirrus Vision Jet Charter Flights
The Cirrus Vision Jet is Cirrus Aircraft's first private jet. Have confidence in our experience to help you fly and exceed your expectations quickly and easily whenever you choose a Cirrus Vision Jet flying privately.
Cirrus Aircraft's Cirrus Vision Jet is a revolution in the private aviation market, easy to operate by the owner without the need for a professional pilot, sets a new standard for jet aircraft safety, and has many aviation innovations on board.
Cirrus Vision Jet Charter Cost
Chartering a Cirrus Vision Jet private jet will cost from $2,400 per hour. The Cirrus Vision Jet rental cost may depend on the flight distance, the complexity of the route, and other parameters, such as the extra services on board.
Please submit the flight request form below or call our agents for Cirrus Vision Jet rental cost and availability.
Charter A Cirrus Vision Jet For Private Flights:
Cirrus Vision Jet Overview
The Cirrus Vision Jet is the world's first single-engine business jet and the world's smallest commercially produced jet.
The Cirrus Vision Jet's carbon fiber fuselage provides head and shoulder room, and the panoramic windows offer an immersive experience. Cirrus Vision Jet's private plane is only nine and a half meters long, and the tail section is designed in an unusual V-shape. This is done for more excellent stability during Cirrus Vision Jet private flights.
Safe Return and the Cirrus Airframe Parachute System (CAPS) guarantee passenger safety on the Cirrus Vision Jet during private jet flights.
The Cirrus Vision Jet's private jet power pack includes a Williams FJ33-5A engine, which gives added confidence in hot temperatures and high altitudes and access to additional airports in popular destinations worldwide. In addition, it enables the aircraft to fly as far as other very light aircraft like the Citation Mustang and Phenom 100E.
Main advantages of the Cirrus Vision Jet charter:
FFA-certified security system;
Optimized interior space;
Luxury and spacious cabin.
Cirrus Vision Jet Interior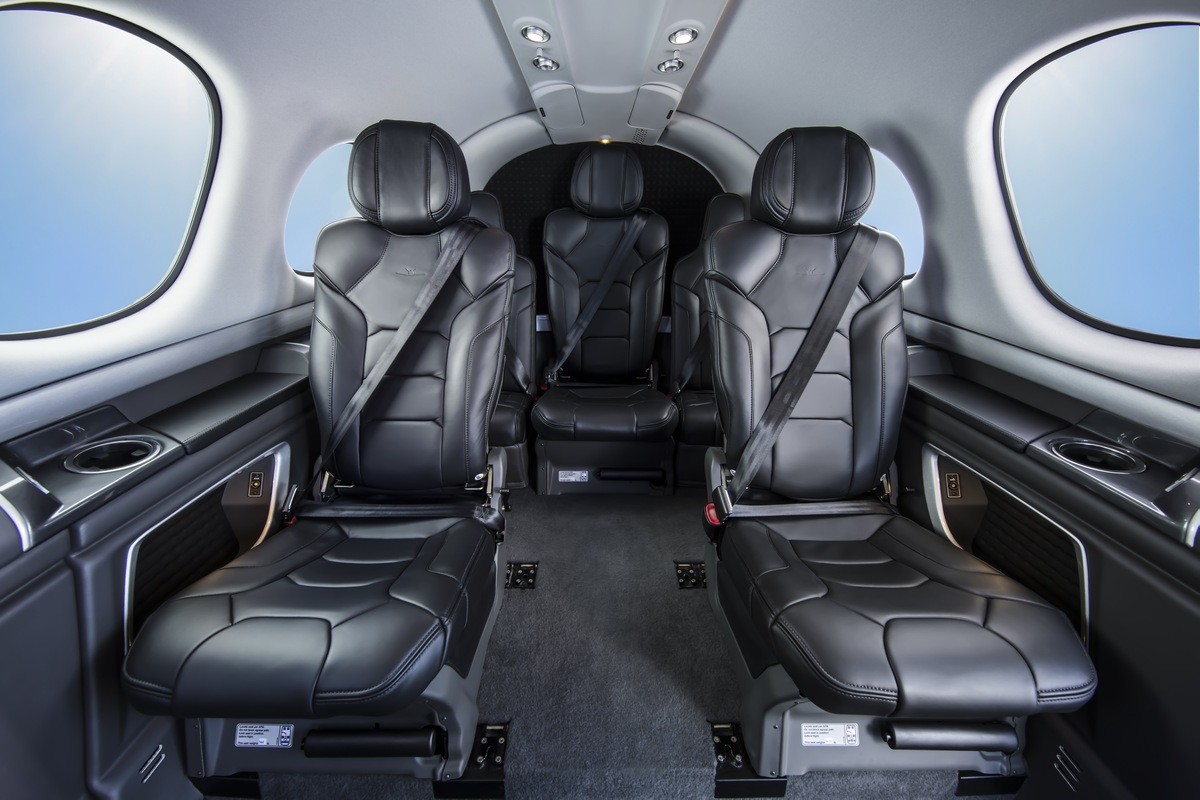 Whether you hire a private jet Cirrus Vision Jet for work or pleasure, you can enjoy your favorite movie on the go, the entertainment display easily connects to your favorite device, and the center console creates a modern workspace. Onboard Wi-Fi keeps you connected during your flight, and convenient USB-C ports allow you to charge your devices for increased productivity.
Moreover, there's climate-controlled air conditioning, a Flight Into Known Ice system, and large windows for exceptional visibility. All this contributes to the economy and flexibility of the aircraft, allowing you to fly between distant cities.
Cirrus Vision Jet General Information
| | |
| --- | --- |
| Classification | Light jet |
| Seats | 4-5 |
| Speed | 305 ktas |
| Range | 1,275nm |
| Interior Height | 4.07 ft |
| Interior Width | 5.12 ft |
A Cirrus Vision Jet private jet service for business purposes will allow passengers to use their time as efficiently as possible and make it to several business meetings in different cities in the shortest possible time. Monarch Air Group will make your Cirrus Vision Jet private charter flight as comfortable and convenient as possible.
FAQS: Cirrus Vision Jet Private Jets For Charter
When Should I Choose the Cirrus Vision Jet Charter Flight?
A Cirrus Vision Jet charter allows you to make short flights with maximum comfort. Renting a Cirrus Vision Jet private jet is ideal for travelers who want to go places inaccessible to commercial airlines and not too far away.
How Far In Advance Can I Charter the Cirrus Vision Jet?
To arrange a private jet charter Cirrus Vision Jet, don't hesitate to get in touch with our charter specialists at least 6 hours before your flight. You can also request special services, such as certain types of food or beverages, hotel transfers, or ground transportation.
What Runway Length Does the Cirrus Vision Jet Need?
Private jets can use more or less 5,000 airports across the United States. The Cirrus Vision Jet requires only 2,036 ft to take off and 1,628 ft to land. This allows the plane to take advantage of smaller runways closer to the passenger's final destination.