Monarch Air Group provides the Challenger 650 jet for private flights to any airport worldwide. Our aviation consultants are always ready to advise you on private jet charters and other business aviation services.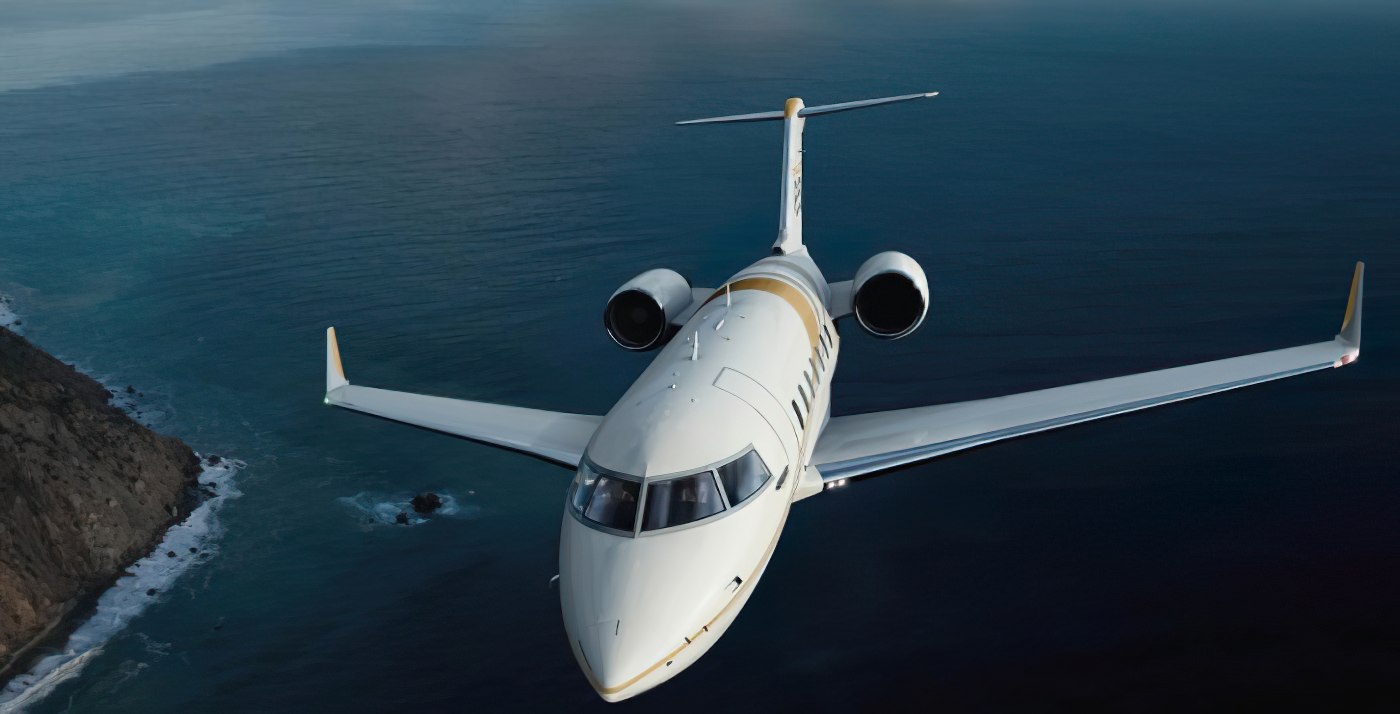 Challenger 650 Charter Flight
Challenger 650, which debuted in 2015 at EBACE in Geneva and is manufactured by Bombardier Aerospace of Canada, is the newest heavy business jet in the Challenger 600 line. Dorval, Quebec, Canada, is the company's headquarters. Bombardier Aerospace has surpassed Boeing and Airbus to become the world's third-largest aircraft manufacturer, delivering over 2,450 commercial aircraft and over 3,400 business aircraft globally.
Challenger 650 Charter Cost
The cost to charter a Challenger 650 will cost around $9,500 per hour. The hourly charter rates depend on several factors, the most important of which are the trip's distance and flight time.
Contact our agents to learn more about Challenger 650 charter rates and availability, or complete the flight request form below.
Challenger 650 Overview
Charter Challenger 650 is powered by General Electric CF34-3B MTO turbofan engines. The new engines are an improved version of GE's proven CF34-3, which has over 5,6000 engines in operation with a dispatch rate of 99.9% as of 2016. They enhance take-off thrust for short-field take-offs while keeping the company's reputation for durability and reliability.
The plane is equipped with state-of-the-art avionics like a Rockwell Collins Pro Line 21 Advanced suite with four large displays, a Synthetic Vision System (SVS); Dual Flight Management System with LPV and RNP approach capabilities; Dual SBAS/WAAS GPS; MultiScan weather radar; and Dual Inertial Reference System (IRS).
Challenger 650 Interior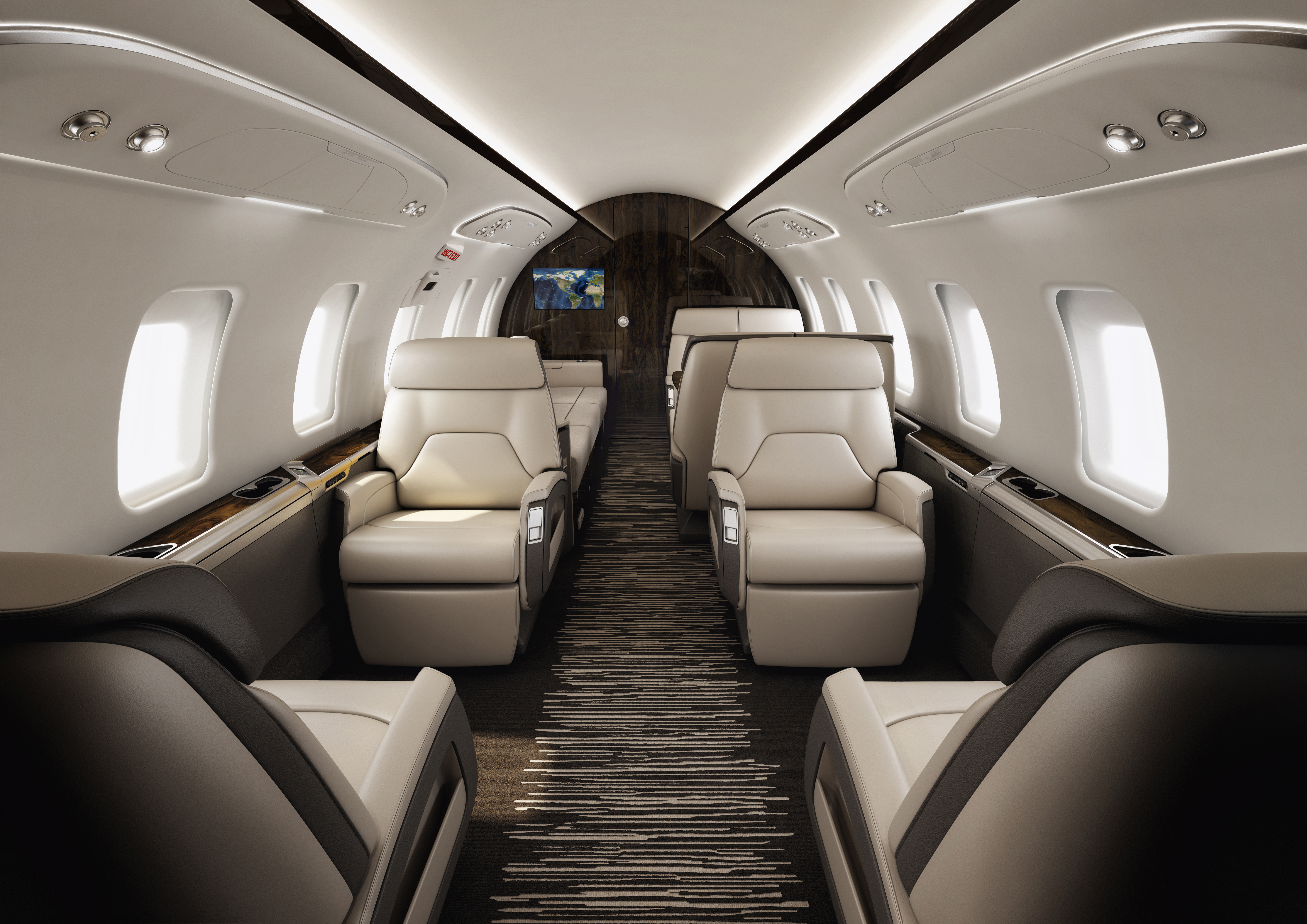 The most popular layout is the executive floor plan, which comes standard with seats for 10 passengers and an enlarged passenger compartment. It has a divan with four seats in the front compartment and two club seats facing forward in the rear compartment.
Charter Challenger 650 is currently equipped with the cabin management system (CMS) of the latest generation, designed by Lufthansa Technik. It offers passengers control, productivity, and even entertainment capabilities comparable to an office's.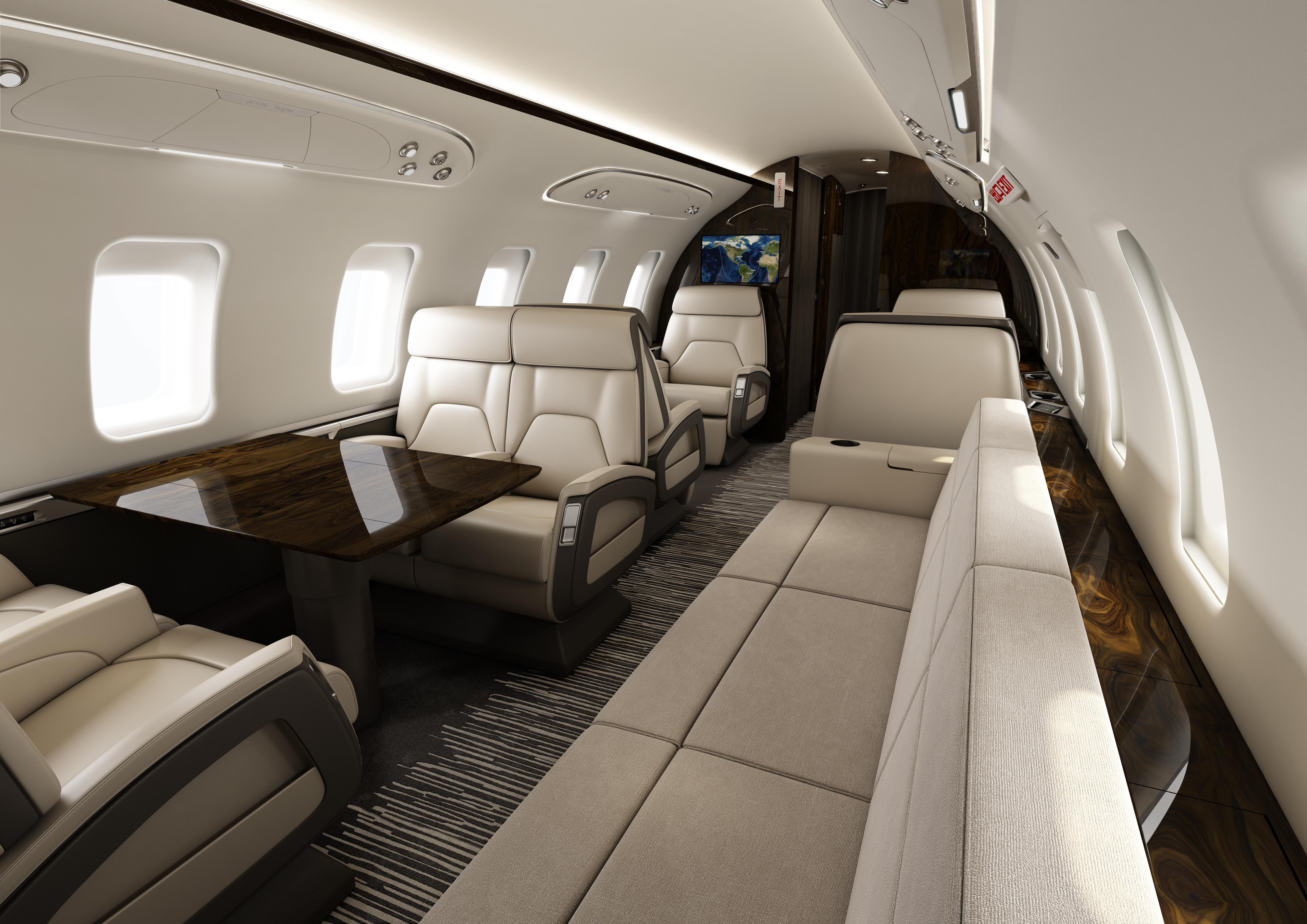 Challenger 650 General Information
| | |
| --- | --- |
| Classification | Heavy Jet |
| Seats | 12 |
| Cruise Speed | 470 knots (528 mph) |
| Range | 4,000 nm |
| Interior Height | 6 ft |
| Interior Width | 6 ft 11 in |
| Interior Length | 25 ft 7in |
| Baggage Capacity | 115 cu ft |
If you select Monarch Air Group to charter a Challenger 650, you will have access to all necessary facilities and travel in comfort. We will assist you in picking your departure and arrival airports and your flight crew as you arrange your vacation. We will provide various in-flight and post-flight services in addition to route planning. Please contact us if you want to reserve a Challenger 650 private jet.
FAQs: Challenger 650 Private Jet for Charter
What Type of Private Jets is Challenger 650?
The Challenger 650 is a transcontinental private jet that is perfectly suited for private flights with an increased level of comfort.
When Should I Choose the Challenger 650, Charter Flight?
The main advantages of flying the Challenger 650 are its high level of comfort, reliability, and safety. The plane is perfect for leisure flights, business flights, or group flights. It can travel nonstop from London to New York or São Paulo to Miami.
What Runway Length Does the Challenger 650 Need?
Challenger 650 charter needs a runway of 5,640 feet and a landing distance of 2775 feet.
How Far in Advance Can I Charter the Challenger 650?
A private flight on a Challenger 650 takes roughly six hours to arrange. If you want to customize your Challenger 650 charter totally, please contact us as soon as possible after making your reservation.