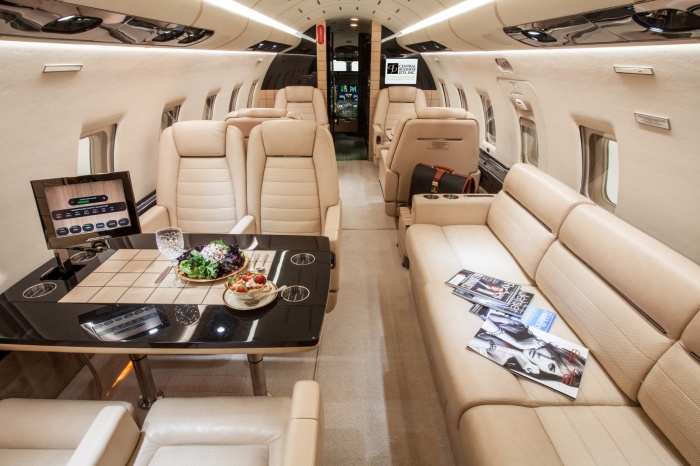 The Challenger 604 offers luxurious style coupled with high performance and range. It offers a cabin arranged to seat between 10 and 12 passengers, but can be configured to fit up to 19. The measurements come out to approximately 28.4 feet in length, 6.1 feet in height, and 8.2 feet in width. These measurements allows plenty of room for passengers to stretch out and finish projects or conduct a conference meeting while in-flight.
Charter a Challenger 604 private jet
The Challenger 604's cabin is very low in noise and is equipped with a full, private aft lavatory, with a wardrobe closet that fits full sized garment bags. The baggage area measures approximately 115 cubic feet, giving passengers ample room to store their suitcases or sporting equipment. For nighttime or early morning flying, the seats recline fully into beds for complete relaxation. The cabin also features a full deluxe galley that includes a microwave, conventional oven and coffee maker.
With the amount of power offered, the Challenger 604 provides longer flight distances that have very few stops. The deluxe amenities provided in the cabin helps longer flights that may extend overnight to be more comfortable for the passengers and manageable for the crew. For more information on chartering the Challenger 604, price out your flight here for an instant quote.
Cabin Dimensions
Height: 6.1
Width: 8.2
Length: 28.4
Lavatory: Yes