Monarch Air Group provides Challenger 350 jet charter for private flights to any airport. Our aviation consultants are always ready to advise you on private jet charters and other business aviation services.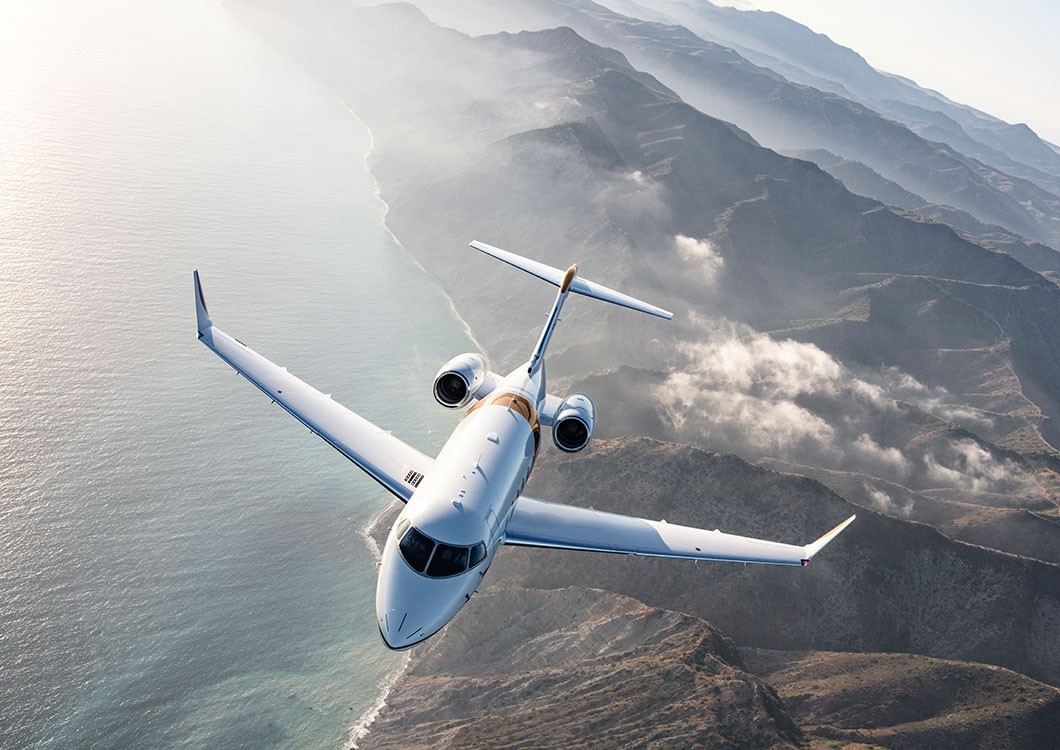 Challenger 350 Charter Flight
Bombardier Challenger 350 private jet charter fulfills the highest expectations of opulence and construction quality, cutting-edge technology, impressive range, and speed. Because of its reliability, comfort, and performance, this super-midsize business jet has become the preferred option for many senior flight departments and the best-selling business jet platform in the world over the past decade.
Challenger 350 Charter Cost
Chartering a Challenger 350 private jet starts at $5,550 per hour. The hourly charter rates depend on several factors, the most important of which are the trip's distance and flight time.
Contact our agents to learn more about Challenger 350 charter rates and availability, or complete the flight request form below.
Charter a Challenger 350 for Private Flights:
Challenger 350 Overview
Challenger 300 series was introduced by Bombardier in 2004. Charter Challenger 350 first flew in 2014, powered by two outstanding Honeywell HTF7000 turbofan engines, each with a maximum thrust of 7,323 lbs. It has a top speed of 541 mph (Mach 0.83) and a cruising speed of 528 mph. The avionics systems are another amazing improvement over its predecessor.
The new avionics used in Challenger 350, the Rockwell Collin Pro Line 21 Advanced system, are among the best in its category. Synthetic vision (3D landscape view), dual inertial reference system, paperless cockpit, and MultiScan weather radar are included as features. With these great amenities, Challenger 350 private jet charter is prepared to take you on your next journey.
Challenger 350 Interior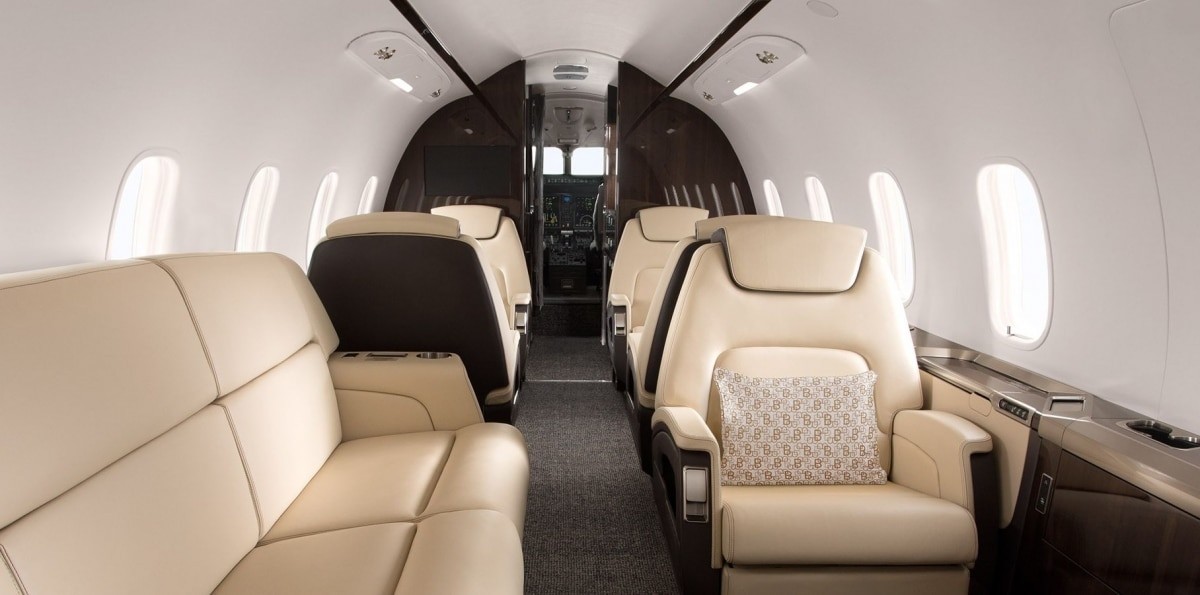 In comparison to its predecessor, Challenger 350 private jet charter boasts a spacious, more comfortable interior cabin that can provide all the amenities you need with a range of upgrades and modifications. Folding tables are accessible for either meals or work, while larger windows offer amazing in-flight vistas and let natural sunlight into the cabin. Outstanding comfort is provided by handcrafted 180-degree swivel seats, and ergonomically designed personal touchscreens extend along the new side ledges to put cabin & entertainment settings at your fingertips.
Challenger 350 General Information
| | |
| --- | --- |
| Classification | Super Midsize Jet |
| Seats | 8 |
| Cruise Speed | 469 KTAS |
| Range | 3200 NM |
| Interior Height | 6 ft |
| Interior Width | 7 ft. 2 in |
| Interior Length | 25 ft. 2 in |
| Luggage Capacity | 106 cubic feet |
| Hourly Rate | around $5,500 |
Monarch Air Group is the leading option for Challenger 350 charters. Our experts can recommend the best airports for your flights on the way to and from your destination. We also offer in-flight and post-flight services. Please contact us if you want to charter a Challenger 350 private jet.
FAQSs: Challenger 350 Private Jet for Charter
What Type of Private Jets is Challenger 350?
Сhallenger 350 is a super mid-sized business jet developed by Bombardier Aerospace and was introduced on 8 January 2004.
When Should I Choose the Challenger 350 Charter Flight?
Combined with the improved performance of its redesigned winglets, charter Challenger 350 can continuously travel without stops from New York to Los Angeles, Seattle to Miami, and Madrid to Helsinki.
What Runway Length Does the Challenger 350 Need?
Challenger 350 requires a runway length of 4836 ft for takeoff and 2713 ft for landing.
How Far in Advance Can I Charter the Challenger 350?
It takes six hours to plan a private Challenger 350 flight. If you want to charter a Challenger 350 charter and tailor your trip, please get in touch with us.