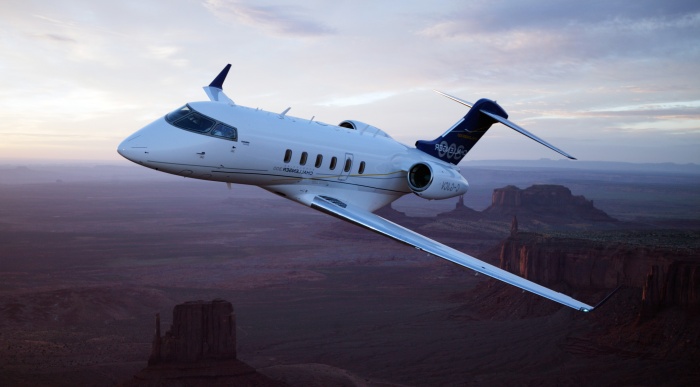 Bombardier's Challenger 300 is known for its reliability and ability to make very long-range flights. The Challenger 300 holds five over water and transcontinental U.S. records, and has optimal room for inflight conferences and productivity. The cabin measures in length 16.5, in height 6.1 feet and width 7.2 feet. It typically seats up to 8 and is well furnished with amenities. The full galley is equipped with an abundant of storage space and can provide refreshments for passengers as well as the crew.
The Challenger 300's cabin also features a touchscreen entertainment system that is located at the seat of each passenger. All of the passengers' seats are fully adjustable and equipped with AC power plugs. The air conditioning system can be controlled separately both by the pilot and passengers for the utmost comfort. The 106 cubic feet of luggage provides 750 pounds of luggage and is accessible through the full private lavatory at the rear of the plane.
The Challenger is a high performer that carries on the Bombardier tradition. Not only can this jet reach record distances for its class, but it also features low fuel burn. With these features, the Challenger 300 is an excellent choice for those who keep a close eye on the bottom line and need a long-range aircraft. For more information on chartering the Challenger 300, price out your flight here for an instant quote.
Cabin Dimensions
Height: 6.1
Width: 7.2
Length: 16.5
Lavatory: Yes
Charter a Challenger 300 private jet: