Monarch Air Group provides charter a Citation CJ3 for private flights to any airport. Our aviation consultants are always ready to advise you on private jet charters and other business aviation services.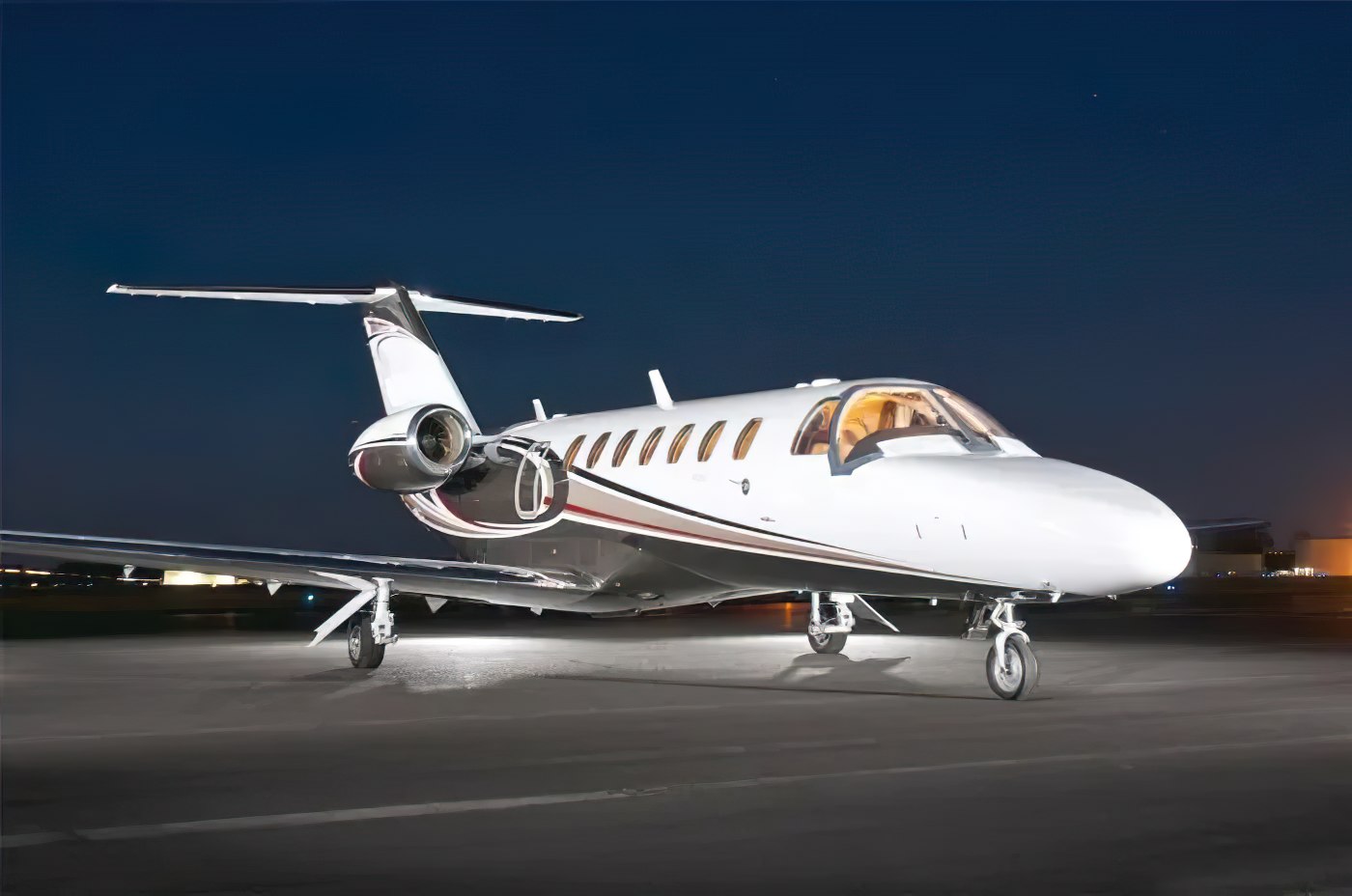 Citation CJ3 Charter Flights
The primary design goals for the charter Cessna Citation CJ3 were maximum performance and reliability at a reasonable price. Success in these areas means more options for passengers to choose from when booking flights.
The Cessna Citation CJ3 is a light jet with a respectable range and level of comfort for its price point. The Citation CJ3, the sixth generation of Citation Jet aircraft, combines affordability with reliability and great performance.
Citation CJ3 Charter Price
Chartering a Citation CJ3 private jet starts at $3,300 per hour. The hourly charter rates depend on several factors, the most important of which are the departure city, destination, and flight time.
Contact our agents to learn more about Citation CJ3 charter rates and availability, or complete the flight request form below.
Charter a Citation CJ3 for Private Flights:
Citation CJ3 Overview
Cessna maintains its reputation for creating reliable, high-performance private jets, with the CJ3 being a prime example. It is intended to be cost-effective in both purchase and usage while still providing a high level of convenience and competitive range.
Two FADEC-controlled Williams FJ44-3A turbofan engines provide power for the charter Citation CJ3. The pilot's duty is substantially reduced thanks to this computerized technology, which automates engine control and timing to ensure full power output and maximize fuel efficiency. There was a later announcement of a CJ3+ upgrade. The biggest upgrade was to the state-of-the-art Garmin G3000 avionics package, which replaced the previously installed, although old, Pro Line 21.
Citation CJ3 Interior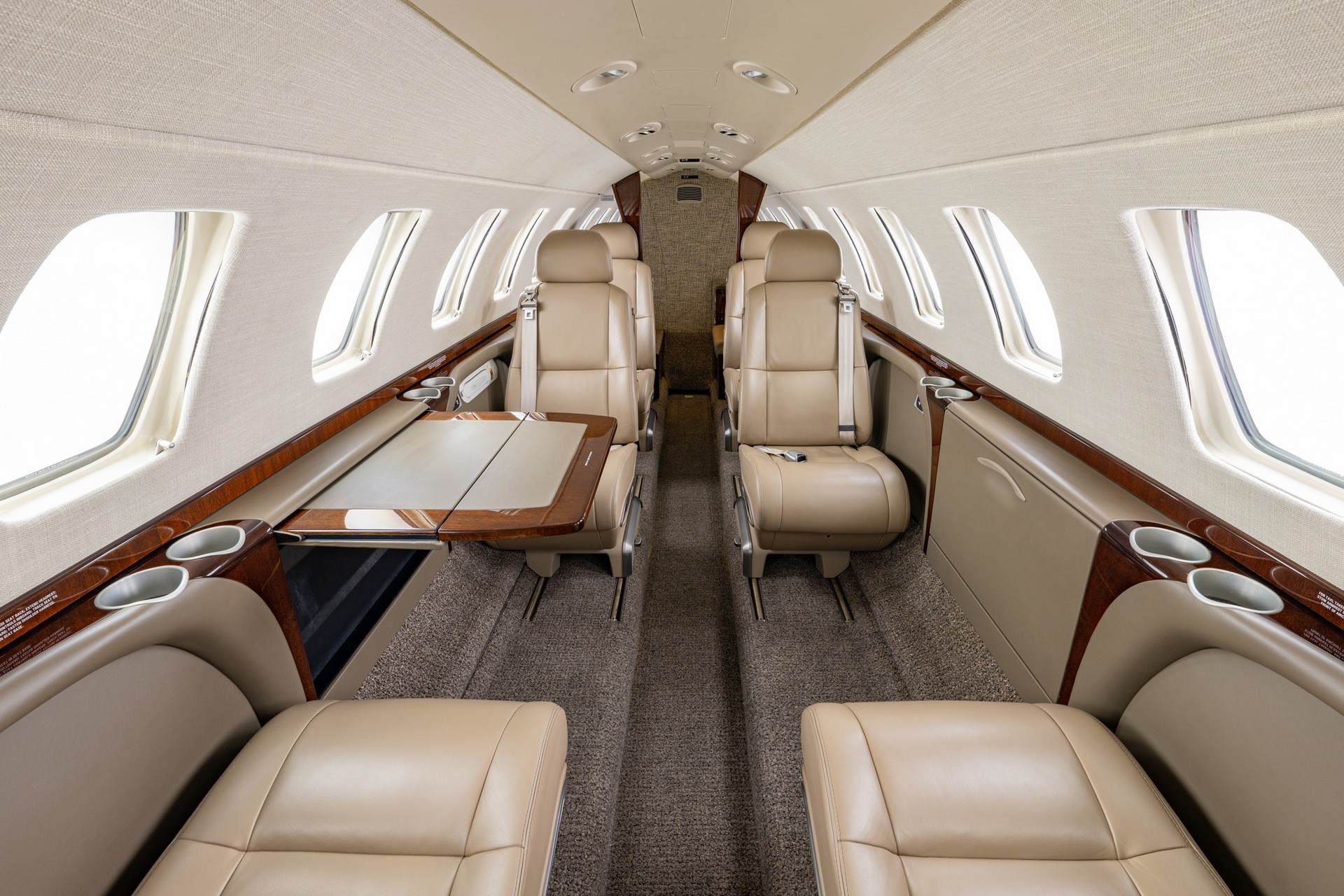 The Citation CJ3 private jet has a spacious cabin that can accommodate nine people with its 4.7-foot ceiling, 4.8-foot width, and 15.8-foot length. It has fourteen windows illuminated by LEDs, creating the impression of a bright, spacious interior. The cabin also has a full bathroom in the back and 110-volt AC power outlets with folding tables so you can get some work done during the flight. Incredible space allows for 74.4 cubic feet of bags, suitcases, or even sports gear to be stored.
Citation CJ3 General Information
| | |
| --- | --- |
| Classification | Light jet |
| Seats | 6-8 |
| Cruise Speed | 410 kts |
| Range | 2040 nm |
| Luggage Capacity | 65 cu ft |
| Interior Height | 4 ft 9 In |
| Interior Width | 4 ft 10 In |
The highest level of comfort and luxury is offered by Monarch Air Group while flying privately on a Citation CJ3 jet. Contact us anytime for a private jet charter via a Citation CJ3. When planning your journey, we'll help you select the departure and arrival airports and the members of your flight crew. Along with planning the route, we'll also offer a choice of in-flight and after-flight services.
FAQs: Citation CJ3 Private Jet for Charter
What Type of Private Jet is Citation CJ3?
Citation CJ3 belongs to the light jet category. A light jet is a type of aircraft that is very popular today because it is very comfortable and efficient. Light jets are used for various purposes, such as business travel, commuting, and pleasure flights.
When Should I Choose the Citation CJ3 Charter Flight?
Charter a Citation CJ3 is suitable for travel for groups of 8 to 10 people, with a range of up to 1,800 nautical miles. Non-stop flights are available from New York to Miami, from NYC to Los Angeles, and from Paris to Montreal.
What Runway Length Does the Citation CJ3 Need?
The Citation CJ3 private jet needs 3,180 ft of runway to take off.
How Far in Advance Can I Charter the Citation CJ3?
It usually takes about 6 hours to organize a private charter via a Citation CJ3. After you've booked your flight, don't hesitate to contact our specialists so that we can tailor your Citation CJ3 charter to your needs.