Monarch Air Group provides Bombardier Global 5000 for private flights to any airport worldwide. Our personalized approach and years of experience allow us to provide the highest level of private jet charters and other business aviation services.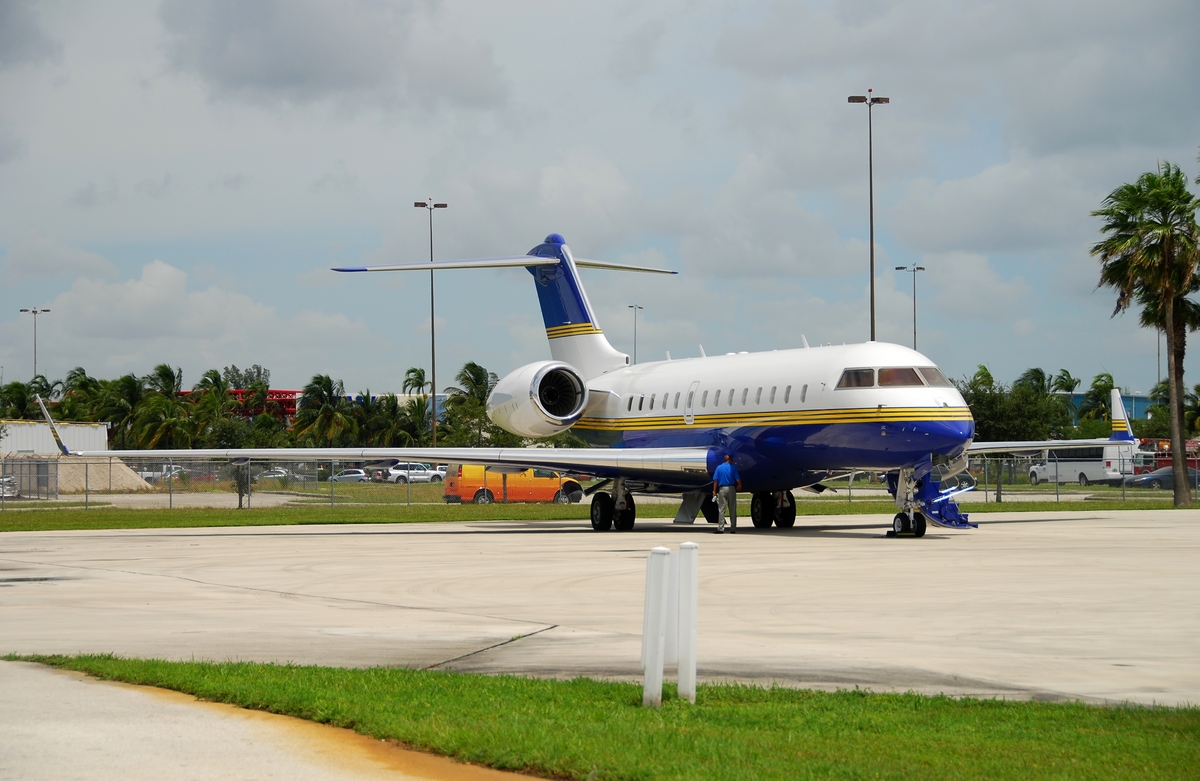 Bombardier Global 5000 Charter Flights
Bombardier Global 5000 is an ultra-long-range class aircraft produced by the Canadian concern Bombardier Aerospace. The model is a shortened version of the aircraft Bombardier Global Express XRS, with the critical difference as a shorter range due to the reduced volume of fuel tanks. However, the flight characteristics of the Global 5000 will allow you to make a transcontinental flight without making any stopovers or refueling.
Development of the Global 5000 began in 2002, and it made its maiden flight in March 2003. After entering service, the jet immediately set a new speed record for a business jet from Chicago to Paris in 7 hours and 15 minutes.
Bombardier Global 5000 Charter Cost
Charter a Global 5000 private jet will cost around $12,000 – $15,000 per hour. Significant factors affecting the rental price of the Global 5000 are also the flight distance, the complexity of the route, the airport for landing, and more.
For Bombardier Global 5000 charter rates and availability, please submit the flight request form below or call our agents.
Charter a Bombardier Global 5000 for Private Flights:
Bombardier Global 5000 Overview
The next generation of the Global series of private jets is designed for private aviation needs. It provides customers with the necessary transoceanic or transcontinental range, but who do not need more than ten hours of nonstop trip. Bombardier's world-renowned manufacturer of reliable aircraft has only strengthened its prestige with the Global 5000.
The standard equipped Bombardier Global 5000 has a Honeywell Primus 2000XP avionics suite, two Rolls-Royce turbofan engines, and a state-of-the-art Cabin Electronic System. This cabin system consists of a server with entertainment options and a high-speed connection. With a maximum takeoff weight of 92,500 feet, it can take off at only 5,000 feet.
Main advantages of the Bombardier Global 5000 jet charter:
advanced wing design for smooth flights;
quick access to remote destinations;
modern interior cabin;
about 7,000 lbs of payload and a VIP large cabin;
a better combination of charter speed, range, field characteristics, and quality of flight;
additional space on board that can be used for equipment or oversized baggage compartment;
Global 5000 Interior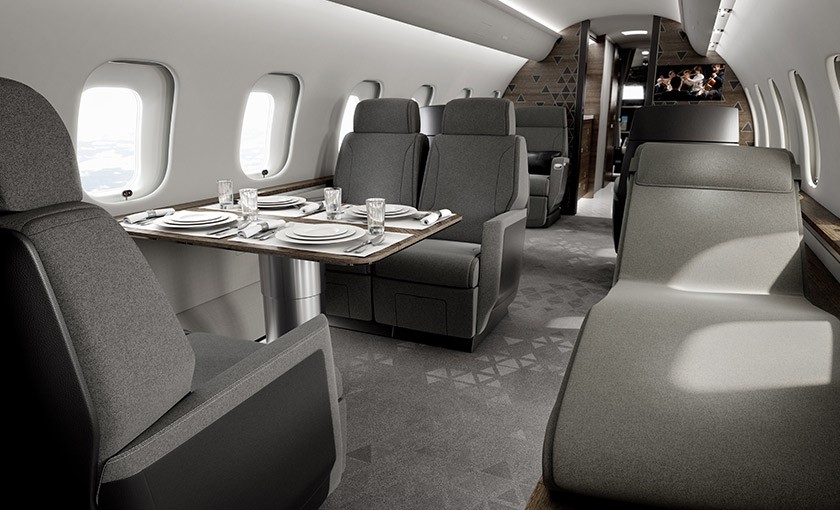 The Global 5000 aircraft cabin has three passenger seating areas, a spacious kitchen, and two bathrooms. It comes complete with:
Large cabin windows for natural lighting;
Functional interior;
Two full lavatories;
Bathroom;
Temperature control;
Entertainment system;
Wardrobe.
The high ceilings, larger than Global Express, allow even a tall person to stand at full height. The cabin also offers up to six beds for lounging on long-haul flights. Depending on the layout, 8 to 16 people can be accommodated on a private jet. Moreover, each pair of opposite seats can be transformed into a full-fledged bed.
In the spacious tail section of the Bombardier Global 5000, individual settings for climate control, audio, video, and light allow you to create a cozy flights environment. Furthermore, the latest noise suppression and vibration reduction systems ensure silence in all three areas throughout the flight.
Bombardier Global 5000 General Information
| | |
| --- | --- |
| Classification | Ultra-long range |
| Seats | 16 |
| Cruise Speed | 564 mph |
| Range | 5,200 nm |
| Luggage Capacity | 195 cu ft |
| Interior Height | 6.2 ft |
| Interior Width | 7.11 ft |
Book Your Private Flight on Global 5000 With Monarch Air Group
Monarch Air Group provides luxurious, comfortable private charter flights on Global 5000, ideal for your vacation or business, and exclusive service. And being able to operate around the globe with one stop for fuel allows you to do business anywhere. You decide when to take off, where to land, who to take with you, and what you want to see on your private jet. We offer jets for passengers to make the most of their time with a private jet charter.
Why Monarch Air Group?
Successful sales and in-house brokerage teams;
Flight operational control;
Experienced, knowledgeable aircraft management professionals;
Personalized ongoing customers assist;
Competitive prices;
Careful attention to detail and overall aircraft care;
Highly trafficked online presence.
Charter flight with Monarch Air Group allows you to operate aircraft and get a rewarding, enhanced travel experience at a fraction of the cost. You can also get a price benefit by taking advantage of our specials like the empty leg flight. Our team will fulfill all your requirements to ensure that our services meet your expectations when charter a private jet.
For Bombardier Global 5000 charter hourly rates and availability, please submit the flight request form or call one of our agent at 1-877-281-3051 for 24/7 support.
FAQs: Global 5000 Private Jets for Charter
When Should I Choose the Bombardier Global 5000 Charter Flight?
The Bombardier Global 5000 is perfect for travelers who enjoy the highest level of performance, luxury interior, and comfort efficiency. Whether traveling for business or pleasure, the Global 5000 charter provides the best experience in the air. Like other private jets, this model guarantees reliability and security. It is the epitome of relaxation without sacrificing flight safety, speed performance, or sophistication.
What Runway Length Does the Bombardier Global 5000 Need?
The required runway length for the Global 5000 aircraft to take off at sea level under standard conditions does not exceed 1,511 meters. It has received a steep approach certificate, which gives it access to some of the most challenging runways in the world. This allows clients to take off from airports with short-length runways, land at small airports as close to business centers as possible, and rent a private jet to fly to even more airports.
What Types of Global 5000 In-Flight Services are Available?
When flying on the Global 5000 private jet, you can enjoy a wide range of personalized services. From customizing your menu to getting to know your crew to requesting last-minute changes to your flight plan, we're ready for any challenge. Aircraft like the Bombardier Global 5000 have a more spacious room to accommodate amenities, including a VIP bathroom, bedroom, and various types of entertainment.
Bombardier Global 5000 For Group Charters
With Monarch Air Group, you can advantageously order a charter flight on Global 5000 for any out-of-town event, vacation spot, or business meeting for which you need to transport a group of people. During a group charter flight, you will get a guarantee of security, confidentiality, control of all stages of passengers' transportation, registration for a flight without delays, comfortable boarding, and luggage loading. We will provide quality service and pay attention to every detail of your trip. Our team is accessible 24 hours a day by phone or mail.
Popular Destinations
The Bombardier Global 5000 is consistently among the most popular ultra-long-range class aircraft for business travel efficiency. Moreover, it offers passengers an impressive range, quick access to remote destinations, and unmatched convenience. Some of our most popular Bombardier Global 5000 charter routes are from New York to London or Los Angeles to Paris.
The passengers of private jets travel with much more flexibility, convenience, and comfort to a destination they want to go to at a convenient time. If you haven't found the answers to all your questions here, you can contact our experienced and reliable team at any time or visit our air charter FAQ page.