Monarch Air Group provides Bombardier Challenger 850 jet charter for private flights to any airport. Our aviation consultants are always ready to advise you on private jet charters and other business aviation services.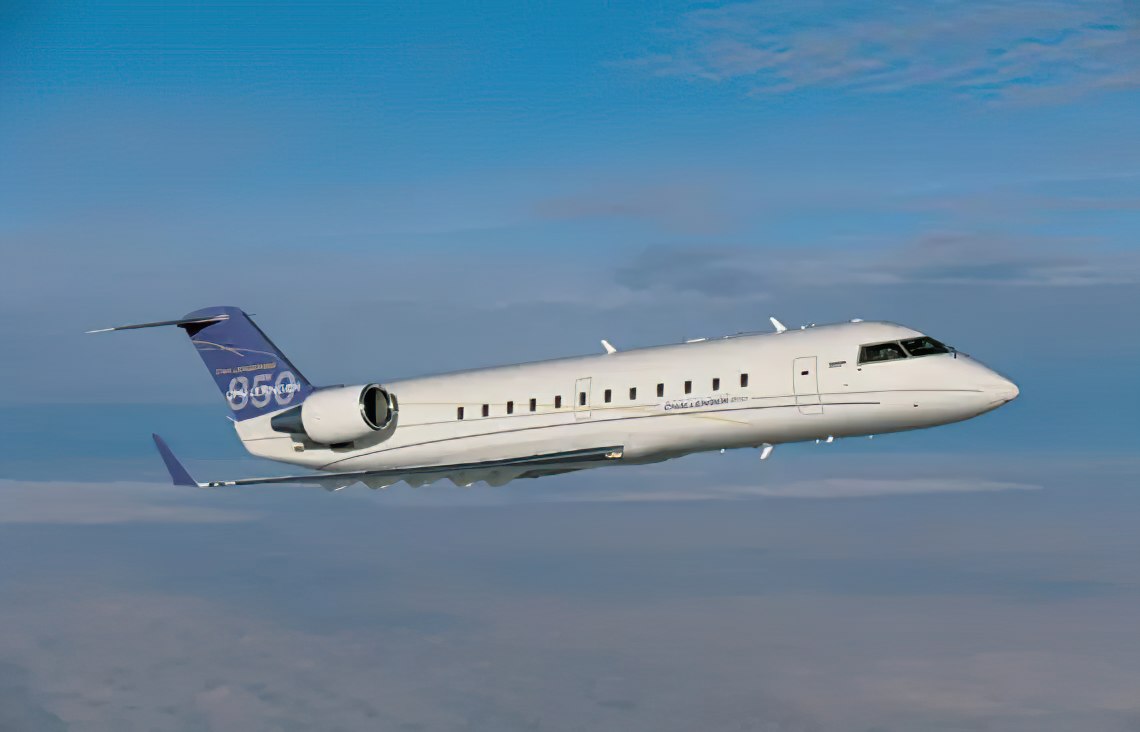 Bombardier Challenger 850 Charter Flights
Bombardier Challenger 850 is a modern large-cabin business aircraft produced by the Canadian firm Bombardier Aerospace. A business shuttle variant of the Challenger 850 private jet charter is available for transporting large groups of employees or government delegations. Clients can also request a VIP configuration for better comfort for fewer passengers, which includes a working area with a mini-conference room. Standard VIP aircraft layouts are designed for a maximum of 14 people.
Bombardier Challenger 850 Charter Cost
Chartering a Challenger 850 private jet will cost from 11,000 USD per hour. The cost of renting a Challenger 850 may depend on the route, duration of the flight, and other factors.
Call our representatives or fill out the flight request form below to learn more about Bombardier 850 charter rates and availability.
Charter a Bombardier Challenger 850 for Private Flights:
Bombardier Challenger 850 Overview
Bombardier 850 private jet charter may be arranged for family entertainment, private lounging, or professional productivity, and is expansive and opulent. The plane is frequently used by business executives, political officials, and celebrities due to its adaptability. Using the tried-and-true CRJ200 airliner airframe, it is simple to see why this model is so popular for its dependability and effectiveness. The airframe has accrued over 13 million flight hours on nearly 1,200 distinct aircraft.
Dual CE CF34-3B1 turbofan engines, renowned for their dependability and power, are installed on a charter Challenger 850. These engines are efficient, quiet, and have relatively low pollution levels. Modern avionics make the experience of flying comfortable, safe, and productive.
Bombardier Challenger 850 Interior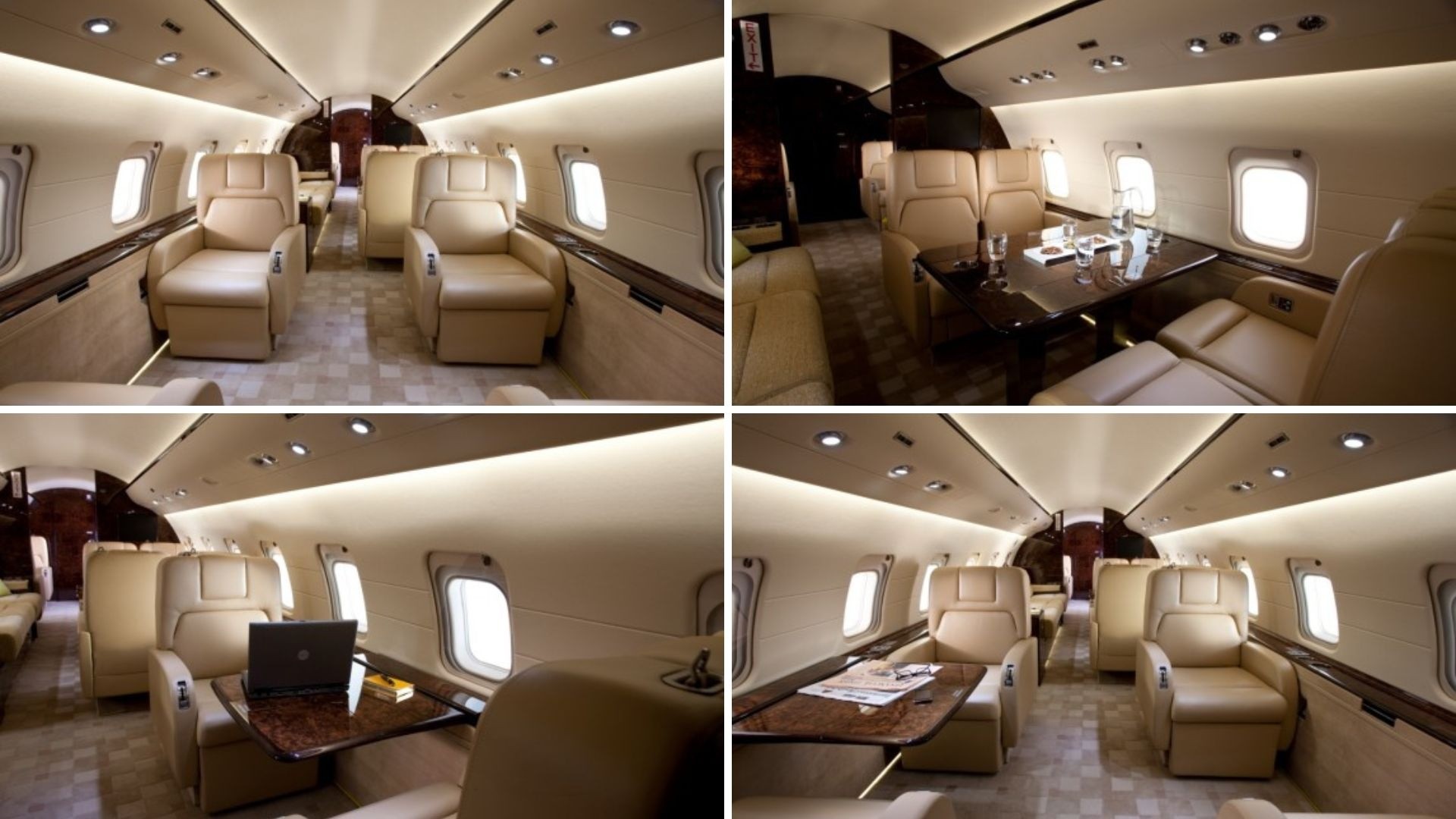 When you charter Challenger 850 private jet, you'll enjoy both stylish and functional cabin, with three executive configurations that allow optimal seating arrangements based on the number of passengers and the purpose of the trip. The Executive Configuration 1 is appropriate for conferences, single-seat workplaces, one-on-one correspondence, side-facing leisure, or any combination of the abovementioned. Combining club seats, a four-seat conference table, and single-seat productivity centers, Executive Configuration 2 maximizes its available space.
Executive Configuration 3 combines optimal air productivity with a dining or conference area. Challenger 850 is an exquisite, efficient, and robust private transport option for businessmen, frequent travelers, and VIPs, regardless of the configuration chosen.
Bombardier Challenger 850 General Information
| | |
| --- | --- |
| Classification |  Super Mid-Size Jet |
| Seats | 14 |
| Cruise Speed | 459 ktas |
| Range | 2250 nm |
| Luggage Capacity | 18 cu ft |
| Interior Height | 5.9 ft |
| Interior Width | 8.2 ft |
| Interior Length | 48.2 ft |
Monarch Air Group's private charters onboard Bombardier 850 aircraft are unparalleled in terms of elegance and comfort. Please contact us whenever you require private jet service on a Bombardier 850 charter, as we are available 24/7. In addition to trip planning, we will provide several onboard and offboard services.
FAQs: Bombardier Challenger 850 Private Jet for Charter
What Type of Private Jet is Bombardier Challenger 850?
The Bombardier Challenger 850 is a super mid-size business jet, which means it is larger than a mid-size business jet but smaller than a heavy jet. Super mid-size jets like the Challenger 850 typically have a cabin that is larger and more spacious than a mid-size jet, with room for more passengers and luggage.
When Should I Choose the Bombardier Challenger 850 Charter Flight?
The Bombardier Challenger 850 is a great choice for a charter flight when you need to travel with a medium-sized group of people and want a comfortable, luxurious, and efficient aircraft for your journey. Here are some situations when you may want to choose the Bombardier Challenger 850 charter flight:
Long-distance travel: The Challenger 850 has a range of up to 3,200 nautical miles, which means it can fly non-stop on transcontinental routes. This makes it a great option for long-distance travel, such as transatlantic or transpacific flights.
Comfort and luxury: The Challenger 850 has a spacious and comfortable cabin that can accommodate up to 12 passengers. The aircraft is equipped with advanced features such as a state-of-the-art entertainment system, high-speed internet, and a full-service galley. This makes it a great choice for business executives, celebrities, and other high-net-worth individuals who want to travel in style and comfort.
Medium-size groups: The Challenger 850 is a super mid-size jet, which means it is designed to accommodate medium-size groups of people. If you are planning to travel with a group of friends, family, or colleagues, the Challenger 850 is a great option.
Short-haul or transcontinental flights: The Challenger 850 is a versatile aircraft that can be used for a wide range of missions, from short-haul flights to transcontinental journeys. This makes it a great option for a variety of travel needs.
Special events or occasions: The Challenger 850 is a luxurious and efficient aircraft that is perfect for special events or occasions, such as weddings, anniversary celebrations, or VIP transportation.
Privacy and security: The Challenger 850 is a private jet, and it offers a high level of privacy and security, which makes it an ideal choice for high-profile individuals or those who value their privacy.
What Runway Length Does the Bombardier Challenger 850 Need?
For Bombardier Challenger 850 private jet charter, a runway of at least 6305 feet for takeoff and 2910 feet for landing is necessary.
How Far in Advance Can I Charter the Bombardier Challenger 850?
A private Bombardier Challenger 850 jet can be hired in around six hours. Please contact us as soon as possible after completing your reservation to ensure that we can provide you with a Bombardier Challenger 850 charter that matches your needs.