Monarch Air Group provides private air charter in Tampa, FL. Our clients benefit from top-notch service, unrelenting dedication to safety, wide selection of aircraft, and years of experience in chartering private jets. To obtain a free quote, please use our online quoting tool provided below, or call toll-free 1-877-281-3051.
Charter a private jet to Tampa
Book a Private Jet Charter to and from Tampa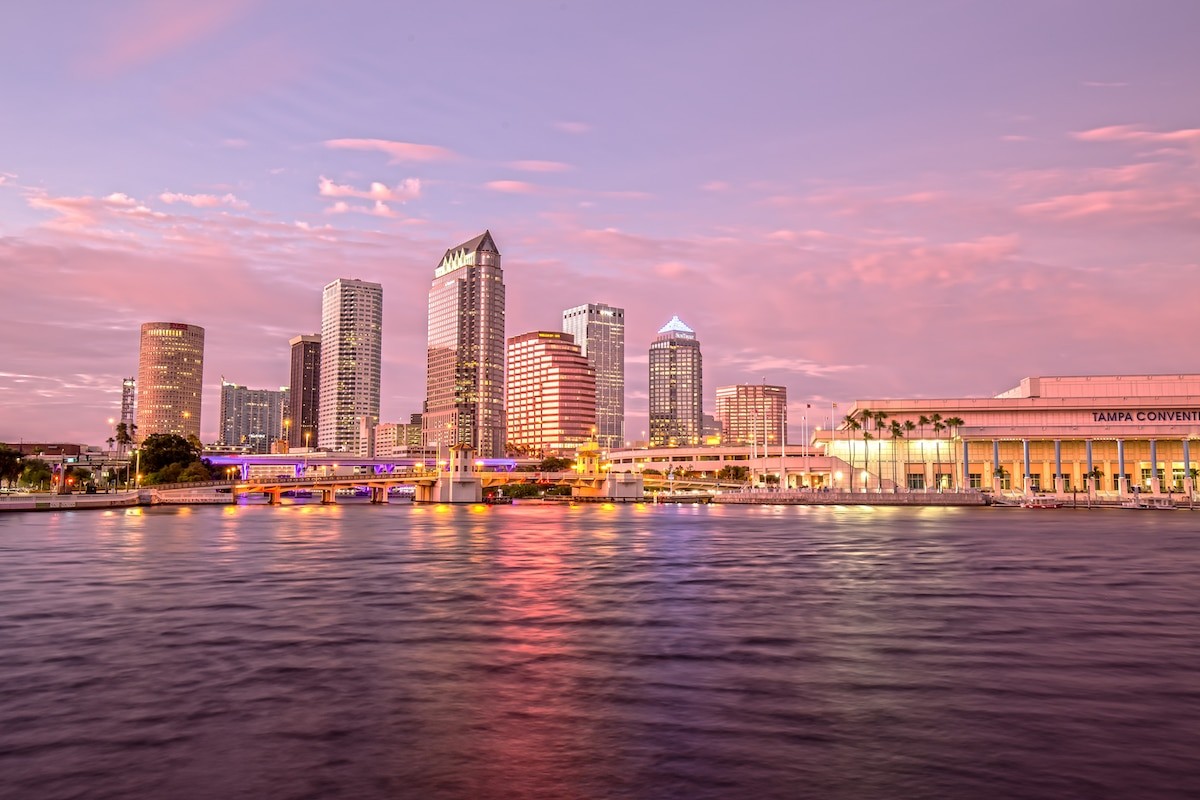 Monarch Air Group offers jet charters in and out of Tampa, FL.
Florida's third-largest city, Tampa is served by three main airports: Tampa International Airport (TPA), the Vandenberg Airport (VDF), and Peter O.Knight Airport (TPF). There are over 20 aircraft types in the Tampa Bay Area.
Most common aircraft types include very light jets, super light jets, light jets, turbo props, midsize jets (Hawker 800XP, the Learjet 60), super midsize jets (Gulfstream G200, Falcon, and50the Challenger 300), large jets (Falcon 900EX, Gulfstream G450, the Challenger 601, and Challenger 604), ultra-long range jets like the Gulfstream G550, Gulfstream V, or Global 5000.
We can also provide VIP Airliners such as Airbus 319 Corporate Jet or Boeing Business Jets.
About Tampa and Things to See
Tampa is a city located on the Gulf Coast of Florida. Having the calmest beaches and the brightest sunsets in the whole Florida, Tampa attracts millions of tourists every year. There are Florida Aquarium, Busch Gardens, Tampa Theater, Botanical Gardens, Adventure Island, Henry B. Plant Museum, Tampa Museum of Art, and Museum of Science and Industry.
Tampa Ybor City is notable by a rising arch and is filled with excellent nightclubs and bars. Tampa is filled with all-inclusive resorts, shops, and restaurants. Located 18 miles from St. Petersburg, the city of Tampa is served by three major airports which provide the best service to their clients.
Airports for Private Jet near Tampa
TPF, KTPF, Peter O. Knight Airport, Tampa, FL
TPA, KTPA, Tampa International Airport, Tampa, FL
PIE, KPIE, St. Petersburg-Clearwater International Airport, Saint Petersburg, FL
SRQ, KSRQ, Sarasota-Bradenton International Airport, Sarasota, FL
SPG, KSPG, Albert Whitted Airport, Saint Petersburg, FL
KPCM, PCM, Plant City Airport, Plant City, FL
ZPH, KZPH, Zephyrhills Municipal Airport, Zephyrhills, FL
LAL, KLAL, Lakeland Linder Regional Airport, Lakeland, FL
FA40, Hidden Lake Airport, New Port Richey, FL
JZQ, Hernando County, Brooksville, FL
BOW, KBOW, Bartow Municipal Airport, Bartow, FL
Hotels in Tampa
Hyde Park Hotel, 2105 West Bristol Avenue, Tampa.
Tampa Airport Marriott, Tampa International Airport, 4200 George J. Bean Parkway, Tampa.
Holiday Inn, 4750 North Dale Mabry Highway, Tampa.
Sheraton Tampa Riverwalk Hotel, 200 North Ashley Drive, Tampa.
Tampa Marriott Waterside Hotel & Marina, 700 S Florida Ave, Tampa.
Hyde Park Hotel, 2105 West Bristol Avenue, Tampa.
 Tampa Airport Marriott, Tampa International Airport, 4200 George J. Bean Parkway, Tampa.
Tahitian Inn Hotel, Spa & Cafe', 601 South Dale Mabry Highway, Tampa.
Holiday Inn, 4750 North Dale Mabry Highway, Tampa.
Sheraton Tampa Riverwalk Hotel, 200 North Ashley Drive, Tampa.
FAQ for a Private Jet and Air Charter Flights to Tampa
Why choose a charter jet to Tampa with Monarch Air Group?
There are many reasons to choose Tampa private jet charter to travel. This way, you get a wide range of business aviation services and distinct advantages, and you avoid the crowds of busy airports and security screening queues. Call one of our agents for charter jet Tampa rentals. We have years of experience arranging private charters and offer complete service terms.
How much does it cost to book a Tampa private jet charter?
When you charter a private jet, you usually pay for the entire plane. However, several factors determine the cost of a Tampa private jet hire. These include the total flight time, the model of the aircraft chosen, and fees such as airport boarding. You can ask our specialists for the exact price of the private jet charter in Tampa or use the charter flight cost calculator.
Here are some approximate prices for private flights to Tampa:
Charter a Private Jet from TEB to Tampa: light jet – starting at $18,750;
Charter Flights from VNY to Tampa: midsize jet – starting at $32,300;
Private Charter Flights to Tampa from DAL: turboprop – starting at $14,550.
What types of private jets can use for Tampa charter flights?
The private jet market has different models for different types of journeys. You can book a private jet for a flight between two civilian airports anywhere. Most major airports have separate terminals to serve private jet passengers. The choice of model for Tampa charter flights depends on the range of the flight, the level of comfort required, and the number of passengers.
| Aircraft type | Passengers | Non-stop range | Cruising speed | Intended use |
| --- | --- | --- | --- | --- |
| Light Jet | up to 6 passengers | about 700 – 2000 miles | 476 to 518 mph | for comfortable short- to mid-range distances |
| Midsize Jet | up to 10 passengers | about 1300 – 1500 miles | 422 to 541 mph | to fly nonstop from coast to coast |
| Super midsize Jet | up to 10 passengers | about 3.500 – 4.000 miles | 490 to 590 mph | for longer flights |
| Heavy Jet | up to 18 passengers | about 6.000 miles | 480 to 551 mph | traveling overseas in luxury for an intercontinental flight |
| Turboprops | up to 10 passengers | about 600 – 1.900 miles | 220 to 360 mph | for short- to mid-range flights |
| Ultra-Long Range Jet | up to 19 passengers | about 2,800 – 7,685 miles | 460 to 594 mph | for long-haul travels |
| Helicopters | up to 28 passengers | about 250 – 600 miles | 150 to 175 mph | for passenger and cargo transportation |
What are the advantages of flying on a Tampa private jet?
Renting a private jet has some undeniable advantages over commercial flights. The board of a private aircraft has all the conditions which will allow you to relax during the flight fully. They also have the equipment to make calls and access the Internet during the flight. Also, with a private plane charter to Tampa, it is possible to organize meals from any restaurant along the route or a group charter flight.
Popular Destinations near Tampa by Private Jet
St. Petersburg—has become the center of one of the fastest-growing business regions in west Florida.
Sarasota—is a famous year-round resort region in southwest Florida.
Orlando—is located in the heart of the state and is a great place to relax or do business.
West Palm Beach—with its scenic waterfront, shopping districts, and luxurious comforts, is an excellent place for tourism, recreation, and business.
Fort Myers—is the center of winter recreation for Lee County, with great weather, entertainment, and a relaxed atmosphere.
Our clients travel on efficient and comfortable private jets. If you haven't found the answers to all your questions here, you can contact our experienced and reliable team at any time or visit our air charter FAQ page.