Monarch Air Group provides private air charter in Orlando, FL. Our clients benefit from top-notch service, unrelenting dedication to safety, wide selection of aircraft, and years of experience in chartering private jets. To obtain a free quote, please use our online quoting tool provided below, or call toll-free 1-877-281-3051.
Charter a private jet to&from Orlando
Book a Private Jet Charter to and from Orlando, FL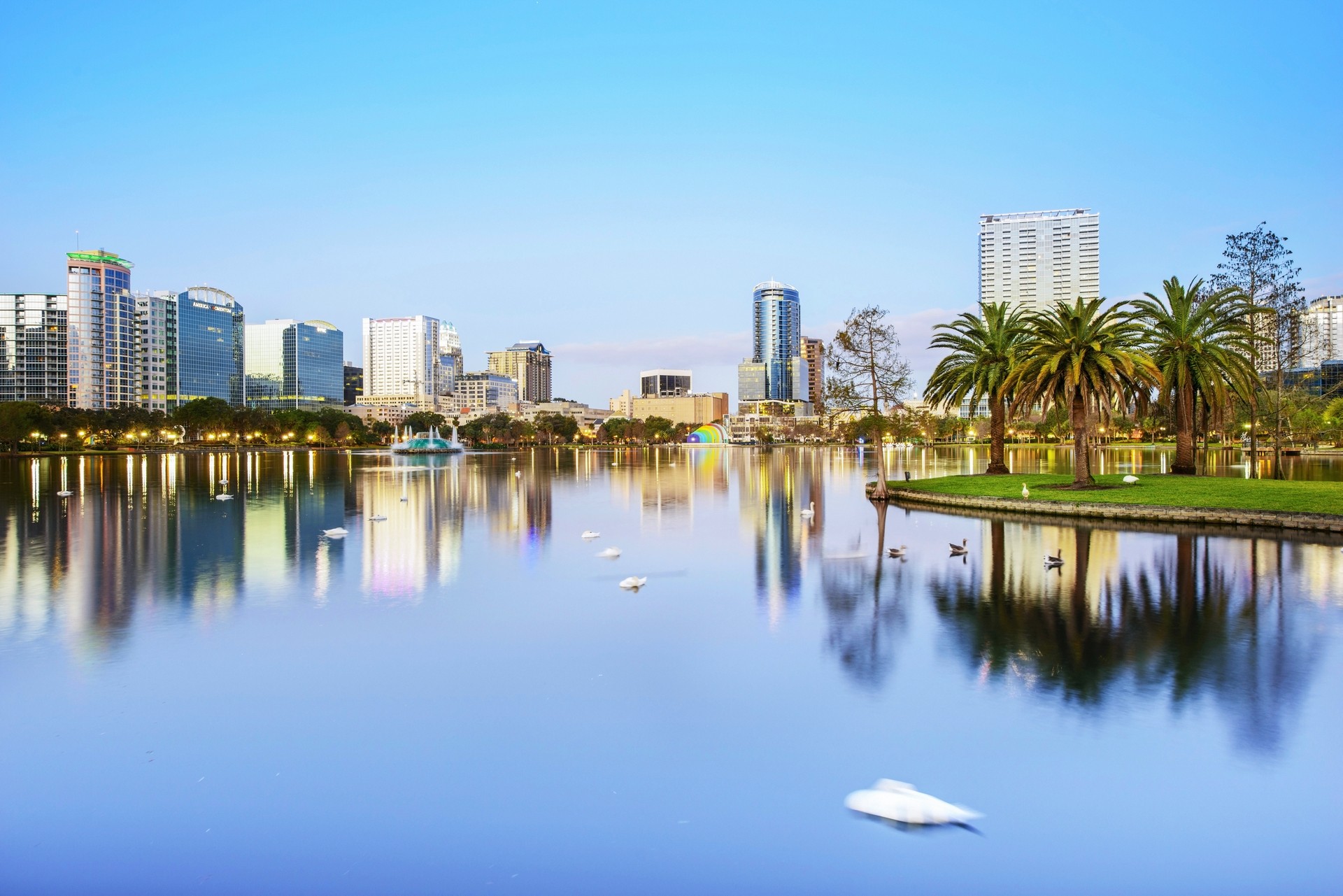 Monarch Air Group provides private jet charter services in and out of Orlando, Florida.
Charter private jet flights to and from Orlando
Orlando is accessible by more than 28 airports, which are located within 50 miles of the city itself. The major airports for private jet charters in Orlando are Orlando Executive Airport (ORL), Orlando International Airport (MCO), and Kissimmee Gateway Airport (ISM).
The most popular aircraft types include turbo props (King Air 200, King Air C90), super light jets (Learjet 40), light jets (Premier 1, Learjet 31A, and Beechjet 400A), super midsize jets (Gulfstream G200, Falcon 50, and Challenger 300), midsize jets (Hawker 800XP, Learjet 55), and large jets (Gulfstream IV, Challenger 604, Falcon 900B, and Falcon 900EX Easy). Besides ultra long range jets such as the Gulfstream G500 and the Global 5000, and VIP airliners such as the Boeing Business Jet and the Embraer 135 Business Jet.
About Orlando and Places to See
Known for the famous Walt Disney World theme park, Orlando is one of the main cities in the state of Florida. It is located right in the middle of its state being a waypoint and great work location for both the east and west coast of Florida. While visiting Orlando be sure to see one of its five theme parks, experience a night on Orange Ave, City Walk and Treasure Island, and if you are going to relax you may head over to Cocoa Beach, where the Kennedy Space Center is situated.
Airports for Private Jet near Orlando
MCO, KMCO, Orlando International Airport, Orlando, FL
SFB, KSFB, Orlando Sanford International Airport, Sanford, FL
DAB, KDAB, Daytona Beach International Airport, Daytona Beach, FL
MLB, KMLB, Melbourne International Airport, Melbourne, FL
ORL, KORL, Orlando Executive Airport, Orlando, FL
DWS, KDWS, Walt Disney World Airport, Bay Lake, FL
ISM, KISM, Kissimmee Gateway Airport, Kissimmee, FL
LEE, KLEE, Leesburg International Airport, Leesburg, FL
GIF, KGIF, Winter Haven's Gilbert Airport, Winter Haven, FL
TIX, KTIX, Space Coast Regional Airport, Titusville, FL
NSL, Nasa Shuttle Landing Airport, Titusville, FL
COI, KCOI, Merritt Island Airport, Merritt Island, FL
DQN, New Smyrna Beach Municipal Airport, New Smyrna Beach, FL
Hotels in Orlando
Grand Bohemian Hotel Orlando, 325 South Orange Avenue, Orlando.
2. Embassy Suites Orlando – Downtown, 191 East Pine Street, Orlando.
3. Grand Bohemian Hotel Orlando, 325 South Orange Avenue, Orlando.
4. Embassy Suites Orlando – Downtown, 191 East Pine Street, Orlando.
5. Grand Bohemian Hotel Orlando, 325 South Orange Avenue, Orlando.
6. Sheraton Orlando Downtown Hotel, 400 W Livingston St, Orlando.
7. Embassy Suites Orlando – Downtown, 191 East Pine Street, Orlando.
8. Crowne Plaza Hotel Orlando-Downtown, 304 West Colonial Drive, Orlando.
9. DoubleTree by Hilton Orlando Downtown, 60 South Ivanhoe Boulevard, Orlando.
10. Grand Bohemian Hotel Orlando, 325 South Orange Avenue, Orlando.
FAQ for a Private Jet Charter Flights to Orlando
Why choose a charter jet to Orlando with Monarch Air Group?
Private aviation offers jet rental solutions for your travels around the world. Monarch Air Group provides private flights to and from Orlando and caters to all your flying needs, whether business or leisure. Exclusive Orlando private jet charter service at competitive prices will suit people who value their time and quality service. Give one of our agents a call about charter jet Orlando rentals.
How much does it cost to book an Orlando private jet charter?
The cost of an Orlando private jet hire is determined by three main variables, the total number of flight hours, the size, and the corresponding hourly rate of the aircraft. Dozens of different variables determine the aircraft's hourly rate. Moreover, other factors affect the cost of air charter Orlando, like extra amenities on board. You can get a rough estimate of the cost of the flight by using the charter flight cost calculator.
Here are some approximate prices for private flights to Orlando:
Charter a private jet to Orlando from TEB: turboprop – starting at $13,740;
Charter flights to Orlando from VNY: light jet – starting at $25,990;
Private charter flights to Orlando from DAL: light jet – starting at $14,840.
*Estimated price before taxes & fees.
What types of private jets can use for Orlando charter flights?
Our company provides a fully customized private jet charter service. We will find the perfect sized and priced private jet by accessing the market from light jets, medium-sized jets, heavy cabin jets, and turboprops. To learn more about the available Orlando charter flights and their options, it is best to contact the charter experts.
| Aircraft type | Passengers | Non-stop range | Cruising speed | Intended use |
| --- | --- | --- | --- | --- |
| Light Jet | up to 6 passengers | about 700 – 2000 miles | 476 to 518 mph | for comfortable short- to mid-range distances |
| Midsize Jet | up to 10 passengers | about 1300 – 1500 miles | 422 to 541 mph | to fly nonstop from coast to coast |
| Super midsize Jet | up to 10 passengers | about 3.500 – 4.000 miles | 490 to 590 mph | for longer flights |
| Heavy Jet | up to 18 passengers | about 6.000 miles | 480 to 551 mph | traveling overseas in luxury for an intercontinental flight |
| Turboprops | up to 10 passengers | about 600 – 1.900 miles | 220 to 360 mph | for short- to mid-range flights |
| Ultra-Long Range Jet | up to 19 passengers | about 2,800 – 7,685 miles | 460 to 594 mph | for long-haul travels |
| Helicopters | up to 28 passengers | about 250 – 600 miles | 150 to 175 mph | for passenger and cargo transportation |
What are the advantages of flying on an Orlando private jet?
Renting a private jet has several undeniable advantages over commercial flights. Private jet passengers depart without queues at security checkpoints or baggage claim areas. Business travelers enjoy the privacy and security of a private plane charter Orlando cabin. These flights provide passengers with maximum privacy during the flight, allowing them to make the most of their time. Our specialist is available to you 24/7 for all your travel needs.
Popular Destinations near Orlando by private jet
Daytona Beach—has an active nightlife and a wide variety of restaurants to eat and relax in.
Tampa—claims to have the most laid-back beaches in all of Florida and attracts millions of tourists annually.
Sarasota—is a resort town that boasts thriving tourism and recreation and is a popular tourist destination year-round.
St. Petersburg—is the center of one of the fastest-growing regions for business in the United States.
Fort Lauderdale—is a world-class resort city and international business center.
Jacksonville—is Florida's largest city with a mild climate, making it the perfect place for families and businesses.
Our clients travel on efficient and comfortable private jets. If you haven't found the answers to all your questions, you can contact our experienced and reliable team at any time or visit our air charter FAQ page.