Monarch Air Group provides private air charter in Sarasota, FL. Our clients benefit from top-notch service, unrelenting dedication to safety, wide selection of aircraft, and years of experience in chartering private jets. Please use our online quoting tool provided below to obtain a free quote, or call toll-free 1-877-281-3051.
Charter a private jet to/from Sarasota
Book a Private Jet Charter to Sarasota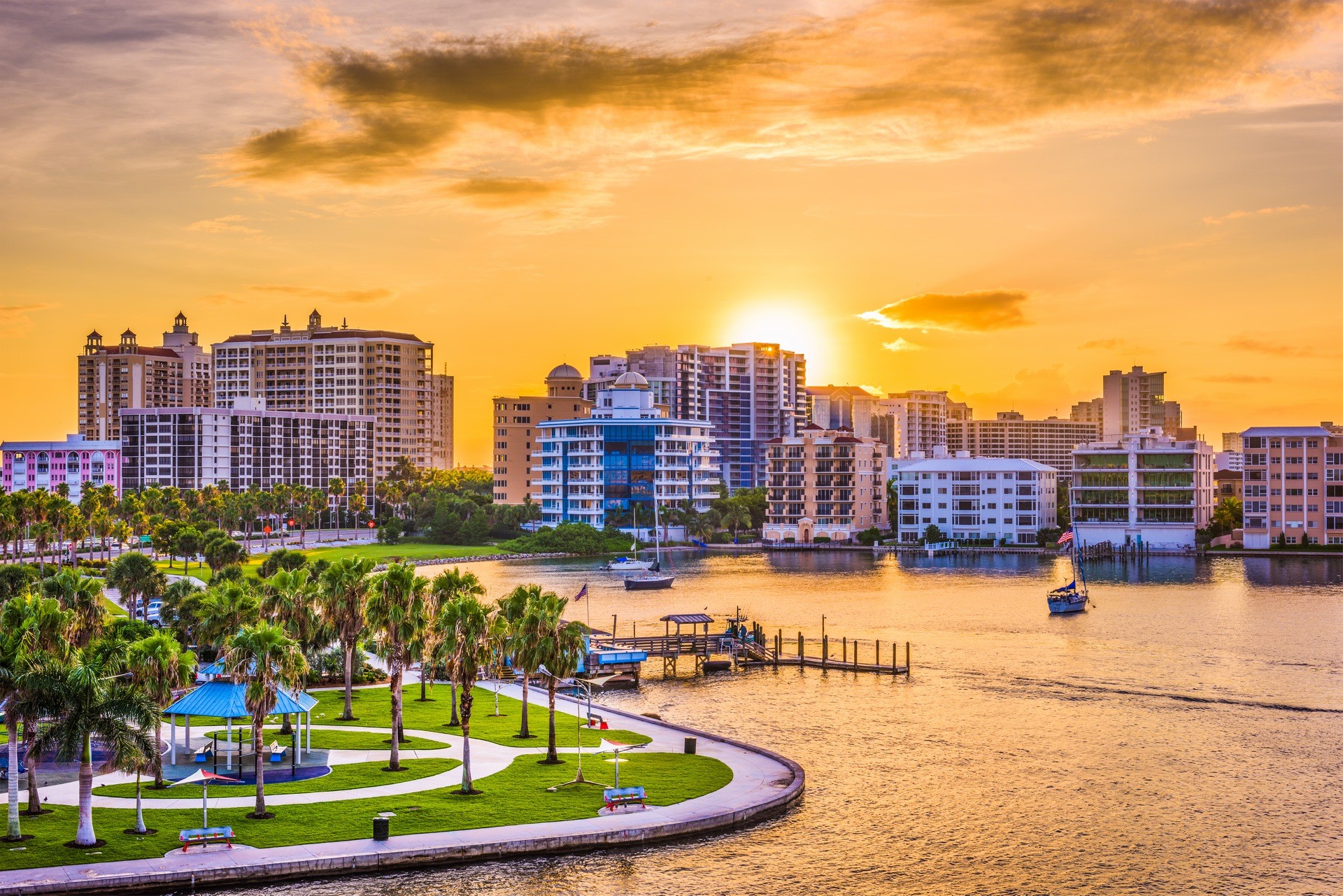 Monarch Air Group provides private jet charter flights in and out of Sarasota, Florida.
Sarasota, on the southwest coast of the U.S. state of Florida, is known for its cultural and environmental amenities and clean beaches, which have been called some of the world's most beautiful and luxurious resorts. It is located 60 miles south of Tampa, 150 miles southwest of Orlando, and 37 miles south of St. Petersburg. Charter a private jet to Sarasota to experience many fine-dining restaurants, shopping centers, and natural attractions.
Since the 1900s, Sarasota became popular with domestic tourists and later became a well-known tourist destination. Today, a vibrant cultural scene and attractions are found at practically every step. With Sarasota private jet flight, visit the Sarasota Ballet of Florida, the Sarasota Opera House, the John and Mable Ringling Museum of Art, the Van Wezel Performing Arts Hall, the Asolo Theater Company, the Player's Theater, and the Sarasota Film Society. Plenty of exciting attractions, dining and recreation facilities, and affordable accommodations make it an attractive destination for business and leisure travelers worldwide.
A private flight to Sarasota is an immersion in the world of art and a year-round theater season. Main Street is regularly transformed into a stage for art festivals. Also, Palm Avenue is home to some of the city's best art galleries, antique stores, and collectibles shops.
The city is served by Hidden River Airport (22FA) or Sarasota-Bradenton International Airport (SRQ). Each can serve charter jets to and from Sarasota.
Cost to charter a private jet to&from Sarasota
The cost of a private jet to Sarasota will vary depending on the size of the private jet, duration, flight time, and other factors. Here are some price options for private jets to or from Sarasota.
To/From Location
Teterboro
Dallas
Chicago
Aircraft
Light Jet
Midsize Jet
Turboprops
Estimated Price
(One-Way)
$18,500 – $25,000
$18,000 – $24,700
$19,800 – $26,900
Flight Duration
2hr 55min
2hr 20min
3hr 45min
Sarasota Private Jet Airports within 70 miles
BUR, KBUR, Bob Hope
LAX, KLAX, Los Angeles International
LGB, KLGB, Long Beach
ONT, KONT, LA/Ontario International
SNA, KSNA, John Wayne
JGX, Glendale
WHP, KWHP, Whiteman
VNY, KVNY, Van Nuys
SMO, KSMO, Santa Monica
EMT, KEMT, El Monte
HHR, KHHR, Hawthorne Municipal
CPM, KCPM, Compton/Woodley
FAQs: Private Jet Flights to Sarasota
Why choose a private jet to Sarasota with Monarch Air Group?
Monarch Air Group offers access to an extensive network of private aircraft for Sarasota jet charters and a personalized approach to customer needs. We understand that you have special requests for Sarasota private jet flights, getting directly to the nearest airport, significant time savings, and more. Therefore, our team arranges a private jet charter to Sarasota, which is more convenient and time efficient than other types of air transportation.
How much does it cost to charter a plane to Sarasota?
The price of a Sarasota charter jet depends on many factors, such as the flight duration, the place of arrival to perform the flight, and the aircraft type. Business jet rates range from $1,300 per hour for a turboprop to $13,000 per hour for a luxury jet. Moreover, you can get a rough flight cost estimate by using a private jet charter cost estimator.
What types of private jets can use for Sarasota charter flights?
Monarch Air Group offers a variety of options for Sarasota jets to suit your needs. If you have a specific type of aircraft in mind for a Sarasota private flight, we will suggest those available that day for your trip. Moreover, we will provide Sarasota air charter service to ensure an exciting travel experience.
What are the benefits of flying a Sarasota private jet?
We provide Sarasota private plane charter services throughout the United States and abroad, with the highest level of safety and compliance. We have the capabilities and knowledge to make your flying experience efficient. Our high level of private jet services allows you to stick to a strict schedule with confidence, whether you're chartering a private jet for a short business trip or a vacation with the family.
Popular destinations near Sarasota by private jet
Orlando – is a popular resort with its hotels and theme parks.
St. Augustine – is on Florida's east coast and features sunny weather, historic landmarks, and unique attractions.
Miami – is an international vacation destination that attracts tourists with award-winning beaches and rousing nightlife.
Tampa – is a favorite among those who prefer the white sand and surf of the Gulf of Mexico.
Our clients travel on efficient and comfortable private jets. If you haven't found the answers to all your questions, you can contact our experienced and reliable team at any time or visit our air charter FAQ page.