Monarch Air Group provides private air charter in Cannes, France. Our clients benefit from top-notch service, unrelenting dedication to safety, wide selection of aircraft, and years of experience in chartering private jets. To obtain a free quote, please use our online quoting tool provided below, or call toll-free 1-877-281-3051.
Charter a private jet to&from Cannes, France
Book a Private Jet Charter to Cannes, France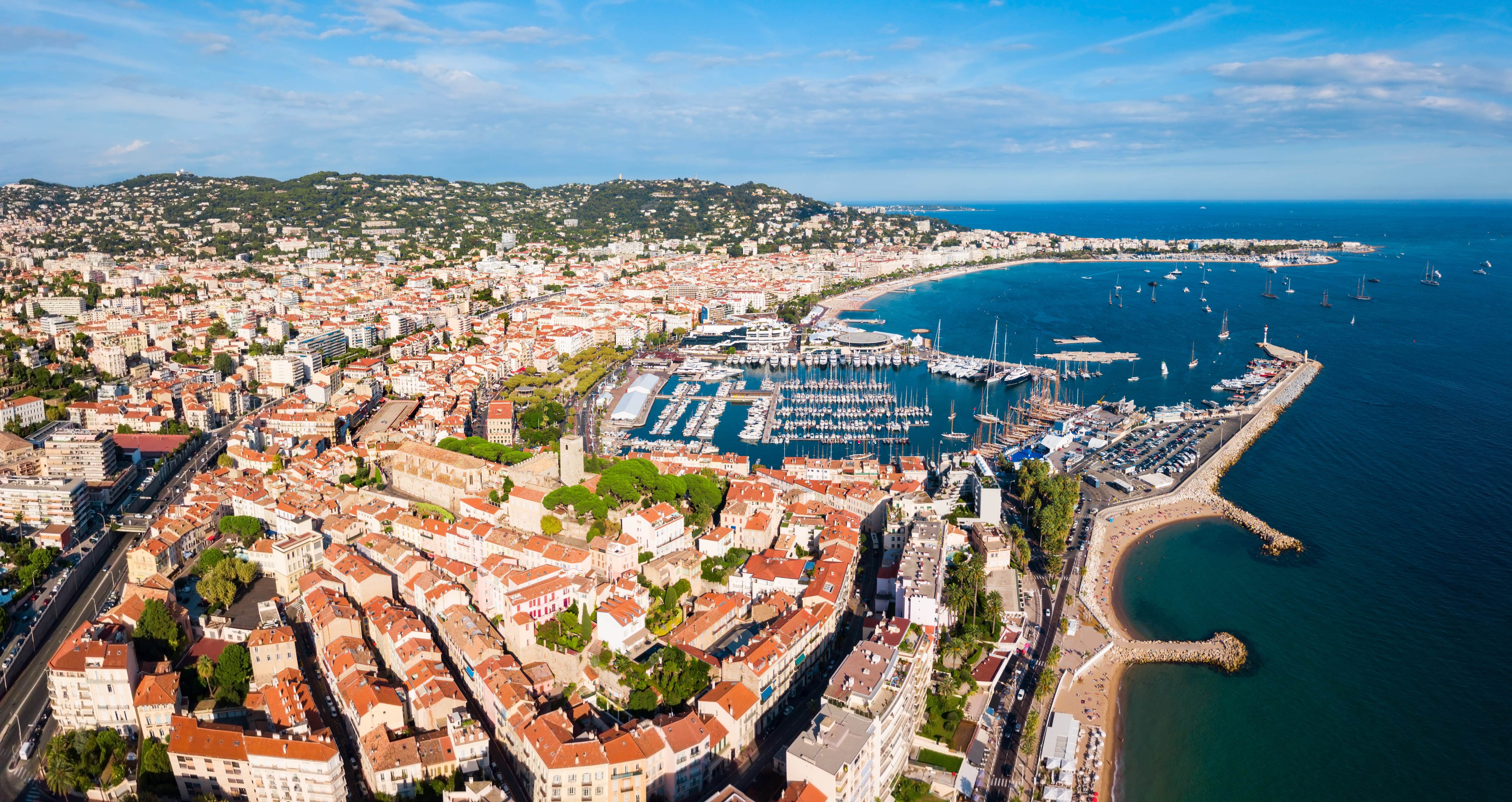 Monarch Air Group provides private jet charter flights in and out of Cannes, France.
Once a tiny harbor turned into a luxury resort on the Cote d'Azur. Located on the French Riviera in a large bay, Cannes is one of the most famous cities in France. You will plunge into elegance and splendor by renting a private jet to Cannes.
Cannes is a magnificent city of festivals, luxurious villas, and architectural and cultural heritage. The guests of this city were world-famous stars, businessmen, millionaires, and world celebrities. With a private jet charter to Cannes, you will see unique architecture, exquisite art galleries, and museums. At your disposal will be expensive boutiques and upscale restaurants.
For lovers of outdoor activities in Cannes, you can go yachting, swimming, and sailing. On a private jet, you will get to the Cannes Film Festival – a popular place where world-class stars worldwide flock every year. The city is famous for its beautiful weather, numerous visual and performing arts events, and beautiful Mediterranean azure beaches. Cannes is an ideal expensive resort for luxury holidays.
The closest major airports to Cannes suitable for private jet charters are Nice Côte d'Azur Airport, located 25 miles from the city.
Cost to charter a private jet to or from Cannes
The cost of a private jet to Cannes will vary depending on the size of the private jet, duration, flight time, and other factors. Here are some price options for private jets to or from Cannes.
To/From Location
London
Paris
New York
Aircraft
Phenom 100
Pilatus PC-12
Gulfstream G-IV
Estimated Price
(One-Way)
$15,500 – $21,000
$11,000 – $15,000
$135,000 – $165,000
Flight Duration
2hr 30min
2hr 30min
10hr 00min
Cannes, France Private Jet Airports within 70 miles
1. NCE, Nice Côte d'Azur Airport, Nice, France.
FAQs: Private Jet Flights to Cannes
Why choose a private jet to Cannes with Monarch Air Group?
Private jets are chosen by people for whom time savings, personal boundaries, and comfort are a priority. The Monarch Air Group team will help you charter a private jet according to your wishes.
How much does it cost to book a private jet charter to Cannes?
The cost of a private jet depends on many factors—the number of passengers, flight duration, amenities, and aircraft size. Renting a private jet can range from $1,800 to $17,800 per hour. Contact us for more detailed price information.
What types of private jets can use for Cannes charter flights?
French airports can accept any private aircraft. Therefore, please contact us to choose a private jet, and we will select the best option for you based on your trip details.
What are the benefits of flying on a private jet charter to Cannes?
We are meticulous about our work. Our priority is speed, luxury, safety, and comfort. With Cannes private jet charters, you can enjoy your flight's benefits. We take the issue seriously to meet your needs in full.
Popular destinations near Cannes by private jet
Nice – impressive architectural monuments combined with the rich life of the city just 20 miles from Cannes;
Saint Tropez – gorgeous beaches and the Old Port just 54 miles from Cannes;
Marseille – The Fashion Museum is just 106 miles from Cannes.
You will travel in a comfortable private jet charter and get the five-star service you deserve. However, if you still do not receive the answers you are interested in, please get in touch with us by phone for more questions.