Monarch Air Group provides private air charter in Saint Tropez, France. Our clients benefit from top-notch service, unrelenting dedication to safety, wide selection of aircraft, and years of experience in chartering private jets. To obtain a free quote, please use our online quoting tool provided below, or call toll-free 1-877-281-3051.
Charter a private jet to&from Saint Tropez, France
Book a Private Jet Charter to Saint Tropez, France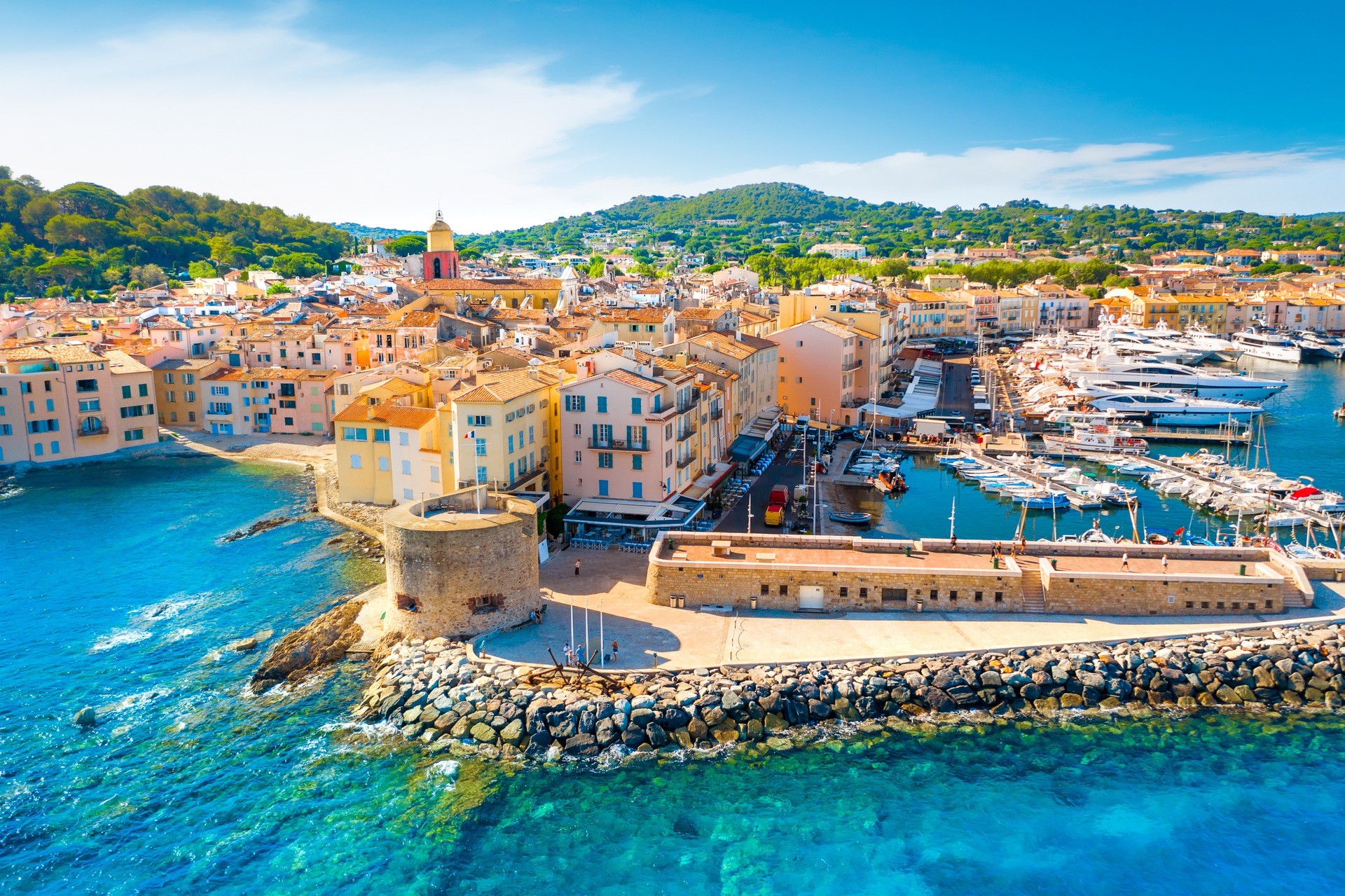 Monarch Air Group offers private jet charter services to and from St. Tropez, France.
Once an inconspicuous fishing village on the Côte d'Azur, over the decades has become the most popular resort in the south of France. Saint-Tropez is one of the most wonderful places in France with sunny weather, gorgeous beaches, luxurious amenities, and the warm waters of the Mediterranean Sea. Charter a private jet to Saint Tropez and see picturesque houses in pastel colors, narrow cobblestone streets and shady squares add to the charm.
Apart from the mesmerizing blue sea, Saint-Tropez boasts an amazing green landscape, cypresses, olive groves and shrubs. This luxurious city is one of the favorite destinations of many celebrities and luxury lovers. Radiating elegance and luxury, chartering a private flight to Saint-Tropez is designed for people who want to experience comfort, splendor and famous French chic.
The main attraction of Saint-Tropez is the port and the old town located by the port, with cobblestone streets and colorful apartment buildings, and of course the coast with the most beautiful beach in the area – Pampelonne Beach. Book a private jet to Saint Tropez will allow enjoy exploring downtown Saint-Tropez, dotted with exclusive boutiques, gourmet restaurants, handmade stores, clubs and lively bars.
La Môle – Saint-Tropez Airport (LTT/LFTZ) is the most suitable airport for chartering a private jet to Saint-Tropez. It is located 8 miles from the city center. The airport can handle both small private jets and VIP airliners.
Cost to charter a private jet to or from Saint Tropez
The cost of a private jet to Saint Tropez will vary depending on the size of the private jet, duration, flight time, and other factors. Here are some price options for private jets to or from Saint Tropez.
To/From Location
London
Paris
Amsterdam
Aircraft Type
Very Light Jet
Turboprops
Light Jet
Estimated Price
(One-Way)
$15,500 – $21,500
$10,500 – $15,500
$15,000 – $21,500
Flight Duration
2hr 25min
2hr 15min
1hr 55min
Saint Tropez Private Jet Airports within 70 miles
TLN, LFTH, Toulon-Hyères Airport
LTT, LFTZ, La Mole – Saint-Tropez Airport
FAQs: Private Jet Flights to Saint Tropez
Why choose a private jet to Saint Tropez with Monarch Air Group?
Private jets are chosen by people who prioritize comfort, service, speed, and safety. The Monarch Air Group team will help you charter a private jet according to your wishes.
How much does it cost to book a private jet charter to Saint Tropez?
The cost of a private jet depends on many factors. The number of passengers, flight duration, amenities, and aircraft size. Renting a private jet costs anywhere from $2,500 to $18,000 per flight hour. Contact us for more detailed price information.
What types of private jets can use for Saint Tropez charter flights?
Monarch Air Group provides customers with a wide selection of Saint Tropez jets for varying numbers of passengers and flight distances.  Saint Tropez airports can accept any type of private aircraft. Let our team know the details of your trip, and we will find the best option for you.
What are the benefits of flying on a private jet charter to Saint Tropez?
Hire a private jet to Saint-Tropez is the best option if you value privacy. Whether you seek a break from your famous life and hope to enjoy a relaxing flight, you can travel discreetly with Monarch Air Group.
Popular Private Jet Destinations near Saint-Tropez
Cannes – just 45 miles from Saint Tropez you can visit the famous film festival.
Nice – enjoy a luxurious combination of a beach vacation with a culturally rich city 62 miles from Saint Tropez.
Monte Carlo – harbor with luxury yachts, great hotels, famous nightclubs, and gourmet Michelin-starred restaurants, just 84 miles from the Saint Tropez.
Our clients travel on efficient and comfortable private jets. If you haven't found the answers to all your questions here, you can contact our experienced and reliable team at any time or visit our air charter FAQ page.